Inside a small cabin in an IDP camp, dozens of Ezidi boys and girls wearing traditional clothes sitting together and chorally chanting the verses of their religion.
The female students are dressed in white dresses with black jackets and caps, while the boys are wearing Kurdish clothes with red turbans on their heads. These young Ezidis are no longer afraid to mix together as they were under the Islamic State (IS) group.
Before joining Kani Spee School in Duhok's Kapartu IDP camp, these children and teenagers had forgotten everything about their forefathers' religion; all they knew were the verses they were taught by IS fighters while under captivity.
"IS fighters told us our religion was not true. Every day we were taught verses of the Quran along with Islamic ideology books. They used to tell us that we were infidels and must convert to Islam; therefore they taught as how to read the verses of Quran and the Muslim prayers", Mazin Saleem told KirkukNow.
Mazin was one of 11 Ezidi children who escaped IS captivity in Syria. Before 2014, he used to live with his family at the Khansur residential compound in Shingal (Sinjar), and currently he lives with his mother at the Bersiv IDP camp in Duhok.
Ezidi children who survive IS are being admitted to a religious school, to cleanse their minds from the effects of extremist ideology and to acquaint them with the religion of their ancestors.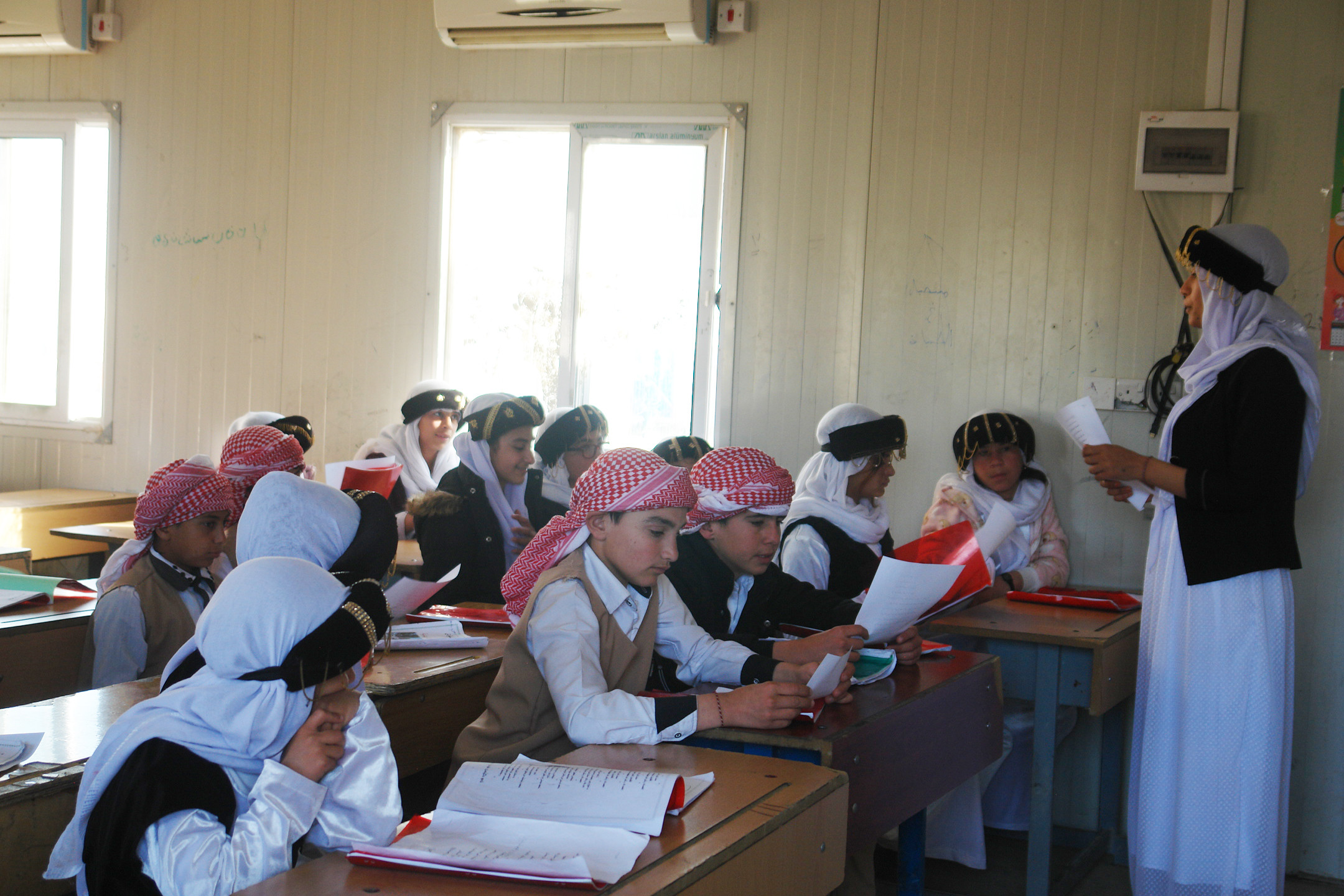 After weeks of religious study, Mazen and his classmates visited the Lalish Temple, Ezidi's most sacred place, which is located in Sheikhan. After performing some religious rituals, they were formally converted back to the Ezidi religion.
"Thanks to God, I returned to the Ezidi religion. I am proud of my forefather's faith, and I will never abandon it as long as I lived", said Mazin.
After IS militants overran the predominantly Ezidi populated town of Shingal in August 2014, Sinjar district in August 2014 and they kidnapped of thousands of people, they started to pressure Ezidis to convert to Islam and encouraged the children them to abandon the Ezidi religion.
Some of the children who survived IS captivity had spent the greatest part of their childhood years under the influence of IS; as a result some of them were converted to Islam, and learned nothing about the Ezidi religion. They even forgot or never learned their mother language; instead they spoke in Arabic or Turkmen.
Sheikh Fakhir Khalaf, an Ezidi religious man, speaking to KirkukNow said, "We were able to convert 95 children survivors to their original faith".
Sheikh Fakhir doesn't have a special place to teach. He carries out his religious task as a volunteer and devotes two hours of his time freely to teach children in IDP camps about the Ezidi religion.
"This is a religious duty that I intend to keep doing. If we did not do our part, then who would teach these children about their religion? These children will grow up after years, and if we do not become familiar with their religion, it would be more difficult when they grow older."
Sheikh Fakhir believes that teaching these children is a difficult task, because they have forgotten their mother language and speak Arabic or Turkmen, yet they will not give up and continue with their ancestral religion.
In August 2014, the Ezidi population in Shingal were subjected to mass slaughter at the hands of IS militants. An estimated 6,417 Ezidis were abducted; the fate of nearly 3,000 of them, mostly women and children, remains unknown.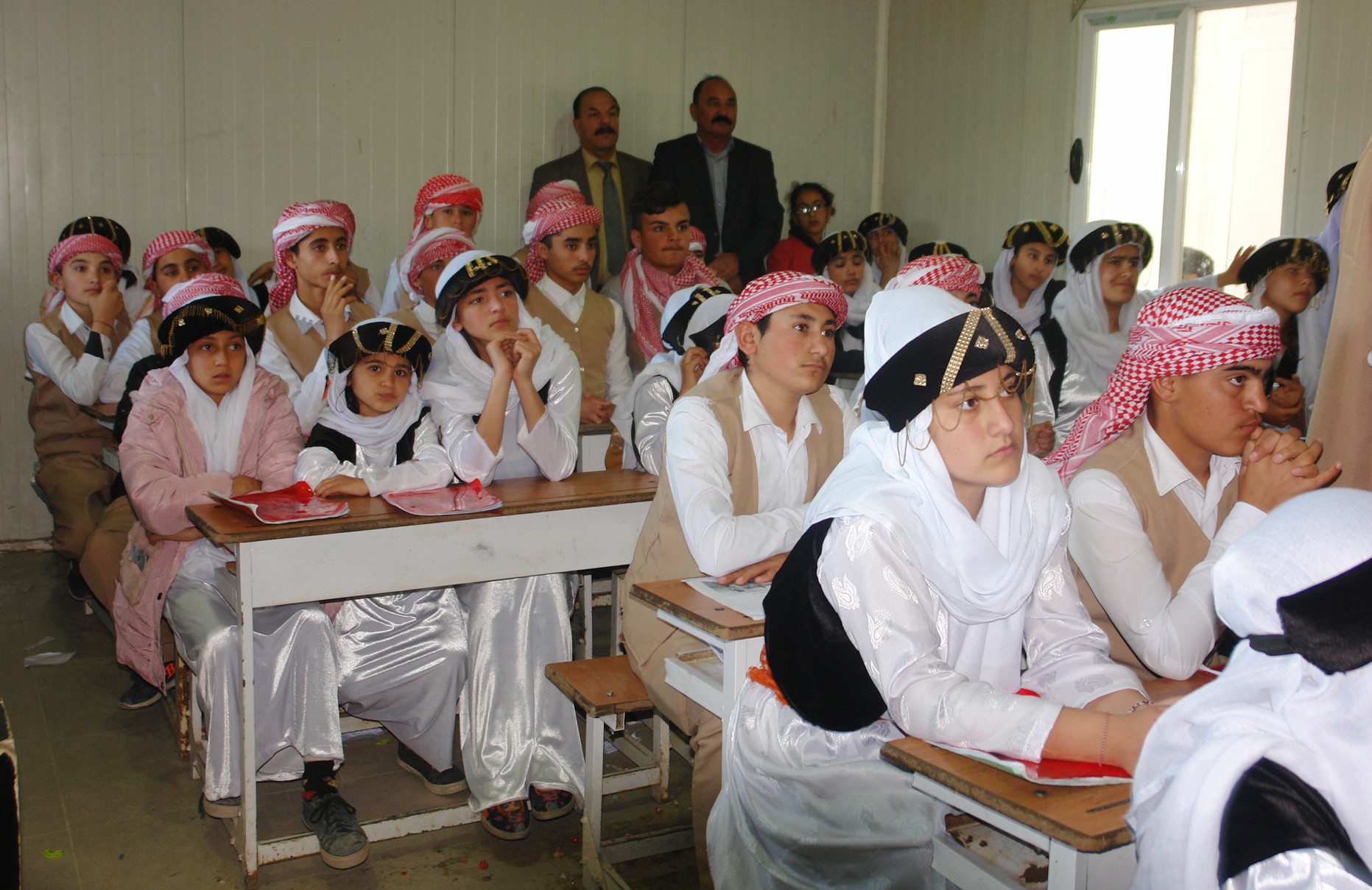 Sheikh Hassan Ali Kubo, who supervises Kani Spee School said, "Since 2014, we helped 300 children survivors embrace the Ezidi religion."
Kani Spee School was established in 2014 with no financial support provided by the government. The school operates in coordination with the Ezidi Spiritual Council and admission is voluntary.
"Teaching these children is very difficult, as IS had filled their minds with violence. Many of them have conceived the idea that Ezidis are infidels and believe that only Islam is the true religion," according to Sheikh Hassan. .
After the children are freed from IS, they would be taken to Lalish Temple, then registered at the religious school and are given traditional Ezidi clothes to wear while at school.
Some children need to be taught for 50 days so that we can root out IS's extremist ideology from their minds", says Sheikh Hassan.
Recently, the Ezidi Supreme Spiritual Council has decided to allow children of Ezidi women born to Islamic State Group (IS) fighters into the community, ending a long debate over the issue of children of rape.
The decision came after many Ezidi women survivors were compelled to choose between abandoning the children who were born to IS militants or leave with them.