At least eight militants were killed and 18 wanted suspects arrested in Khanaqin, northeast of Diyala within the Iraqi forces' military operations dubbed "Will of Victory" which were launched following a surge of attacks in the area.
The Iraqi Joint Operations Command announced the kick-off of the 3rd phase of large-scale military operations in Diyala and Ninewa provinces to weed out remnants of the Islamic State (IS) group.
Lieutenant General Abdul-Amir Rashid Yaralla, deputy commander of the joint operations command, in a statement on Friday, indicated that 18 wanted suspects have been apprehended and 4 gunmen killed.
An area of 17 thousand square kilometers has been cleared during the operation, which included 25 villages.
Meanwhile, security forces seized 42 IEDs, a number of mortar rounds, a substantial amount of explosives in addition to a number of weapons.
The operation also led to the destruction of 12 tunnels and 24 hideouts used by IS militants.
Lieutenant General Yaralla added that Iraqi fighter planes conducted 38 air patrols during the operation.
Jalawla and other areas associated with northeastern Diyala's Khanaqin district witnessed a string of attacks over the past few weeks blamed on gunmen believed to be members of IS.
In the most recent incidents, 2 civilians were killed after their house in Abu Nzar village in northeastern Diyal's Sa'diya sub-district was hit by mortar shells.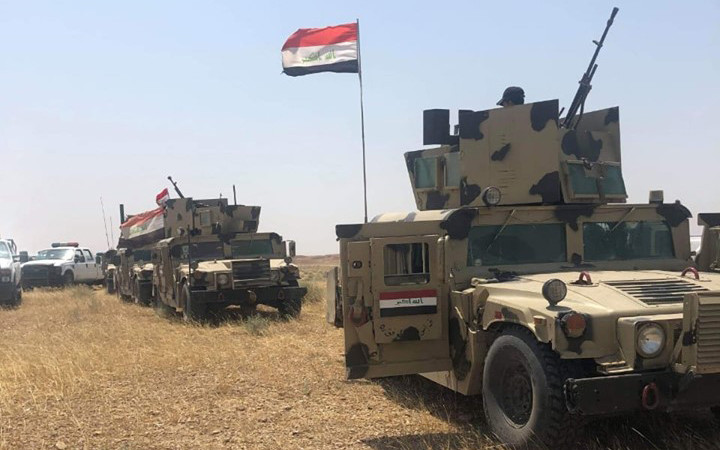 The operation kicked off without the participation of the Kurdish Peshmarga forces.
Brigadier Irfan Hama Khan, deputy commander of the Peshmarga's 3rd brigade stationed in Khanaqin, speaking earlier to KirkukNow, said, "The Peshmarga forces are aware of the launch of the operations; however, we have not participated and have no coordination with the forces engaged in the operations. Nevertheless, our forces are on full alert for emergency situations and to prevent of possible infiltration of IS fighters into Peshmarga-controlled areas."
The Islamic State group overran Jalawla in mid-2014 and was recaptured by Peshmarga forces by the end of the same year.
Security responsibilities in Khanaqin and other disputed territories are being undertaken by Iraqi federal forces since October 16, 2017.
Iraqi forces retook control of the disputed territories as a repercussion for a referendum on independence in the Kurdistan Region.
The first and second Phases of Operation "Will of Victory" which began last month were conducted in the provinces of Salahaddin, Kirkuk, Anbar and Ninewa.