Haunted by fear after spending years in Islamic State captivity, a significant number of Ezidi women and girls, still sheltered in a camp in Syria, are hesitant to return to Iraq. Giving birth to children fathered by IS fighters is another challenge they are afraid to face.  These women had refused to reveal their identities to search teams looking for abducted Ezidis still stranded in Syria's al-Hol camp.
The camp, located west of Hasaka, and is run by the Syrian Democratic Forces (SDF), is housing 72,000 displaced people among them families of IS fighters in addition to those who escaped captivity after the SDF backed by coalition forces controlled Baghouz, the group's last holdout of in Syria in March 2018.
,Hundreds of Ezidi women and girls are believed to be settled in al-Hol camp; however, they are afraid of disclosing their true identities according to officials who spoke to KirkukNow.
Aziza Sabri, who spent four years in IS captivity and later remained for a year in al-Hol had declined to reveal her identity the camp managers.
"After Der al-Zor was retaken from IS in late 2017, we fled along with hundreds others, many of them were families of IS fighters, and surrendered to the SDF fighters who put us in al-Hol camp. When I arrived there I didn't disclose my identity,'' She told KirkukNow.
 Aziza who arrived in the camp with the family of an IS fighter she was slod to as a slave, was still haunted by fear even after the extremist group was fading. "IS told us we were infidels and that Shingal was the land of the infidels; whoever goes back there will be beheaded," she said.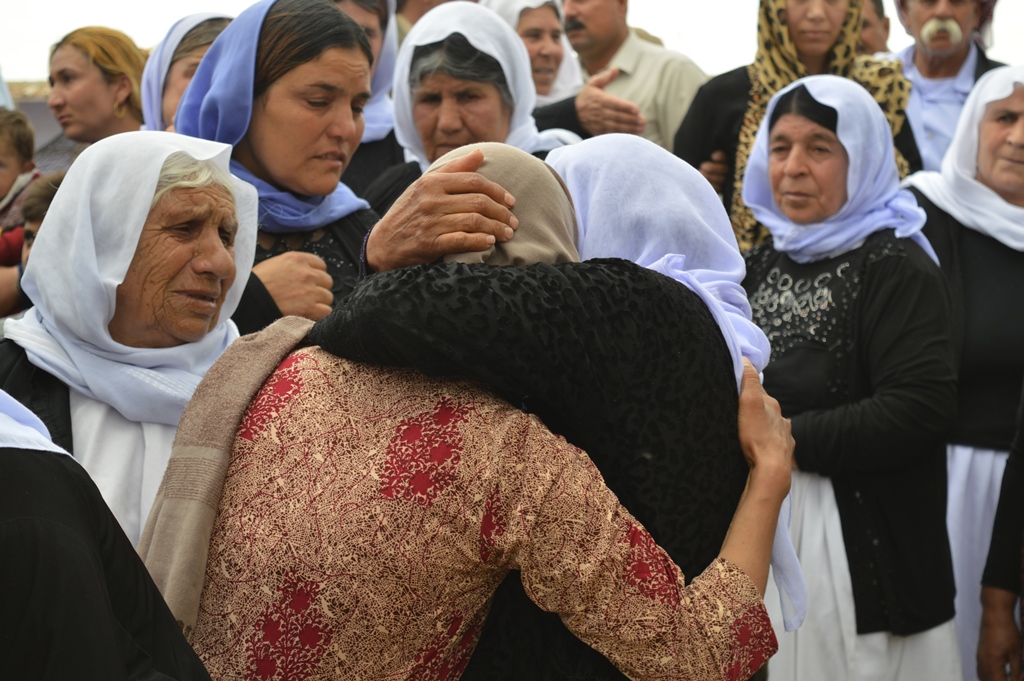 Dream of return marred by major obstacles
 "Fear, giving birth to children of rape and doctrinal change are major obstacles which have prevented hundreds of Ezidis from returning to their homes in Iraq," Rojhat Ali, a counselor at the camp told KirkukNow.
"In the beginning it was much easier to identify Ezidi female abductees in the course of the investigations, but as the IS Caliphate was nearing its end, a large number of displaced people arrived in the camp, making the task more difficult for us," he added.
Rojhat Ali indicated that IS fighters were able to "convert some of the Ezidi children to Islam."
"The camp also houses Ezidi women who refuse to give up their children of IS fathers, particularly after the Ezidi Spiritual Council refused to allow them back into the community.  
Another major obstacle to the Ezidi women's homecoming, as Rojhat explained, is the fear of "being killed by their relatives"; while others still afraid of being targeted by IS militants after their return.
Despite all these obstacles, there are some women and girls who were brave enough to reveal their identities; one of them was Aziza Sabri.
"One day, the camp officials told me that my sister had come to see me. At first, I didn't believe them but then I met her and after we stayed there for another 20 days in the camp, we went back to Shingal."
 Aziza acknowledged the existence of hundreds of Ezidi women in the camp who are afraid to return, particularly those who have children of IS fighters.
Since the start of this year, delegations from the Kurdistan Regional Government (KRG)'s office tasked with rescuing Ezidi abductees along with representatives of the Ezidi spiritual council had toured the al-Hol camp twice to search for Ezidi survivors; only a few were found.
Al-Hol camp has the capacity to house 40,000 people. Out of the 72,283 displaced people currently there, nearly 30,000 of them are of Iraqi nationality.
*/*/**/