From a faraway village, a light eye and a yellow hair child, wearing torn clothes and suffering from a vulnerable body, yells on the wall of a school, "teacher, I want to study with those children and play with them, why do they study? But I do not!"
Lawand Hassib, nine years old, receives no responses for his yell. He jumps to the playground of the school, holds the leg of the school principal and starts crying.
This is the daily life of Lawand Hassib, from the Shaway subdistrict, Kalar town, located in the Southeast of Sulaimani. Beside falling apart of his family and being away from his mother, the society and the policies of the Ministry of Education are, likewise, barriers to his dream, education.
Layla Ahmad, a KirkukNow Correspondent and a team member of the German Organization, Wade, in Garmyan, witnessed the scene for the first time in 2018. On the same day, the school principal accepted Lawand as an audience. He started playing, went to classes and was given pencil and books. However, he was not a normal and an obedient student.
For 2018's year of education, with the attempts of Wade Team and the acceptance of Garmyan Education Directorate, Lawand was admitted to school as an audience, but his problem again reemerged.
Some of the teachers for this year were changed and Lawand was deprived of being an audience in the school. He had to continue seeing his school on its walls only. His major problem is that he still does not have his national ID which prohibits him from acces to education according to the policies of the Ministry of Education.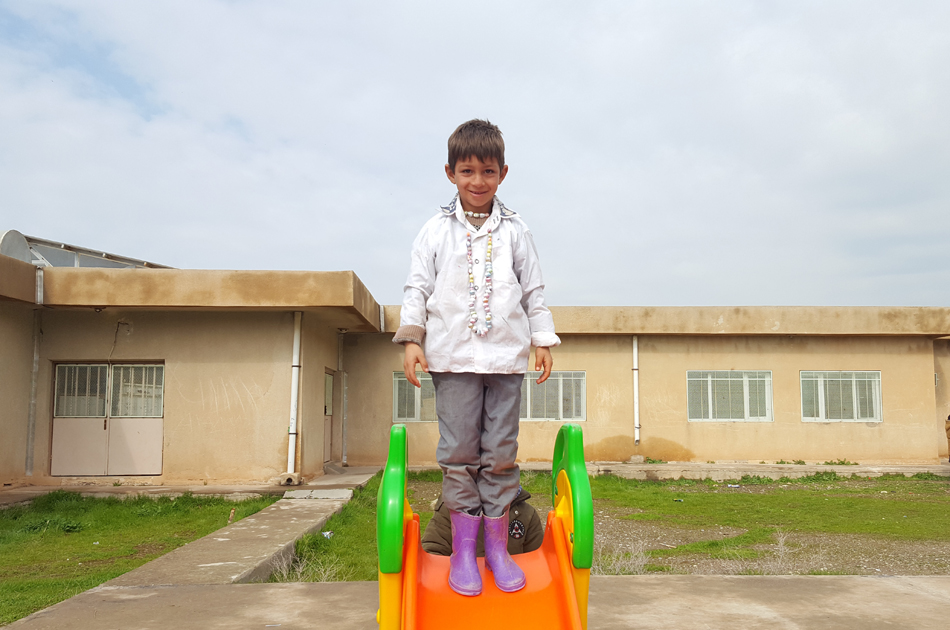 Lawand goes through a difficult life in his village. His father, a shepherd, spends most of his time outside of the village on grazing the animals and only comes home in the evening.
His mom, after getting married to Hassib in 2003, gave birth twice. Lawand, their second child, was merely a month when his parents divorced.
Since then, Lawand lived in the village with his grandfather and grandmother. His mom left with his sister and he never saw them anymore. After several years, Lawand lost his grandfather and grandmothers, too, and his life became much more challenging.
Lawand spends most of his time with his father outside of the village and does not spend his childhood with the other children of the village.
Wade Organization and a volunteer lawyer of Walla Organization are trying to register Lawand for his national ID. Lawand's problem is that his father has neglected registering to Lawand's ID.
Kawa Abdulla, one of Lawand's teachers, tried his best to keep Lawand in school but he said, "the decision to expel him from school was related to his ID, his father did not register him for national ID and thought that his expulsion was our failure and even threatened us."
Due to his father's threats to the teachers, Asaysh forces of Maidan subdistrict, interfered in the problem and detained Lawand and his father for a few hours according to Kawa Abdullah.
Hassib Ali, Lawand's Father, said that due to the hardship of his life he has not been able to register Lawand for national ID.
"Last year, due to Wadi's team request, he was accepted as an audience in the school but this year after a while, they expelled him," Ali said.
He further said that Lawand learned writing some of the letters during that year.
Ali claimed that, "the teachers' treatments with my child was not good this year, that is why I confronted them… they hit my son and told him to mimic animals."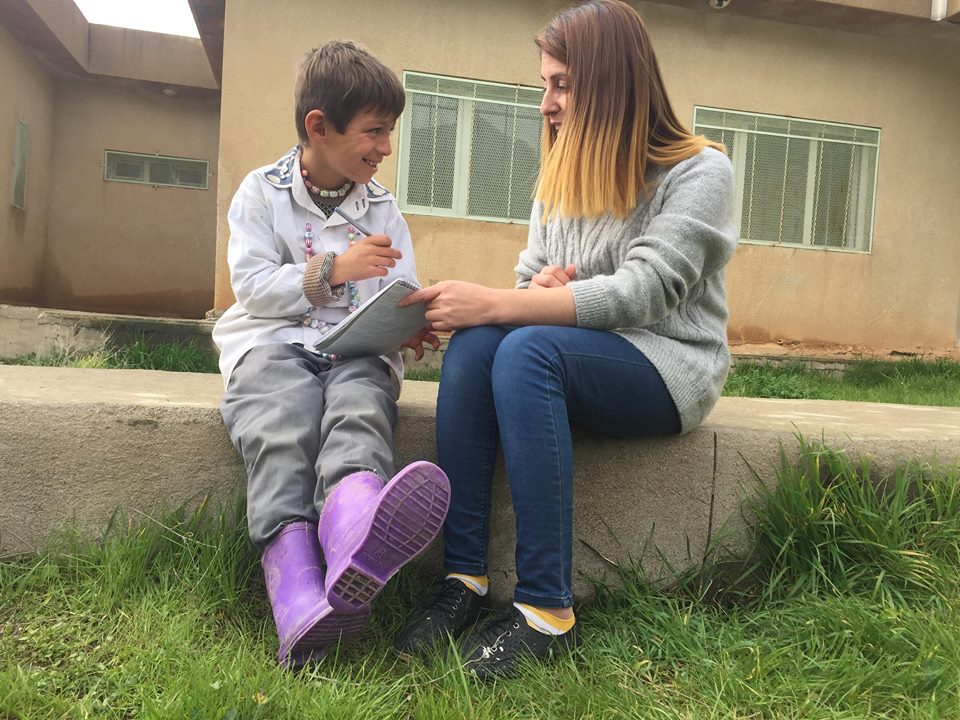 After his confrontations with the teachers and his son's expulsion from the school, Ali thinks of leaving the village. "the school is not anyone's property, it belongs to everyone, it belongs to the children, I do not want the future of my son to be like of mine, I want him to study."
Last year, Ali was convinced by Wadi team to go to the court to register Lawand for his ID and he was supposed to have his ID by late last December.
Lawand was obsessed to his teacher Kawa Abdulla and he says, "I cannot call him as before and show him loyality. I do not want him to be obsessed to me more, I do not want him and the school to face problems because of me."
Lawand's future is not clear. Those, who once wanted him to study, fear that land mines in placed in the hills and mountains of the area might destroy his life.
Abdullah said, "there is a lot of mines in this area. 10 days ago, a person, 33, died in mine explosion, so we do not know what will happen to him."
People of the village refer Lawand's issue to his father negligence and claim that he does not care much about his son's ID, and in general does not communicate with people in the village, too. It has created an unknown fate for Lawand, but some of the villagers provide Lawand with food and other necessities.  
"Lawand is not taken care of and is the victim of divorce. He is hungry, cold and clotheless on daily basis. Their house is cold and empty. They use woods to warm up their house. Even the people in the village do not allow their children spend time with Lawand," Galawizh Mohammed, from the village, stated.
This was the reason for Lawand's unusual actings when he was in school
Skala Azad, a volunteer English teacher at the school, stated, "because his parents divorced, I took his behavior into consideration, but he did not know how to act and was fighting with the children…the children were hitting him and it was a problem for the teachers."
All these being said, Lawand's issue is not solved. He is still on the wall of the school, looks at the students, and shouts!