Solin Khalid, 19, who has helped injured protestors as a volunteer first aid provider since the emergence of the social uprisings in Baghdad, was arrested by unknown security forces. Her twin brother has been arrested since last week, too.
Fryal Mohammed, Solin's mom, today, January 23 spoke to KirkukNow on her way from Khanaqin to Baghdad to learn about her son and daughter arrest.
"My daughter was arrested on Tuesday at Mohammed Qasim Bridge while she was attempting to help the protestors," Fryal said.
Solin's mom has only been informed about the arrest of her daughter and "does not know where she is and what has happened to her."
Solin and her brother, Walid, have moved to Baghdad to participate in the protests held at the Tahrir Square and to help the protestors since last October.
The security forces arrested Walid last week and he is imprisoned at the Muthana Airport's prison according to his mom. She is waiting for the judges to issue his release.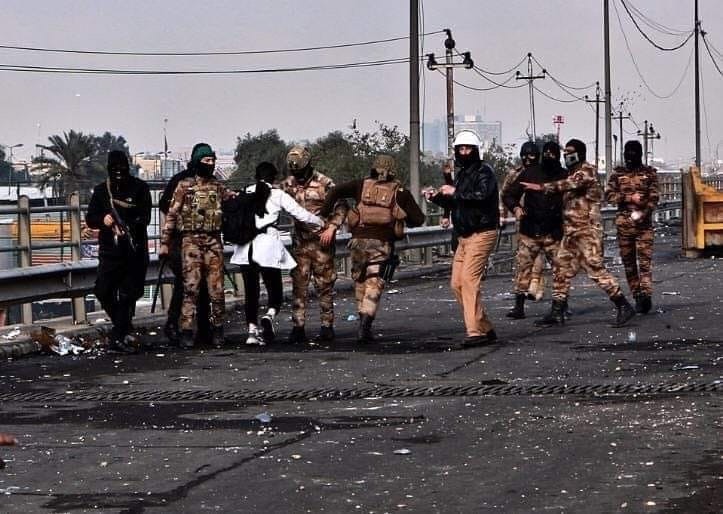 Fryal said, "I ask for a quick release of my daughter and son, they have committed no crimes except for participating in the protests to put an end to injustice, corruptions as well as to improve the lives of Iraqi People."
Solin provided first aid to protestors when they were attacked by the security forces.
"I am on my way to Baghdad to learn about my children. I know Walid is arrested and where he is but do not know the fate of my daughter."
Iraqi protests have started since last October due to lack of services and jobs as well as rampant corruption. The protests resulted in the resignation of the Prime Minister, Adil Abdul Mahi.
On Wednesday, Barham Salih, Iraqi President, at the World Economic Forum, said "over 600 innocent, peaceful protestors-mostly young people, born in the 1990s and after – as well as many security personnel" have sacrificed their lives and "condemned these crimes and acts in the strongest of terms."