Sinjar silo resumes purchasing wheat and barley products after six years of closure due to the Islamic State conflicts (IS).
In the recent days, Sinjar silo was officially reopened to purchase grains products of farmers although the silo has not fully been reconstructed.
Fahd Hamid, the commissioner of Sinjar, told KirkukNow that, "with the reopening of the silo, we started receiving grains of farmers… from now on, farmers of Sinjar, Snoni, Grozir and the other surrounding areas can sell their products to the silo."
Sinjar silo had been closed for more than six years and it was also significantly damaged during the IS war in Sinjar in 2015. Relevant authorities in the district estimate that the reconstruction of the silo costs 50 billion Iraqi dinars.
"A big part of the silo has not been rebuilt yet, but reopening it is a good step for its reconstruction to which a budget has been allocated by Nineveh municipality," Hamid said.
He also added that the reopening of the silo will improve agriculture sector in Sinjar and will help farmers.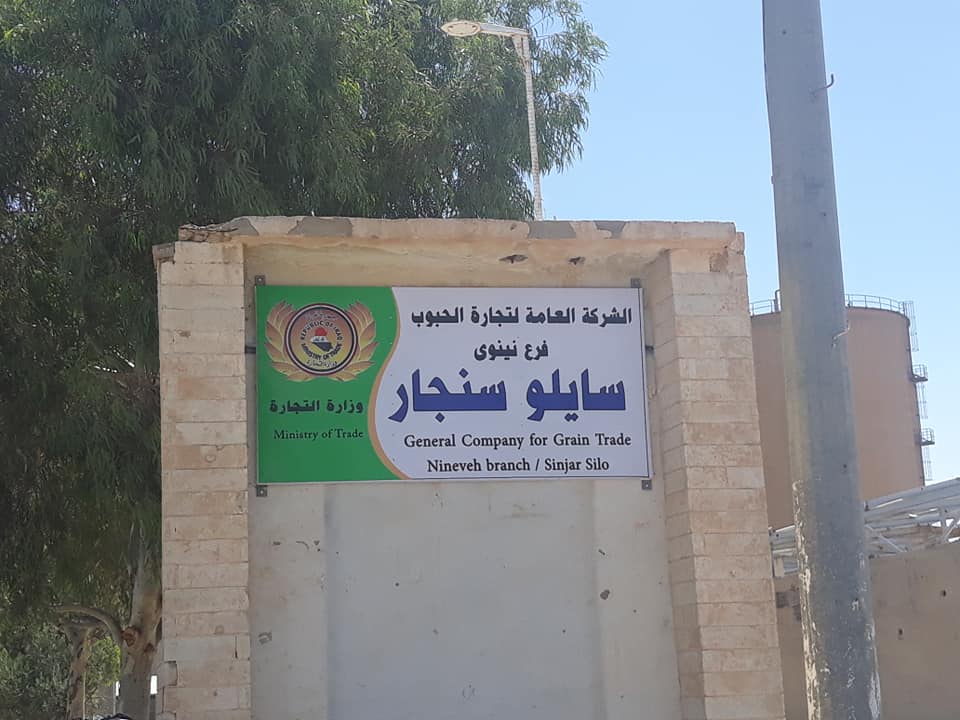 Thousands of tons of grains were subjected to spoilage in Sinjar last year due to the absent of a silo to store the products and the Iraqi government's decision not to purchase the grains.
Sharaf Naif, head of planting office in Sinjar, told KirkukNow that, "the reopening of the silo will facilitate a lot because farmers will hand over their products to the silo with least costs, while they had to transfer their products to Tal Afar district before, which cost a greater amount of money."
The data of Sinjar planting office reveals that 80 thousand tons of wheat and 108 thousand of barley were produced in Sinjar this year.
"This year's grains are great and the purchasing process of the products has started."
Meanwhile, in the recent months, more than six thousand donums of grain crops in Sinjar were damaged by heavy rainfall and hailstones, without any compensation by the government.
Sinjar, which is located 120 km western Mosul city, falls within Nineveh jurisdiction.