The Kurdistan Democratic Party (KDP) expressed its unwillingness to return to Kirkuk if the political and security situation was not normalized, it states.
After the parliamentary events of 16 October 2017 (when Peshmerga Forces were expelled from the disputed areas in the fallout of the independent referendum held by the Kurdistan Regional Government) the KDP suspended all its political activities in Kirkuk province, and most of the officials affiliated with the party who used to occupy governmental, security and administrative positions were displaced to Erbil and have not returned since then.
Muhammad Khurshid, head of the Kirkuk office of the KDP, told KirkukNow: "We will not return to Kirkuk under these circumstances, as we have said it previously."
Since 16 October 2017, the KDP names recontroling the disputed areas "occupation" and demands changes to be made.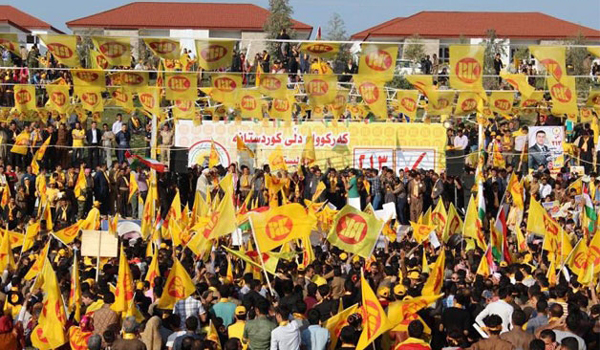 All the offices of the KDP were seized by the Federal Government forces, including their headquarters in Kirkuk, which is located in the Shurao neighbourhood.
"Those offices belong to the Kurdistan Democratic Party and must be evacuated. The buildings do not belong to the [Iraqi] army, but to us," Muhammad Khurshid said.
Last year, the Iraqi government decided to hand over the offices of the KDP, but the decision was not implemented following protests and sit-ins organized by supporters of Arab and Turkmen political parties in Kirkuk.
Regarding the impact of the talks between the Iraqi government and the Kurdistan Regional Government, Muhammad Khurshid said: "Numerous meetings were held, but no concrete steps towards our return have been taken, meaning that no steps are taken to normalize the situation in Kirkuk."
Masrour Barzani, the prime minister of the Kurdistan Regional Government and a member of the political bureau of the KDP, said in a short message published on Friday (16 October 2020) that "the abnormal situation, which has emerged in Kirkuk and other Kurdish areas as a result of the betrayal by traitors, is unacceptable."
This comes at a time when the KDP decided to reopen its offices in the Ezidi-majority district of Shingal in Nineveh, as part of an agreement concluded earlier this month between the Federal Government and the Kurdistan Regional Government to form a new administration.
Idris Zozani, the public relations official of KDP's Shingal branch (which is currently in Duhok), told KirkukNow: "Whenever the agreement between Baghdad and the Kurdistan Region comes into effect, the KDP will be the first to return and will reopen its offices in Shingal."