The Shingal Self-Administration Council demands the release of the members of YBŞ who are arrested by Iraqi authorities in Mosul and the handover of the remains of another who was killed by a Turkish airstrike.
The members of YBŞ (an Ezidi militia formed by the PKK to fend off ISIS attacks) had been taking a fellow YBŞ member, who had been wounded in a Turkish airstrike, to a hospital in Mosul. The wounded man later died. The Iraqi authorities have been refusing to handover his remains, and have arrested the others.
Haso Ibrahim, deputy head of the Shingal Self-Administration Council, told KirkukNow: "One of those who were arrested, who is a driver, has been released. But four members of YBŞ are still under arrest."
"They are being charged with espionage, but they are innocent of that and haven't been spying for any side," Ibrahim added.
The YBŞ member who died, was injured by a Turkish airstrike targeting a YBŞ base in Sinuné subdistrict, Shingal district, on 8 November.
"His remains have not been handed over to his family. After making inquiries, the security forces have told us that the one who has been martyred is not an Iraqi citizen, that's why his handover has been delayed," Ibrahim said.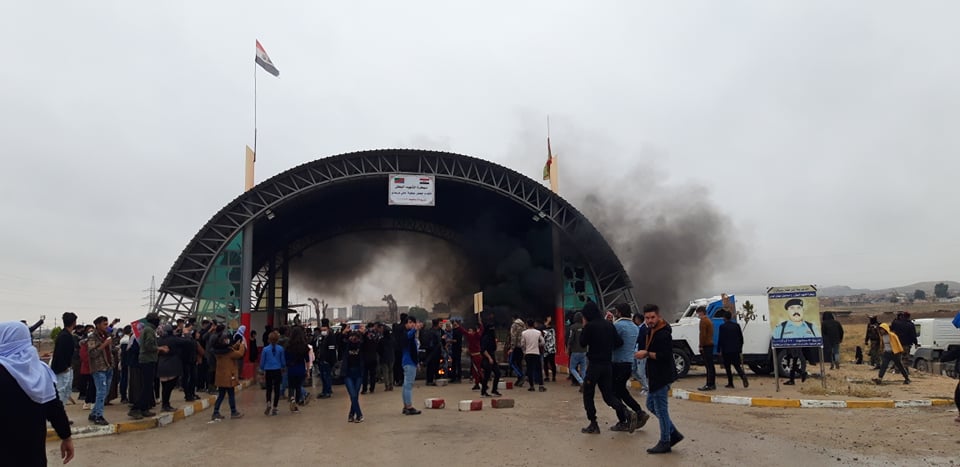 On 16 November, a group of Shingal residents, protesting the authorities' refusal of handing over the remains of the killed man and the arrest of the others, took over a checkpoint on Shingal-Tal Afar route as Iraqi army and Federal Police personnel withdrew from the checkpoint.
Ibrahim says that the remains will be handed over soon, but regarding the ones who are arrested, he said, "we haven't gotten any satisfactory answers."
He warned that if their demands are not met, they will have a strong stance.
After receiving promises from the authorities for the handover of the remains of the killed YBŞ member and the release of the others, the protestors cleared the checkpoint and gave the government 24 hours to meet their demands.
Ibrahim said that next to the YBŞ members, "the Iraqi security forces have detained eight other Ezidi citizens from Shingal on charges of killing ISIS militants during the war. Which is a big mistake, as people have been protecting themselves."
YBŞ is a force consisting of Ezidis, they have taken part in driving out ISIS from Shingal district alongside Peshmerga and Federal forces. They have several bases in Shingal district.