Mothers have always been eager to learn; writing with one hand, and holding their children with the other. They raise their children while anticipating a bright future at the illiteracy eradication centres.
"I crave learning like a small child," said 55-year-old Su'ad Ali, mother of 10 and second-stage student in one of the illiteracy eradication centres.
Su'ad says she got married before she was 20, and that after having children, she was not able to go to school. But she found an opportunity in the illiteracy eradication centres to learn reading and writing.
I crave learning like a small child
The Halo Centre for eradicating illiteracy, which was established two years ago in Kirkuk's Rahimawa neighbourhood by the government, has become a learning place for tens of others like Su'ad who haven't been able to finish school due to difficult life circumstances.
There are 229 such centres in Kirkuk province, where 22,606 students attend.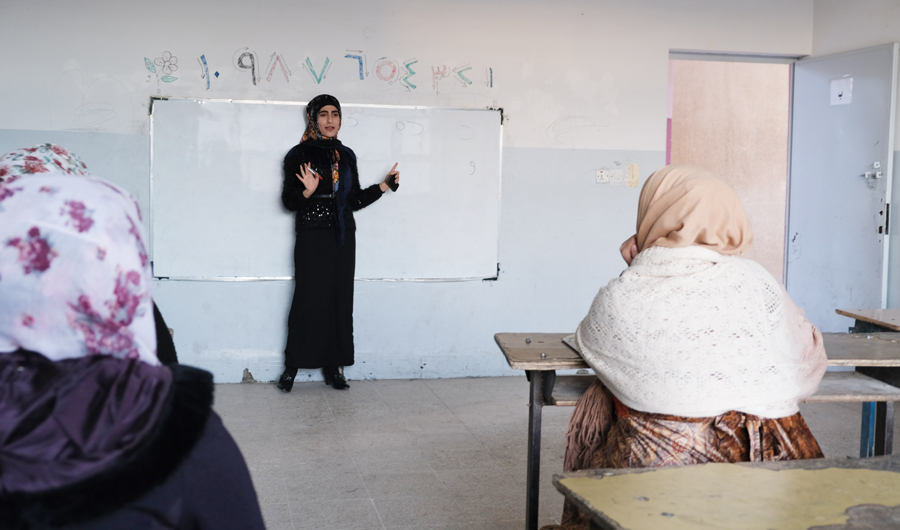 While education processes have slowed down due to the Coronavirus outbreak, at the illiteracy eradication centres intensive classes continue four days a week; two days for women and two days for men.
There are four stages at the illiteracy eradication centres: the first, which takes one year, includes the first and second regular grades; the second, includes the third and fourth grades; the fourth and fifth stages are the same as the fourth and fifth grades.
"After finishing two stages at that centre, I can now read and write. I can also manage my affairs at the doctor's office and government offices. But previously I would need help from others," Su'ad says.
At the Halo centre, where Su'ad gets lessons in Kurdish, students start from scratch. The students are mostly housewives, civil servants, police personnel, and labourers. Some of them want to learn to read and write, others want to go further and gain a diploma to help them get higher positions at the government offices where they work.
In general, the students get lessons in Kurdish, mathematics and social studies.
Sameer Abuzayd, director of one of the illiteracy eradication centres in Kirkuk, said: "This initiate came after we sensed responsibility and that there was no place like this for learning in Kurdish."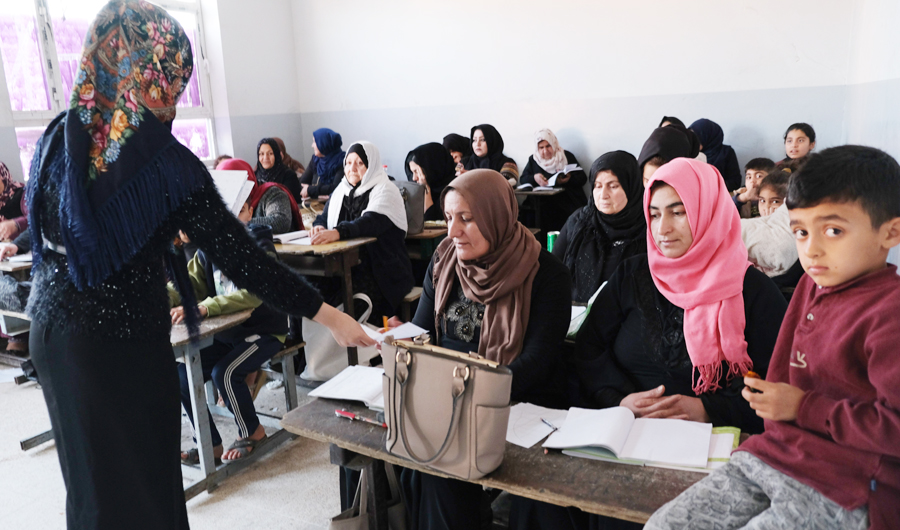 "This is different from regular schools; we go and for students ourselves. We wrote to six mosques near us recently so that they call people to go back to school. And last year, we went house to house to let people register," Abuzayd said.
What makes Abuzayd's centre different from other ones, is that women "are very eager to learn," he says.
"The women here are very enthusiastic. When we ask them to be here at 15:30, they are here around 15:20 to 15:25. Sometime they get upset if we get late," he said.
The women here are very enthusiastic
Those who learn at the centre, are mostly those who were not able to continue learning due to poverty, and they later get married. They now get this opportunity for learning.
Some of the teachers are volunteers, while others are paid by the government.
"In the beginning, the students are not used to the milieu of school and it takes time until they get used to sitting in class and resume learning," Abuzayd adds, "We have made everything easy for the students, especially for women, because all of them have children and families and have responsibilities. That's why the time for their classes has been determined at 15:30 to 17:00. I always say that they live in exceptional circumstances and therefore need different accommodations; they have experienced harsh circumstances in life and haven't got the chance to get an education."
Some of the women who attend classes at the centres face scrutiny.
For example, Su'ad Ali, who has been attending classes since last year, says: "Many have told me that I am old and should give up learning, but I reply that as long I live, I will continue learning."
Last year, there were 120 students at the centre which Su'ad goes to. 34 of them were women.
24-year-old Gardoun Muhammad, one of the teachers at that centre, told KirkukNow: "I assist them in [learning about] sceince and math, but they assist me mentally and teach me what it means to persevere."
She calls on other women who haven't had the chance to get an education, saying: "This is an opportunity you shouldn't miss. Even if there is only one person, we will continue our classes, but if more people participate, it will delight us."
The number of women who learn at such centres in Kirkuk and across Iraq is not small. Su'ad Ali proves in practice that if women get the chance, they are able to get an education on top of their household work and raising their children.