The Prop-PKK autonomous administrative council of Shingal sends out a 13-reuest letter to Iraqi PM asking for an independent administration for Shingal, Special forces embracing its security forces (Ezidkhan Asayish), revocation of Erbil-Baghdad (Shingal agreement) and holding KDP accountable.
The letter was handed to a senior Iraqi security-military delegation visiting the Ezidi dominant region of Shingal following last Thursday tensions erupted between Iraqi army and police forces in Shingal and Pro-PKK demonstrators protesting the decision of ousting Ezidkhan Asayish from Shingal.
Iraqi national security adviser Qasim al-Aaraji, Iraqi army commander Abdulamir Yarullah met Shingal autonomous administrative council and Ezidis Democracy and Freedom Party on Monday.
Shingal Autonomous administrative Council, a local civil administration founded few years ago and close to Shingal Struggle Units YBSh, pro-Kurdistan Workers' Party PKK (Kurdish rebel group fighting Turkey and occupying northern Iraqi territories) in Khanasor northwest of Shingal. Ezidkhan Asayish, meaning security forces in Kurdish, has about 1,000 fighters and is part of YBSh in charge of the security in the area.
When Shingal fell under reign of Islamic State ISIS in August 2014, Iraqi troops backed by Kurdish Peshmarga and pro- PKK fighters' ousted ISIS in October 2015 and deployed in the region.
Omar Saleh, leader of Ezidis Democracy and Freedom Party, said the meeting addressed the security situation in Shingal, role of Ezidkhan Asayish and the return of Ezidi IDPs.
"We need to have our autonomous administration and Special Forces in Shingal, under whatever name whether autonomous council or non-central province,"
"We need to have our autonomous administration and Special Forces in Shingal, under whatever name whether autonomous council or non-central province," Saleh said he told the delegation.
Shingal, located 120 west of Mosul, centre of Nineveh province, on the border of Iraq-Syria, is home to the Ezidi religious minority targeted by extremist Jihaddis of ISIS and one of the disputed territories between Baghdad and Erbil.
Over half a million Ezidis were living in Iraq before ISIS taking control of one third of Iraqi territories. About 350,000 Ezidis were displaced, only one third of them are back to Shingal district, Nineveh province for lack of stability and poor public services and living conditions.
The Autonomous Council told the Iraqi officials the issue of Ezidkhan Asayish requires a legal frame, asked for support of YBSh, the military wing of the council, no fly zone over Shingal and put an end to the embargo imposed by Mosul and Erbil against Shingal, shows the letter, KirkukNow got a copy of it.
The complex texture of the security and administrative situation in Shingal is an aftermath of ISIS reign and a source of concern of the Ezidi community in general and in particular for those returned home in hope of leading a normal life post ISIS trauma.
In the Ezidi-dominant region of Shingal, only three thousand square km, Baghdad federal and Erbil regional governments compete to establish their rule: three local administrations want to administer the district, and eight different security forces are deployed.
The militant groups are pro-Iran the Shiite Popular Mobilization Forces PMF, Shingal Protection Units (YBS) and Ezidkhan Asayish which are pro-PKK, local Police, Iraqi Security Forces (ISF), and KRG's Peshmerga (Kurdish fighter).
Occasionally confrontations arise when Iraqi government attempts to implement Shingal agreement and ask the militias to leave the center of the town.  
Iraqi government and the Kurdistan Region Government KRG agreed to appoint a new mayor and jointly provide security by a unit of local volunteers in order to oust other militias in particular pro-PKK troops yet the "Shingal agreement" signed in October 2020 is not effective yet.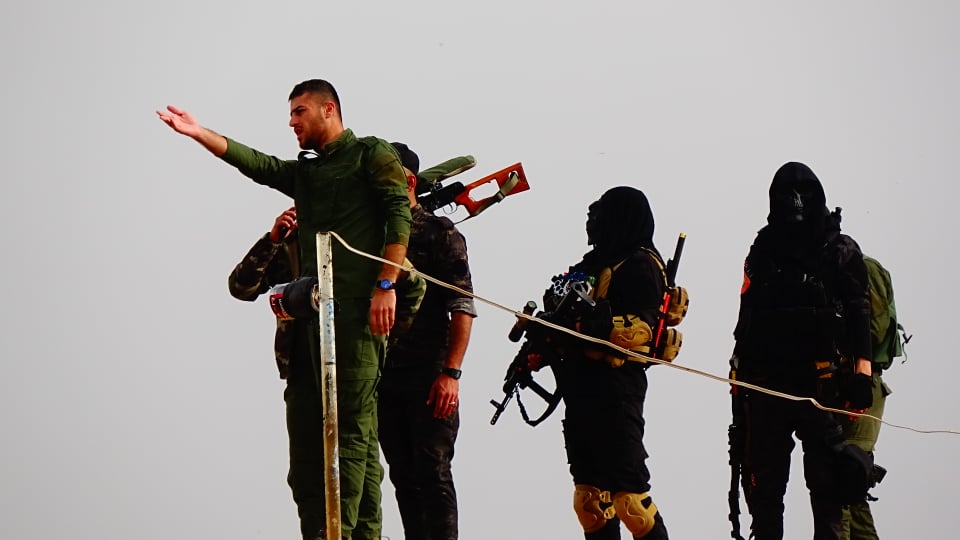 The Iraqi delegation has not published any statement yet. KirkukNow could not manage to get in touch with the delegation.
Revocation of Shingal agreement is another demand of pro-PKK Ezidis. "It's just an agreement with KDP yet the locals and the council were not involved," the letter adds.
Kurdistan Democratic Party KDP led by Masoud Barzani was in charge of the security in the region ahead of IS takeover of one third of Iraqi territories in August 2014.
"The KDP security forces should be held accountable for leaving Shingal in 2014. There is need for censorship so that KDP cannot force the IDPs to vote for it in next elections," the letter adds.  
Turkey-PKK tension is a concern for Ezidis of Shingal as the Turkish army regularly conducts cross-border operations and air raids on PKK bases in northern Iraq. Turkish president Recep Tayyip Erdogan vowed end of January to attack Shingal at any time in pursuit of groups affiliated to PKK based in the region.
"The delegation showed their support for our demands, highly appreciated our struggle and sacrifice and promised to work for it and pass it to PM Kadhimi," Saleh added.
There are around 28,000 Ezidi families in 16 Internally Displaced People IDP camps in Duhok, mainly from Shingal district, Iraqi ministry of migration and the displaced says.
The letter called for return of IDPs leading a miserable life by providing more support and compensation of the losses caused by IS attacks.
Few days ago, the autonomous administrative council in Shingal called for a peaceful legal solution for the issue of its security forces following tensions over a 24-hour notice to leave the predominantly Ezidi town