Kirkuknow was presented "the most progressive media outlet" award by an international media support non-profit in in a festival held on Monday November 1st in Erbil.
Internews, an international media support non-profit in 100 countries, presented the award of "the most progressive media outlet" in 2019-2020 to KirkukNow in Aswatouna Media Festival 2021.
The same award for 2020-2021 was presented to Nawzhin Newspaper which covers and advocates for women issues and rights. Both media outlets received the award for their coverage of women and gender issues.  
A number of female journalists were awarded for their journalistic efforts and output.
The festival included several panels about gender representation in the media and the obstacles ahead of freedom of press, expression and women journalist.
Internews, as an international nonprofit with 30 offices around the world, supports independent media in 100 countries, from radio stations in refugee camps, to hyper-local news outlets, to individual activists and reporters.
Footage of part of Aswatouna Media Festival 2021 held on Monday November 1st in Erbil by Internews. 
The senior officials of Internews pledged more support for the media in Iraq and develop more women voices all over Iraq as part of their programs launched since 2012.
"By these rewards, Internews aims at encouraging and promotion of producing journalistic pieces about sensitive gender issues and cover women-related issues," said a statement by Internews.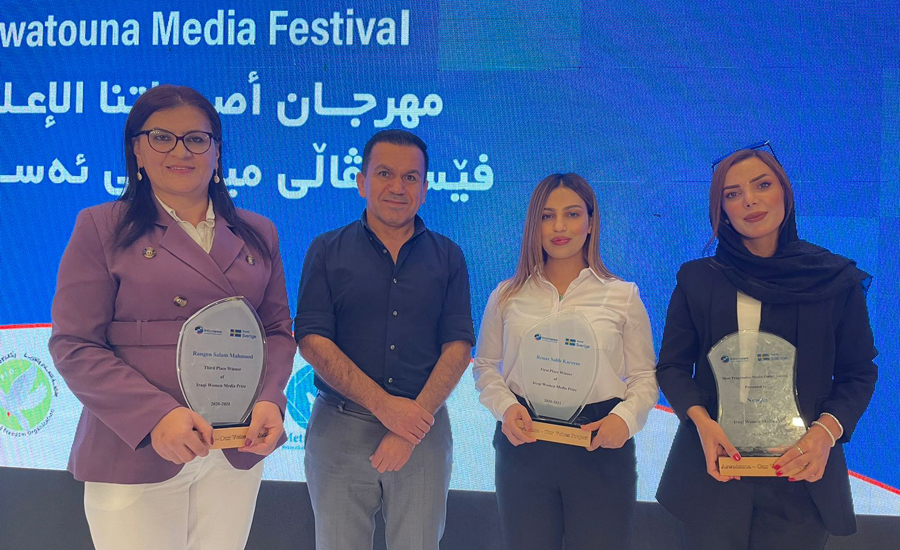 KirkukNow is an independent electronic news website publishes stories and events taking place within or relevant to Iraq's disputed territories, as defined in the Iraqi constitution, with the aim of promoting coexistence in those areas and providing easy access to information.
In April 2011, www.kirkuknow.com was launched as an online news agency, the only independent media outlet that covers developments throughout the disputed territories in Iraq in the three main languages of these areas - Arabic, Kurdish and Turkmen- as well as in English.