Kirkuk Health Department has placed citizens in front of two options by receiving the Corona vaccine in order to protect themselves or facing more severe consequences, as part of the measures aimed at confronting the Corona epidemic as schools open doors for in class education in Autumn season where temperature drops down.
The warning of the Directorate general of health in Kirkuk is a precautionary measure in fears of a "stronger and tougher" wave of the Covid pandemic given that the virus is constantly mutating and potential strains of the virus to appear particularly in colder seasons, at a time when cases of infection in Kirkuk are witnessing an increase due to the start of the new school year.
In the latest step, the Iraqi Ministry of Health decided, based on the recommendations of the World Health Organization WHO, to grant the Pfizer-BionTech vaccine to starting from 12 years and over, coinciding with the start of the new school year on November 1, 2021.
Kirkuk Health Director Dr. Nabil Hamdi Bushnaq told KirkukNow, "The Ministry of Health has warned of the emergence of a new wave of the Corona virus. We believe that the new strains of the virus will be more dangerous and more widespread."
The best available option currently is to receive a vaccine, otherwise citizens, as Boushnaq said, "are combating death due to the symptoms and the dangerous prognosis of the virus."
The number of vaccinated does not satisfy our ambitions yet
"The number of vaccinated people does not satisfy our ambition so far, because there are many people who are still afraid of receiving the vaccine due to some allegations and misinformation," said Kirkuk's health director.
In Kirkuk Governorate, there are 80 vaccination outlets where Pfizer, Sinopharm and AstraZeneca vaccines are available.
On Wednesday, November 3rd, 65 cases of covid-19 were recorded in Kirkuk, along with two deaths, bringing the total number of cases recorded in Kirkuk to more than 73,000 cases and 1347 deaths.
The Supreme Judicial Council in Iraq decided in August to take legal measures against anyone who urges people not to receive the Corona vaccine.
More than 6.6 million Iraqis have received the Corona vaccine so far, including more than 250,000 in Kirkuk Northern Province out of which more than half received both doses, majority Pfizer-BionTech, Sinopharma second and then AstraZeneca.
"These days I took two of my children to a health center and they received the vaccine there. I told them that this is the only way to avoid infections," said Abu Aqil, a Kirkuk resident who works in the security forces.
Abu Aqil says that his children can now go to their schools and study without fear. "I am not afraid anymore because they have received the vaccine but I have three children who cannot receive the vaccine because they are younger."
The Iraqi ministry of education has approved in-class education for new academic year launched November 1st unlike the last two years where most of the terms were online and electronic via portals and websites.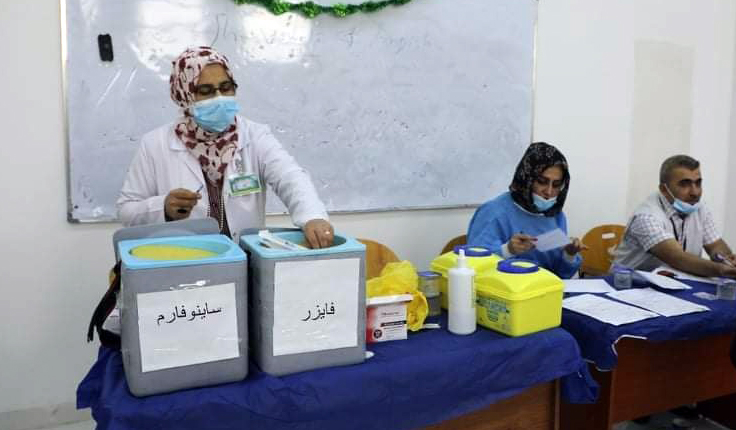 The director of Kirkuk Health said they expect from the beginning of this month an increase in infection cases due to the resumption of work hours (in state offices) and the presence of students in schools, universities and institutes, "so we formed a committee to visit educational institutes to urge students over 12 years old to receive the vaccine,"
Among the other reasons that play a role in the increase in cases of infection, lift of travel ban and free travelling of citizens to neighbor cities overlooking masks and ignoring preventive measures.
Abu Aqil preceded his children in receiving the vaccine and says that he did not suffer any severe side effects, and he called on fellow citizens to receive the vaccine to reduce the number of deaths from the Corona virus.
The fear and hesitation of some citizens is due to a campaign to spread various allegations about vaccines since the beginning of their discovery until now, such as allegations of slow death, sterility and many other diseases in the event of receiving the vaccine.
Sometimes the cost of treating and caring for a single patient infected with corona reaches $700 per day
The Director of the Kirkuk Health explained that the allegations related to the anti-Corona vaccines are "incorrect and misleading information published by people claiming to be experts of medicine and vaccines mislead people toward other preventive methods for financial benefits."
Bushnaq said that people who spread misleading information about the vaccine once infected resort to (private) health centers for treatment, which in turn provides them with "expensive medicines and medical equipment, sometimes the cost of treating and caring for one infected person with corona reaches 700 dollars per day."
For its part, the Kirkuk Education Directorate decided to close stores in all public and private schools in order to preserve the health of students and combat the threats of Corona.
"My children are studying in an primary school, and I have stressed the need for them to adhere to preventive measures, such as wearing masks and gloves, and using sterile materials outside the house," says Abdullah Abid, a resident of Kirkuk.
Abid has not yet received the vaccine because he is afraid of receiving it for the rumors circulated on social media networks.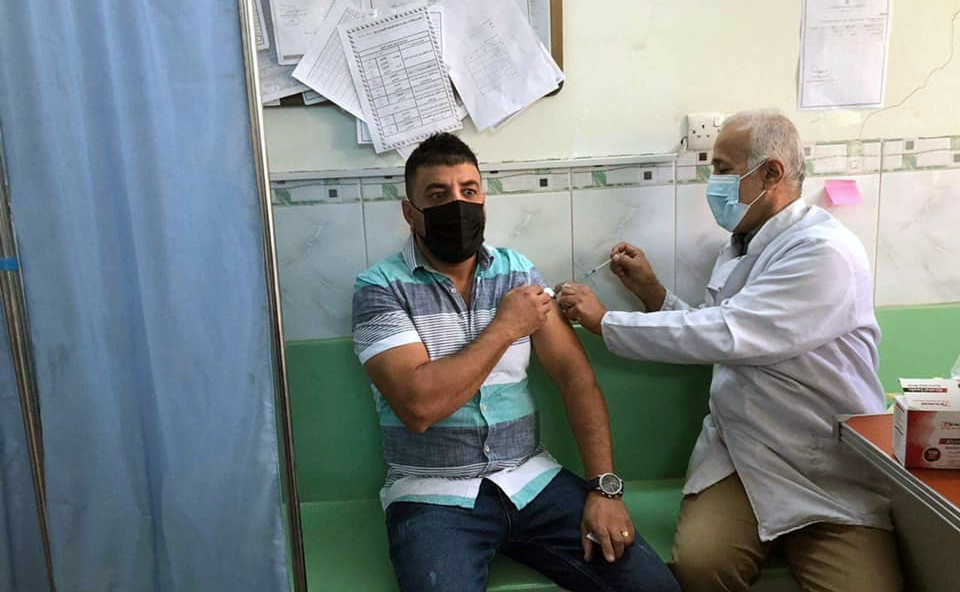 Kirkuk's health director says that they do not expect to face the same situation that occurred at the beginning of the virus's emergence, given that doctors and health staff have more experience and expertise on how to deal with Corona injuries, so they are skipping lockdown measures that negatively affect the lives of citizens.
Boushnaq pointed out there are several centers for receiving infected patients including Al-Shifa Hospital 14, where 80 patients are currently hospitalized, the Infectious Diseases Treatment Center, which includes 50 beds, in addition to the allocation of a 25-bed ward in other hospitals of Kirkuk.
The administration of Kirkuk Governorate had issued a decision on August 22nd mandating show of Covid-a9 vaccination card or conducting a weekly PCR examination for civil servants to attend offices and visitors as well.