Inside an old, semi-destroyed house lacking the most basic necessities of life, the only six-year-old Fatima is crying holding a stack of first-grade books by her fragile shivering hands.
The sound of Fatima's crying fills the house in the Saadiya district, northeast of Diyala. All she asks is to carry her bag, wear the school uniform, and go to her schoo, like her friends and neighbors, but neither her mother nor her grandmother can solve her dilemma and fulfill her wish.
Fatima's problem is complicated. She was born as a result of her mother being raped during the war against the Islamic State in Iraq and Levant ISIL and she does not have any identity card or national IS thus she has no chance to attend school.
The extremist militants of ISIL took control of Saadiya district in June 2014, but the Popular Mobilization Forces PMF, a pro-Iran Shiite paramilitary, the army and the police regained control of it in November of the same year.
Aisha Nasreddin (40 years old), Fatima's mother, was living with her parents and brother when ISIL took over the district, and her family was unable to leave the district so they had no choice except to stay at home.
After they spent the night under the sounds of volleys of bullets, shells and explosions, the next morning they found that their town had fallen into the grip of ISIL. Aisha lost her father and brother whom went missing and since then, she does not know anything about their fate so far.
Rayhan Khalil, mother of Aisha, a woman in her sixties, told KirkukNow, "When Daesh arrived, we stayed here and did not leave our home because we were unable to do so, and Aisha's father was not there to save us."
"One day we forgot to close the door of our house, so two gunmen entered the house and raped my daughters, Aisha. After a while, Aisha became pregnant," according to Rayhan. There is no proof that the two gunmen were ISIL militants.
In 2015, Aisha gave birth to a child, named Fatima. Fatima, who is now six, lives with her mother and grandmother.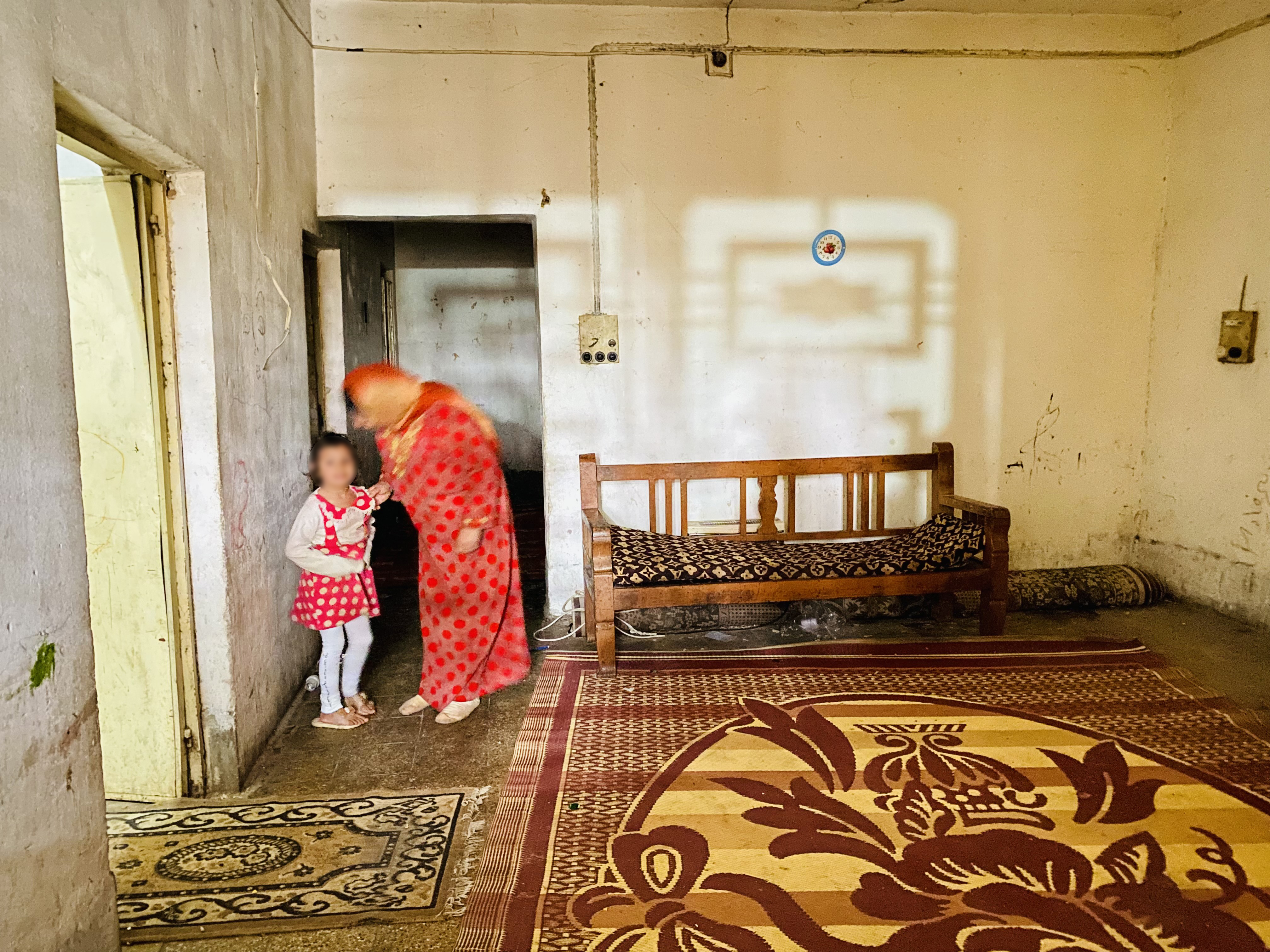 Aisha and her mother suffer from depression, and according to information from civil society organizations and security agencies that followed up on this family's case, Aisha was suffering from a psychological illness before being sexually abused.
Aisha, Fatima's mother, was shivering from the cold, the house was devoid of any means of heating and she was wearing ordinary dress in the middle of winter. This family lives in a miserable situation and depends on the aid provided by people.
KirkukNow reporter said that he was unable to speak with Aisha because of her health condition.
Aisha had separated from her husband before the ISIL attack on Al-Saadiya, as the couple lived in the Jalawla district of Diyala province, and following divorce, she returned to her parents'.
Fatima is loved by her mother and grandmother, but now she keeps crying because she has been deprived of school for lack of ID card.
Under the Convention of the Rights of the Child, every child has the right to education, and preventing any child is a violation of his rights.
 Omar Ali, the head of the community police in Khanaqin district said they were informed about the case.
According to the follow-up of the community police in Khanaqin, "This woman was suffering from a mental illness when she was raped, and she was sexually assaulted by Daesh militants in 2014, and became pregnant," Omar Ali said, but he did not present clear evidence to prove it was carried out by ISIL militants.
Last year, the community police published a video report about that family sent to the office of the Iraqi Minister of Interior, in order to issue an identity card for Fatima and help her family.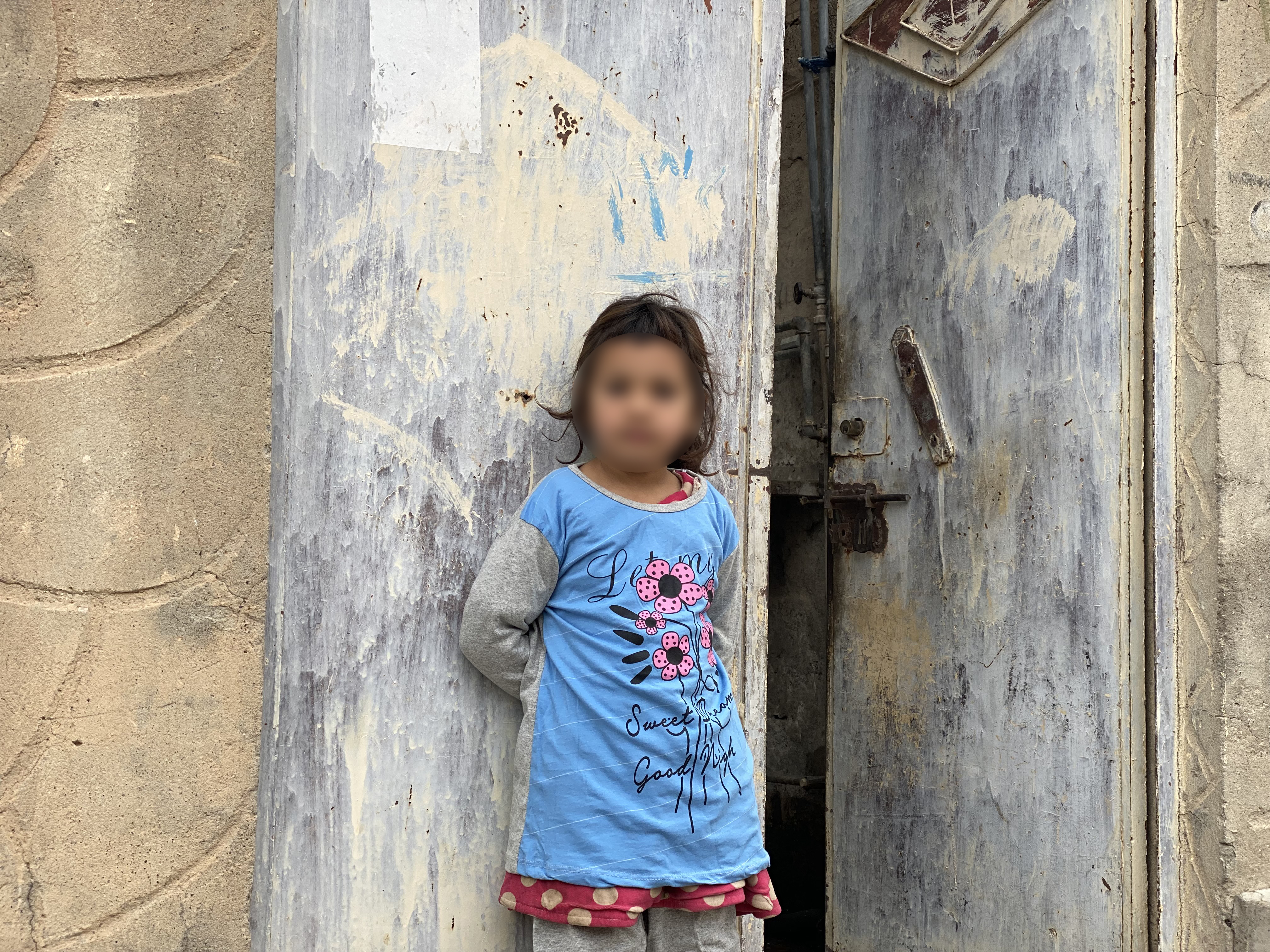 After sending the photo report, a delegation from the Ministry of Interior and the Diyala nationality and passports department arrived in Al-Saadiya district. The delegation visited the home of that family and listened closely to their story, according to the Khanaqin community police officer.
"At that time, they promised to issue an identity card to Fatima in accordance with the legal instructions and measures in order to help Fatima achieve her dream and enroll in school."
According to the Personal Status Law, a child of unknown parentage, whether both of or one of his parents are unknown, has the right to obtain Iraqi citizenship.
Aram Youssef, a lawyer from Khanaqin, says, in light of the provisions of the law, "birth certificate must be issued for children of unknown parentage... If the child of unknown parentage has reached the age of 15, he can submit an application himself to the competent court, or else a guardian or a relative nominated by the court shall make that request."
"The court should investigate the fact that the person who applies for a birth certificate is of unknown parentage, in the manner it deems appropriate, if it becomes clear to the court that the child is of unknown parentage, then he is referred to the forensic medicine department to determine his age and then issue his birth certificate, which must indicate person's name, names of mother, father, grandfather and grandmother, birthplace, age and religion."
Regarding the case of Fatima, whose father's identity is not known, lawyer Adnan Rahman told KirkukNow, "According to the Personal Status Law, since the mother of that child is not known and is Iraqi, she can obtain the ID card."
As for Zahraa Adnan, a civil activist in the Saadiya sub-district, she demanded immediate assistance for this family. "Fatima's family is poor and their living situation is very difficult... Fatima's mother and grandmother also are in need for social care and psychological support... They do not have even social welfare salary."
Fatima is waiting for the doors of the school to open for her, but ahead of that, the doors of the courts and competent authorities.
KirkukNow changed the names of the members of the family in this report.