Dilkhosh Kamran's right hand and arm up to elbow is casted and attached to her neck, because medical examinations diagnosed two fractures in the bones of her hand, and all this happened while she was at school.
According to the story of Dilkhosh kamaran, grade 6, and her family, which was confirmed by education officials, one of her teachers hit her with a stick that caused cracks in two places.
"We were in the fifth lesson, I was sitting in the class, the math teacher came into the classroom and said right away I'll look at your nails. When it came to my turn, she asked me why your nails are so long and I told her I forgot even though my nails weren't long because I so scared." Dilkhosh was telling her story to KirkukNow overwhelmed with tears.
Dilkhosh is 12 years old, and she is a student in the sixth grade in of of primary schools of Kirkuk province.
"The teacher asked me to open my hand, she hit me with the stick twice, one hit my palm and the other hit my fingers, then she has beaten several other students."
The incident occurred on Tuesday, January 11, 2022 in Raparin School in the Latifawa area of ​​Al-Shorja neighborhood, a school under the Kurdish Education Department in the General Directorate of Education in Kirkuk.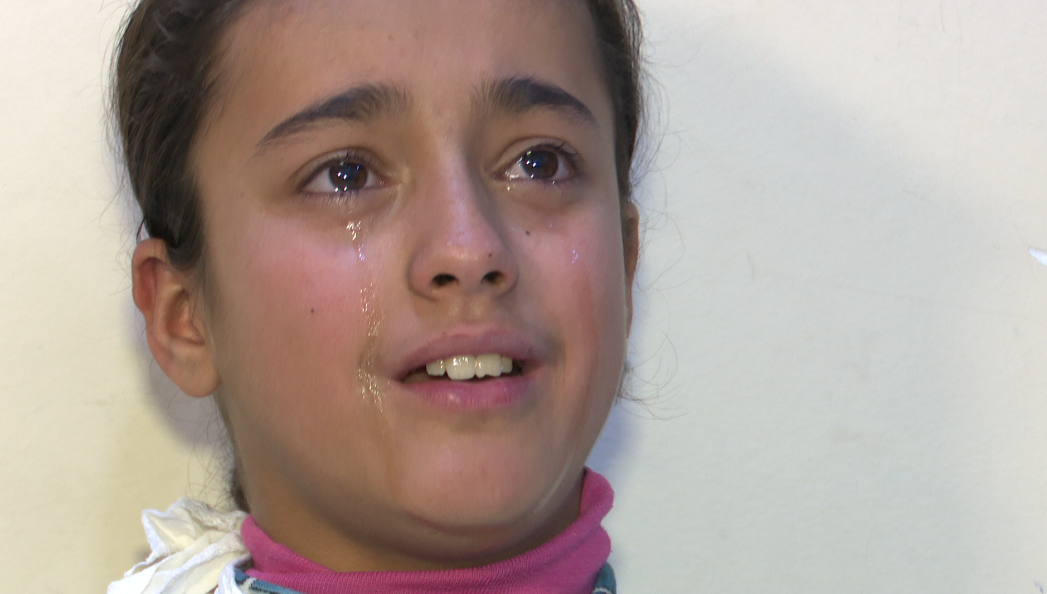 Dilkhosh says that she felt pain at that moment, but her pain increased after returning home. "Then I told my family members that the teacher beat me, we went to the hospital and they gave me tests."
The results of the x-ray examination showed that the bones of Dilkhosh's right hand had fractures in two locations.
The student's parents filed a complaint against the teacher in the Kurdish Education department which formed a committee to investigate the incident.
Shaida Hekmat, Dilkhosh's mother, told KirkukNow, "After we casted her hand, we went to school the next day to see that teacher and find out the reason why she hit my daughter, but instead of apologizing, she said: Yes, I hit her and I don't regret anything."
KirkukNow has tried to interview the teacher but the attempts were fruitless.
The teacher told me that she questioned the student because she did not do her homework
Nawzad Bakir, the principal of Raparin school, said, "The teacher told me that she questioned the student because she did not do her homework. I had never seen that teacher carry a stick before. I did not know what happened before the student's parents came to me."
Bakir confirmed that "a commission of inquiry has been formed. We support the application of law, and we accept any decision taken by that commission."
According to Article 53 of the Primary School System Law No. 30 in 1978, "corporal punishment in any form is strictly prohibited."
Dilkhosh's mother says, "We filed complaints with the Kurdish Education Department for Kirkuk Education and the Supervision Unit."
Yesterday night, January 12, a committee from the Department of Kurdish Education in Kirkuk Education, based on the recommendations of the Minister of Education of the Kurdistan Regional Government KRG, paid a visit to Dilkhosh's family, promised investigation and accountability.
Sherzad Rashid Kaka, director of the Kurdish education department, said in a clarification, "We decided to form a committee quickly and without delay. Based on the committee's recommendations, we will take the necessary legal measures against that teacher."
One of the growing challenges of education in Iraq is lack of professional teachers.
Iraq's education infrastructure is in ruins in many parts of the country; one in every two schools is damaged and needs rehabilitation, says a report by UNICEF about education in Iraq.
A number of schools operate in multiple shifts in an attempt to accommodate as many students as possible, squeezing the little learning time that children have.
Kirkuk, Iraq's second largest oil reserves, is ethnically a mixed province of Kurds, Arabs, and Turkmens. It has long been at the center of disputes between Baghdad and the autonomous Kurdistan Regional Government KRG.
Article 41 of the Iraqi Penal Code gives teachers and parents the "right to discipline" minor children, provided that they do not go beyond what is legally prescribed.
However, the Iraqi Federal Court issued a statement in April 2019 stressing that the "right to discipline" does not mean the use of violence.
Also, according to Article 29 of the Iraqi constitution, resorting to methods of violence and injustice within the family, school and society is not permitted.
Dilkhosh's incident was the second case of beating and humiliation committed against students in the city of Kirkuk during the past two months.
On November 10, 2021, a video clip was widely shared on social media platforms, in which a teacher appears to hit a student with a sweeping stick in front of his classmates and later verbally insults him.
With regard to that incident, an investigation committee was formed and the teacher was punished by a decision of the Iraqi Ministry of Education by transferring him outside the city center of Kirkuk and depriving him of the allowance and promotion for a year.