Urban green spaces have mounted to 21% in Halabja, southwest of Sulaymaniyah on the border with Iraq, compared to only 10% in the Iraqi capital Baghdad, thanks to voluntary personal and group efforts by advocates of climate and environment.
Halabja is a mountainous region surrounded by natural forests and man-made orchards. The plenty of springs and doves have nourished its urban green spaces, a priority for its people, activists and non-governmental organizations NGOs.
Lately campaigns of awareness targeted students and teachers at schools via "Let us green Kurdistan" funded by WADI and BMZ, two international NGOs with headquarters in Germany and implemented by NWE (New in Kurdish), a local NGO based in Halabja.
The project is part of an inclusive campaign to boost urban green spaces UGS in the region.
Teams of the local NGO started with greening nine schools along with awareness campaign for students, parents and teaching staff about nature and environment, said Sara Salam, in charge of environment desk of NWE NGO.
Salam said they have chosen nine schools in Halabja and its suburbs: Khurmal, Sirwan, Biara, Tawela and Sayid Saddiq. The first phase was planting young trees and the second phase was growth follow up along with seminars and meetings for raising awareness.
"Our main target is not only planting. Beside boosting greenery, we enlighten children about protection of environment via seminars, plays and involve them in planting campaigns," Salam added.
The war-torn Halabja which was bombed by chemical weapons by former Iraqi regime in 1988 which left thousands deaths and injuries, has become administratively a province in 2014 under Erbil-based Kurdistan Regional Government KRG, yet poor public services and living conditions, urged many families to leave toward Sulaymaniyah and big cities.
Halabja province has about 103,000 residents, 70,000 of them reside in Halabja City. Each year, 200 to 300 families leave Halabja due to lack of services and job opportunities. Most of them go to Sulaymaniyah. The Iraqi Federal Government has not officially recognized Halabja as a province up today.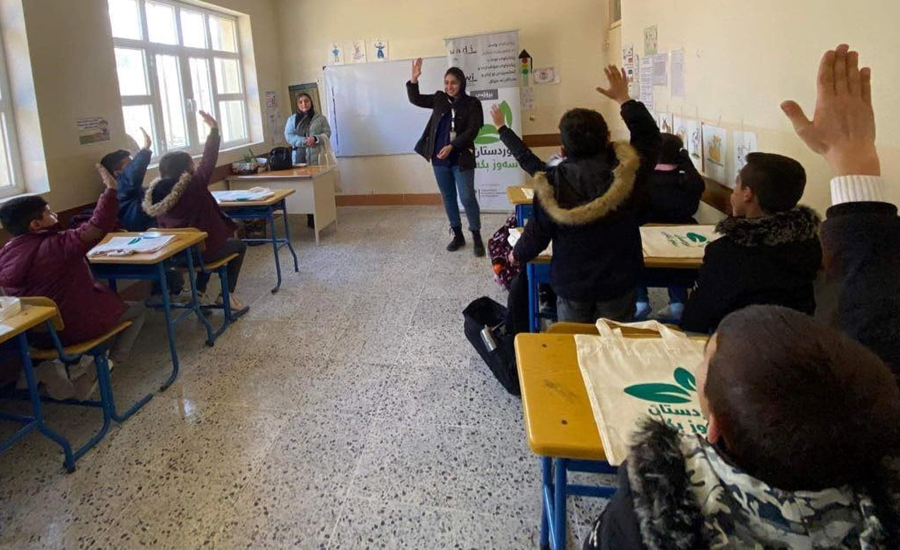 Part of the project includes discussions with parents of the students.
Amid meeting with the students at schools they visit, the teams of the local NGO plant trees in the gardens of the schools in order to urge the students for boosting greenery and looking after it.
The project funded by WADI, covers the regions of Garmian and Rania as well.
The project has been launched Mid-November 2020. Every month, the teams visit the schools to check the growth of the plants and the feedback for the awareness campaigns.
"The students and the teachers warmly welcomed the project which urged other schools to ask for be covered in next projects."
"The students and the teachers warmly welcomed the project which urged other schools to ask for be covered in next projects."
Beside the efforts of the NGOs, individual efforts were spent in Halabaja.
Hoshmand Faris, principal of Qadafari village primary school has been voluntarily planting and growing trees in the last seven years.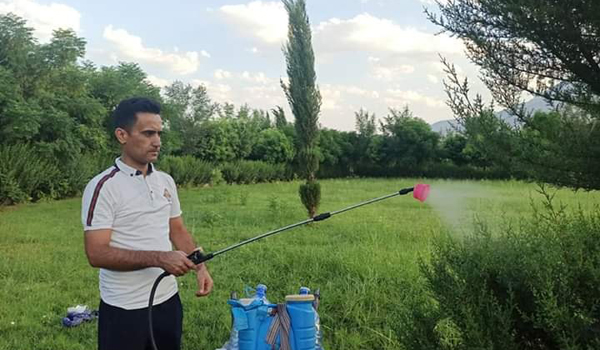 Back in July 2014, when Faris proposed to his friends planting trees on the ways connecting the villages, "they turned silent because no one ever planted trees in public spaces and later took care of it as greening highways takes more time and cost."
Up to the present, Faris has planted about 1,200 trees. "My will and persistence were keys for success.
Faris ploughs, cultivates, plants, irrigates, makes fire belts, trims and sprays pesticides for the trees and greenery he plants.
Currently, the way from Halabja to Khurmal, Sirwan and Biara has been turned green with efforts by the government and volunteers.
Halabaja now has 72,000 green donums out of 342,000 donums totoal area, Halabja department of forests and grasslands. 58,000 donums of Halabja green spaces are natural forests and 2,000 donums are man-made. It is home for 12,000 donums of orchards and 258,000 public parks.
The local administration of Halabja says greenery in Halabja has exceeded 21% and is increasing.
"We hear different incorrect information about rate of public green spaces in Halabja yet these figures are almost realistic," said Mohamed Mahmoud, director of Halabja forests and grasslands.
Halabja: A camping by NWE NGO to distribute cloth bags to replace plastic bags.
Beside greening plans, the local NGO has prepared linen bags to replace plastic bags in an effort to protect the environment.
"We have enlisted another 12 schools for awareness campaign in our new proposal," Salam enthusiastically said.
The municipality of Halabja is aware and supportive of the efforts as draught has been clearly obvious for visitors of Halabja last year, causing damage to its wide green forests.
Out of 255 springs, 116 have turned dry, figures by the local NGO show.
Mahmud said according to their survey, 1,238 different species of trees have turned dry, 4,861 trees were damaged, decreasing greenery in man-made forests by 0.4%.
Private sector has given a hand to locals trying to keep Halabja green.
Faris said that a local company helps with irrigations as he needs to irrigate trees between the villages.
"My efforts for greening and serving the environment will go on and have my plans for this year. I am trying to convey my pro-environment message to my students and giving flowers as reward for the top students."