Abu Daoud received a concrete block by his right hand and balances it on the wall he is building with his left hand holding his back, and waits for the next block. In a low voice, he said to his son Ahmed, who works with him, "Give me another block."
He was standing on a 3-meter-long plank supported by some blocks from the right-side using a nearby ascent ladder as balance for the left side, unimpeded by his injury as he builds a wall in one of the buildings under construction in the Al-Dawasah area next to the eastern part of Mosul, center of Nineveh province.
Abu Daoud, 50, who has been working in the construction field for 35 years, recalls an accident that put him to bed for more than three months. He said while removing the plastic glove of his right hand, floated in cement, "My spine was hurt in 2012 while working on a site under construction in al-Arabi neighborhood, when the wood stand under my feet fell from a height of about 3 meters, then I knelt on my back and kept me jobless for more than three months."
"No one visited me from the labor union, though I am a registered member. I have not received any compensation."
No one visited me from the labor union, though I am a registered member
The story of Abu Daoud is one of the stories experienced by the workers and masters of construction who work for daily wages and have no effective health and social insurance that guarantees their basic rights in Nineveh province as a result of work injuries and the poor work environment.
At least 85% of the daily-paid construction laborers do not have a work contract across Iraq, mounting to 93% in Nineveh.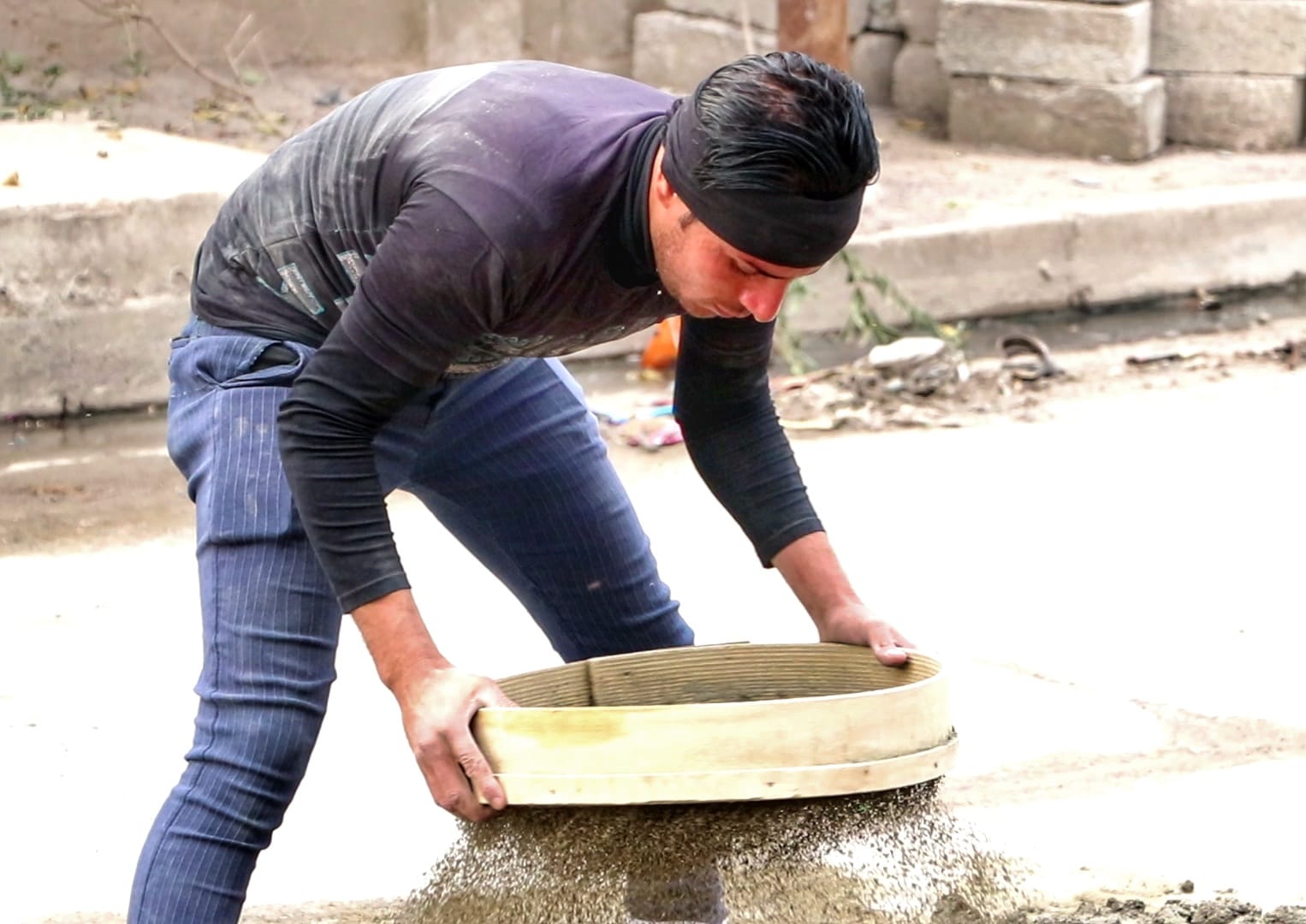 A recent study revealed by the governorate's Planning Department to Kirkuk now indicates that 96% of workers who work for a daily wage have social insurance once they are at retirement age, while 95% work without any health insurance.
The study prepared by the Ministry of Planning includes the category of workers within the age groups between 10-30 years across Iraq, in both the public and private sectors, as 19% work in the public sector and 81% in the private sector, mostly without any employment contract that guarantees their rights and the rights of the employer.
The Director of Nineveh Statistics, Nofal Suleiman, explained to KirkukNow, the majority of the young people work in the private sector as workers improperly since at least 85% of them all over Iraq do not work per contract while in Nineveh it is up 93%.
Daily-paid workers usually attend a public square in the morning hoping to be hired. Their best maximum chances to be hired are is 2-3 days a week as their employment is on daily bases and the Covid-19 pandemic made matters worse for them.
The daily-paid builders are not entitled to social insurance or retirement, blaming the government and unions for not enlightening them about their lawful rights. State employees once retired, they are entitled to a pension salary mounting to almost 80% of their monthly salaries while at office.
Some wages do not exceed 10 dollars per day
In quick research in the labor market, which included some construction sites and markets, such as the Al-Dawasa market and Al-Faisaliah of Mosul, in which there are hundreds of workers, it was found that the majority skip contracts that guarantee the rights of both parties. It was also found that some of them were not registered as member by the labor union and social insurance department, and some have never heard of it before.
Ayman Ismail, 22, slowly walks downs the stairs, eagerly descending, to unload 100 kilograms off his back on a very cold winter's day.
Ismail has been working for a daily wage, earning 6-12 thousand dinars, approximately 4-8 dollars per day, since 2012. He recounts how his right leg was injured back in 2018 when his carriage overlapped, squeezing his leg to the gravel of the street, loaded with more than a ton of perfume cartons, in the middle of Al-Faisaliah market, the eastern part of Mosul.
"I broke my foot twice, the first of which was in 2015 when I was working in Bab al-Saray, and then it broke again about 3 years ago, and in both times, I did not receive social or health benefits from the labor union. I have never heard of it, and I did not go to the union headquarters to inquire about the matter."
When I turn very old or suffer an injury, I have no breadwinner
According to the Nineveh Branch Labor Union, the worker and the employer are to be blamed because the worker evades the payment of fees and social insurance approved by the Ministry of Labor and Social Affairs, amounting to 12.5% per month of monthly income, which most workers consider it a heavy burden from economic point of view."
Shifa Taha, director of Nineveh branch for the labor union, also blames the Ministry of Labor in monitoring the market due to the lack of financial and logistic capabilities for inspection at work sites and market monitoring.
About 6,000 workers were registered until Daesh (ISIS) entered the city and their records are reviewed in the competent departments, Taha added.
"The union is responsible for following up on matters related to workers in Nineveh, including companies, laboratories, and the private sector in general. There is no health insurance not only in Nineveh, but across Iraq," Taha said.
"Insurance was valid under the previous regime, but now there is no interest in this issue. We are following that up. Per our individual capabilities, we do follow up some cases when they are injured," Taha confirmed.
Difficult living conditions has forced for low-income people to keep working in hard and even risky jobs for low wages in the war-ravaged province where poverty rate is approximately 40%, according to the latest statistics of the Ministry of Planning.
Iraq has witnessed a sharp increase in national poverty rate from 20% in 2018 up to 31.7% and the total number of poor to 11.4 million as a socio-economic impact of the Covid-19 pandemic, founded a newly released assessment by the Iraqi Ministry of Planning with the support of UNICEF, World Bank, and Oxford Poverty and Human Development Initiative.
Abu Dawood, as he re-wears his plastic glove to resume his work, concludes, "When I turn old or suffer an injury, I have a breadwinner...We rely only on God."