"Here we created a living reality from a dead and lifeless sidewalk," Jaafar Ali, says about book sidewalk held on Friday afternoons downtown of Talafar district, west of Mosul.
 The Book Sidewalk in Tal Afar district has become an outlet for knowledge that contributes to advancing the wheel of culture forward, after nearly two decades of violence and destruction.
"You find one of them playing music, another reciting poetry, a third hanging his paintings, children displaying their drawings, and others exchanging books," Ali describes the overall scene vibrant with various cultural activities.
The sidewalk contributes to showing the other side of war-ravaged Talafar, other than what the media and social media are accustomed to conveying: the face that was represented by bombings, killings and destruction.
"Among the book titles, you will find Turkmen and Turkish books that are not available in bookshops, but are from the possessions of the great Turkmen poet Reza Culakoglu," Ali asserts.
The Turkmen woman is present on the sidewalk... a pioneer and an organizer
"It is nice that the sidewalk has transcended some of the prevailing customs that forbade women to go to these places, and Talafari women has become a strong presence on the sidewalk, and even participates in organizing its activities as a member of the management committee," according to Roaa Al-Afandi, from the sidewalk management committee.
Al-Afandi told (KirkukNow) that, "This is a project to support and stimulate suppressed talents in the city. It is the first experiment to be held in Tal Afar as an outlet for cultural activities, for both sexes, where talented girls participate in many creative fields, including painting, calligraphy, knitting and poetry."
According to the official estimates of the Central Bureau of Statistics in the Federal Ministry of Planning, for the year 2018, about 250,236 out of 524,000 population of Tal Afar, are females of different ages.
Tal Afar district is witnessing a wide cultural activity, after its liberation from the control of the Islamic State of Iraq and Syria ISIS, where several libraries and cultural clubs were opened, and the bookshelf is a part of it.
"Personally, I participate by reciting literary speech and memoirs and I encourage the active participation of women in this forum," Afandi proudly manifested herself.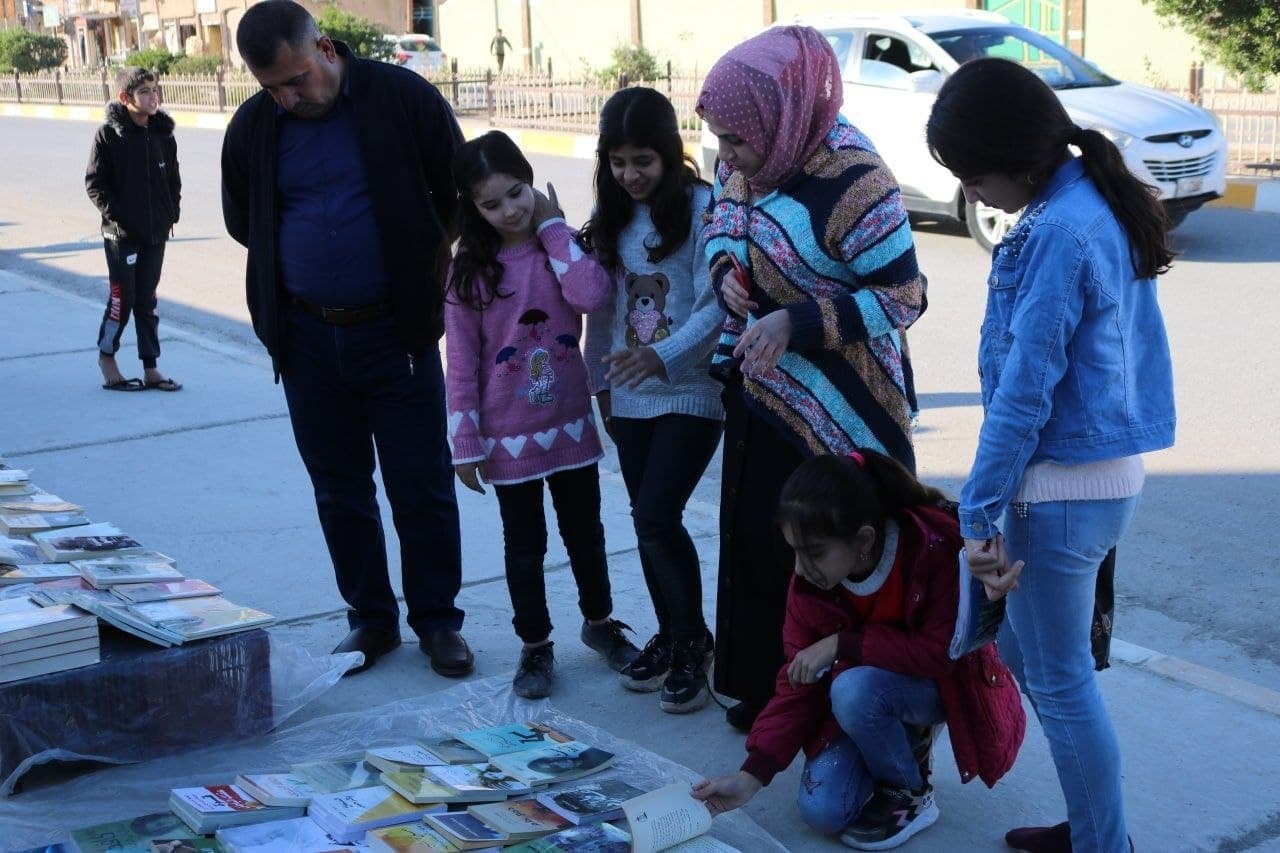 Tal Afar is a Turkman-majority city located approximately 63 km west of Mosul. Sunni Turkmen account for approximately three-quarters of the district and its three districts, Rabia, Zummar, and Al-Ayadiyah, while Shi'a Turk- men make up the remaining quarter with some Ezidis and Sunni Arabs in the neighboring villages.
ISIS captured Tal Afar on 16 June 2014, shortly after the fall of Mosul, and occupied the city for over three years. The assaults by ISIS caused the displacement of approximately 200,000 people from the city.  However, a significant part of the Sunni population, 50,000 people by some estimates remained in the city throughout the ISIS occupation.
The activities in the sidewalk encourage children to attend and create a spirit of reading and creativity in them, and the women there supervise presenting targeted plays for children in the field of instilling a love of science, knowledge, love and peace in their souls.
"We invest in occasions to convey social messages, for example, we have organized special events for the International Day to Combat Violence against Women," concludes Afandi.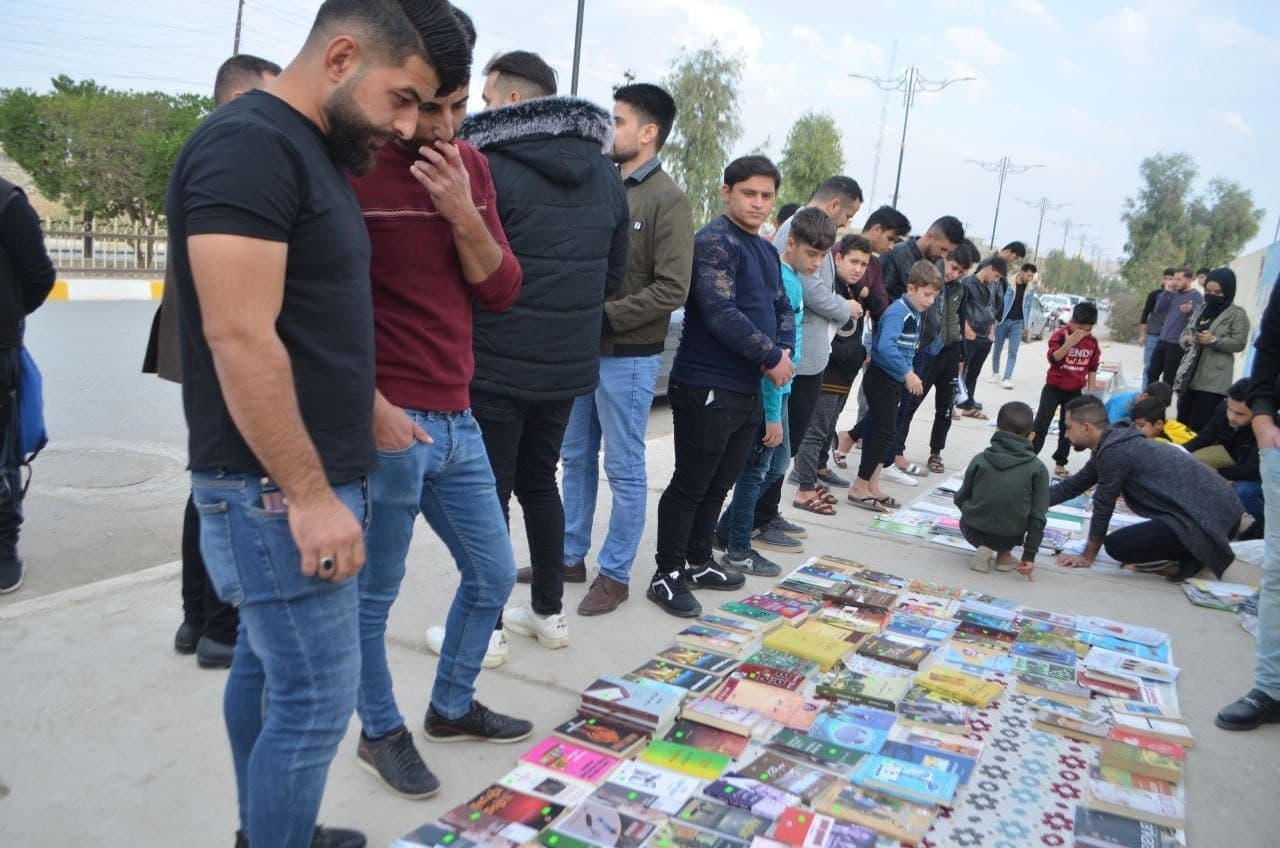 "The sidewalk is not limited to books, as its name suggests, but rather includes a variety of activities, including lectures, short health and social awareness sessions, and quick workshops related to first aid and traffic instructions," explains Ashraf Sultan, a member of the management committee.
"The sidewalk had humanitarian pauses and sympathy for incidents in the city or other cities.," he added as the sidewalk also embraces cultural initiatives, competitions, recitation of poems in the Arabic, Turkmen and Turkish languages, in addition to exhibitions of painting and photographs, musical performances of various instruments and other art works.
"The project's main objective is to spread the spirit of peaceful coexistence and love, to create an environment for dialogue and meaningful discussion and to combat foreign ideas, in addition to marketing the city's culture as a city that has experienced violence and destruction and has been cut off from other cities."
The sidewalk is not limited to books, as its name suggests, but rather includes a variety of activities
Military operations to retake Tal Afar from ISIS took place from 20 to 31 August 2017 and were conducted by federal, coalition and PMF forces which urged 60% of the displaced to return home.
Daesh committed atrocities in June 2014 when they captured Tal Afar. 1300 people were abducted: 700 men, 470 women and 130 children, among them 400-500 in ISIS controlled prisons in Syria, a statement by Turkmen civil society NGOs said last year.
Here you discover young talents and grow up
"During the short period in which its activities began, the book exhibition was credited with highlighting youthful talents and potential that were undetected by anyone," according to Ahmed Muhammad Salih, one of the platform's pioneers.
"the sidewalk's activities have received great approval from the city's intellectuals. Indeed, the book sidewalk has become a cultural interface for Tal Afar and a forum for communication of writers who lack a place to meet and exchange parties, and cultural and social institutions, voluntary teams, and bookstore owners have taken over addresses in different fields," he assures.
The book sidewalk is located at the intersection of the municipality in the middle of the district. It was the idea of several young activists in November 2021 and has become a place where intellectuals and artists from Tal Afar and its neighbors meet on Friday afternoon, similar to Al-Mutanabi Street in Baghdad.
Karar Al-Daudi, an organizer, called on international organizations to support the sidewalk by roofing it, so that pioneers would be safe from rainy days in winter and heat in summer, and to make the place suitable for events.
After the liberation of Tal Afar from ISIS control, in August 2017, about 60% of the displaced Turkmen returned to their city, while the others, who preferred not to return, and keep living in southern and central governorates, especially Najaf, Karbala and Babylon, Kirkuk, the Iraqi Kurdistan Region, and Turkey.
The local administration, in cooperation with international organizations working in the district, seeks to rebuild the infrastructure and provide the necessary support to the population in order to encourage the displaced to return to their homes.
"We do not need a lung to breathe as much as we need culture, writing, creativity and drawing to show the world that we exist and create hope and life," says the head of the Tal Afar Cultural Forum, poet Zainal Al-Sufi.