The municipality of Kirkuk city informed 350 families in a neighborhood to evacuate within three days the houses they built illegally "bypassing" and because they are part of a road construction project, but these families refuse to implement the municipality's request.
Those families living in Wahid Azar neighborhood were notified early last week, and as a result, a number of neighborhood residents gathered in front of the governor's office on Thursday, 7 April, demanding cancellation of the order.
Nour Ali, a woman who participated in the protest gathering, said, "I bought a 100-square-meters plot of land four years ago, for 10 million (Iraqi) dinars, and then built my house on it."
"Now, they ask us to evacuate our homes within four days. This demand is unfair," she added.
Noor is a widow who lives with her four children in that house and is appealing to the Kirkuk governorate administration to respond to their demands.
they ask us to evacuate our homes within four days. This demand is unfair
After the toppling of the Saddam Hussein regime in 2003, thousands of houses were built on state-owned lands yet without official permission in all of Iraq's provinces, including Kirkuk.
There are more than 60,000 houses and commercial buildings built illegally in Kirkuk province, which ranks third after Baghdad where more than 130,000 units were built illegally built and 90,000 in Basra southern province, according to an official statistic obtained by KirukNow from the mayor of Kirkuk.
Following fall of Saddam regime in 2003, thousands of people expelled from Kirkuk and disputed territories have received plots of lands from the Kurdish parties ruling the region without being officially registered or permitted by local authorities.
Kirkuk administration provided basic services to some of the blocs but later it was stopped by Iraqi government. The local authorities gave notice of evacuation to the residents whom declined to leave unless compensated.
Video: A woman talks about her suffering after Kirkuk administration's decision to vacate overpassed houses
Maysoon Rashid nicknamed Umm Hamoudi, also participated in the demonstration. "I am mother of four children; my husband is sick and lying in bed. My house area is 85 square meters, I bought it ten years ago for 10 million dinars, after all these years and providing services to this neighborhood, they now come to tell us that these houses are illegally built and we must vacate it."
In total, the number of homes covered by the eviction decision in that neighborhood reaches 350, as is the case in many large neighborhoods of Kirkuk, but despite that, the Kirkuk municipality implemented during the past years several service projects such as water and electricity for most of those neighborhoods.
The northern oil-rich city of Kirkuk, 238 kilometers north of Baghdad, is an ethnically mixed province for 1.7 million Kurds, Sunni and Shiite Arabs, and Turkmen. It has long been at the center of disputed territories between Baghdad and Erbil.
Kirkuk is one of the main disputed areas in addition to Diyalah and Ninewa that a three-stage process outlined in Article 140 of the Iraqi constitution in 2005, stipulating normalization, a population census and a referendum on the status of the territories, was drawn to put an end to Kurdistan region government KRG and Iraqi Federal government dispute over these areas.
Kurdish parties were ruling Kirkuk and most of the disputed territories till 2017 when Iraqi army ousted Kurdish Peshmerga, following a referendum by the KRG voted for independence of the Kurdish region in Iraq including Kirkuk.
They say a street will be implemented in the place where our houses are located
Faridoun Adel, the mayor of Kirkuk, and the head of the media department in Kirkuk municipality have not responded to KirkukNow calls in the past two days, seeking comments.
The representative of the Iraqi Turkmen Front in the Iraqi parliament, Arshad Al-Salihi, said in a statement during his visit to the demonstration site, "The abuses on these lands occurred before the events of October 16, 2017, these people bought those houses or plots of land, but the government has the right to convert its lands into service projects even if houses are built on it, because it is built illegally.
"Your problem will not be solved anytime soon," Salihi told the residents he met.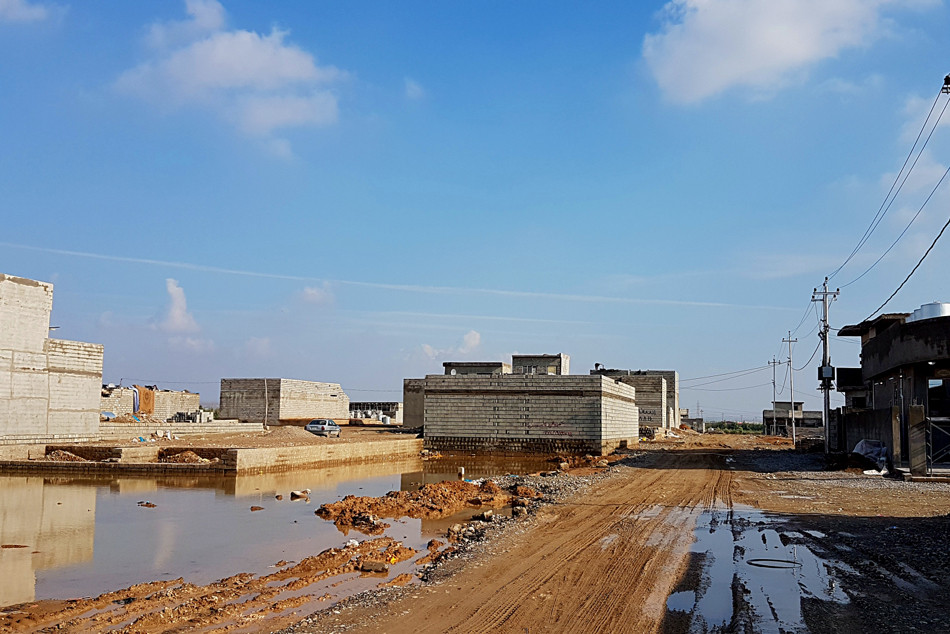 The issue of encroachments on state property in Kirkuk comes at a time when the General Secretariat of the Iraqi Council of Ministers decided in November 2019 to register the encroached residential lands for the people who built houses over it if it is outside the basic designs of cities in all governorates of Iraq, after assessing the value of the land by specialized committees.
The decision stipulated the payment of an amount of 5% of the piece allowance, and the rest in installments for a period of 20 years. However, this decision has not been implemented so far.
Each of the neighborhoods of Shoraw, Sona Goli, Darwaza, Al-Faylaq, Barutkhaneh (formerly camps owned by the Ministry of Defense), Panja Ali (the neighborhood lands owned by the Ministry of Oil), are part of the illegally built neighborhoods, along with tens of thousands of built houses within the legally registered neighborhoods, including parts of the Corniche area, Baghdad Road, Al Urubah, Rahimawa, Celebration Square and several other neighborhoods.
Waad Muhammad, a representative of the Wahid Azar neighborhood protesters, told KirkukNow, "We met with the governor and his assistant. They say a street will be implemented in the place where our houses are located, but as far as we know, only 29 houses are within the project."
"In a meeting on Thursday, April 7, with Rakan Saeed, the acting governor of Kirkuk, he told us that the project had been allocated a budget and work would begin, but we will temporarily suspend the implementation of the project to allow you to submit compensation requests," Muhammad.