22 tents of internally displaced persons IDPs in a camp of Duhok Northern Province has burnt down Thursday but no casualties reported, local authorities and IDPs said.
The fire broke out in a tent of in Bajid Kandala camp in Zakho district in the afternoon and then spread to other tents, according to the Joint Crisis Coordination Center JCC of the Ministry of Interior of the Kurdistan Regional Government KRG.
"We were only able to rescue our daughter. Money, documents and all the belongings in the camp burnt," said Ido Hassan, a resident of Dugre village of Shingal (Sinjar) district, home to the Ezidi (Yazidi) community, who has been living in Bajid Kandala camp for nearly eight years.
We were only able to rescue our daughter. Money, documents and all the belongings in the camp were burned
"The fire started in a tent near ours, only a few meters away, and suddenly reached our tent and burned more than 20 tents ... We called for firefighters, they were half an hour late, which caused the fire to spread quickly," Hassan said.
There are no firefighters inside the Bajid Kandala camp, home to 1,684 families, most of whom are Ezidis from Shingal district of Ninewa province. They have fled their areas since August 2014 due to the fight against ISIS.
"We cannot afford to buy household items again, we have to borrow, or the organizations to help us," Hassan added.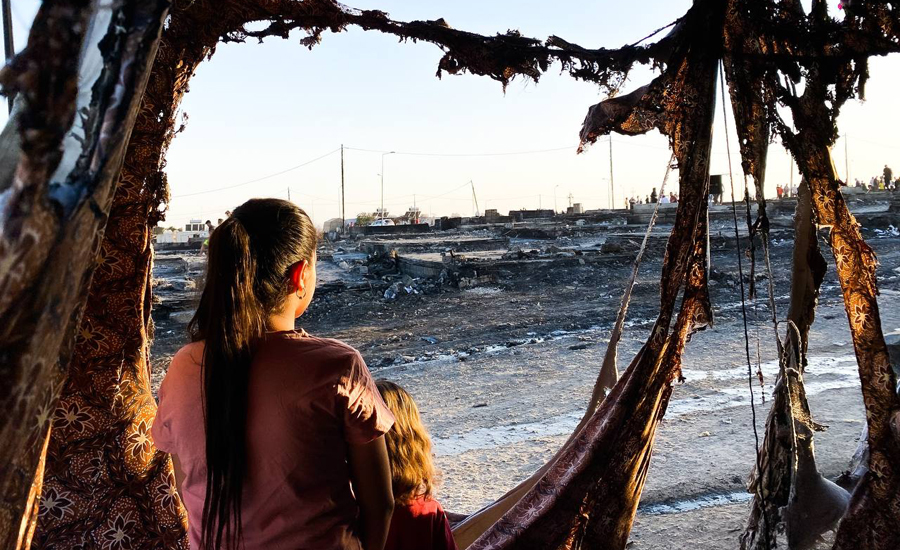 Last May, the Duhok provincial administration agreed to convert the tents of the IDPs in the camp into concrete blocks, at the request of the people and the immigration office, in order to prevent fires and casualties.
There are 26 refugee camps in the Kurdistan Region, 16 of which are located in Duhok, where 664,000 IDPs live, 42% of them in Duhok.
Dian Jaafar, director of the Duhok office of the JCC which supervises the IDP camps, told KirkukNow, "We are investigating the cause of the fire. We don't know if it was caused by an electrical short circuit or other reasons."
Dozens of fires have been recorded in the refugee camps, the largest of which was on June 4, 2021, when 288 tents home to 136 families has completely burnt and 90 other families lost part of their belongings. Later, each family was replaced by several small block rooms.
About 200 families lost 400 tents and their entire household, in the camp of Sharia for Yazidi IDPs in Duhok province leaving them homeless again and causing 750-million Iraqi Dinar losses. The huge blaze was blamed by the residents for electrical short circuit.