By basic material, they contribute to reduce traffic accidents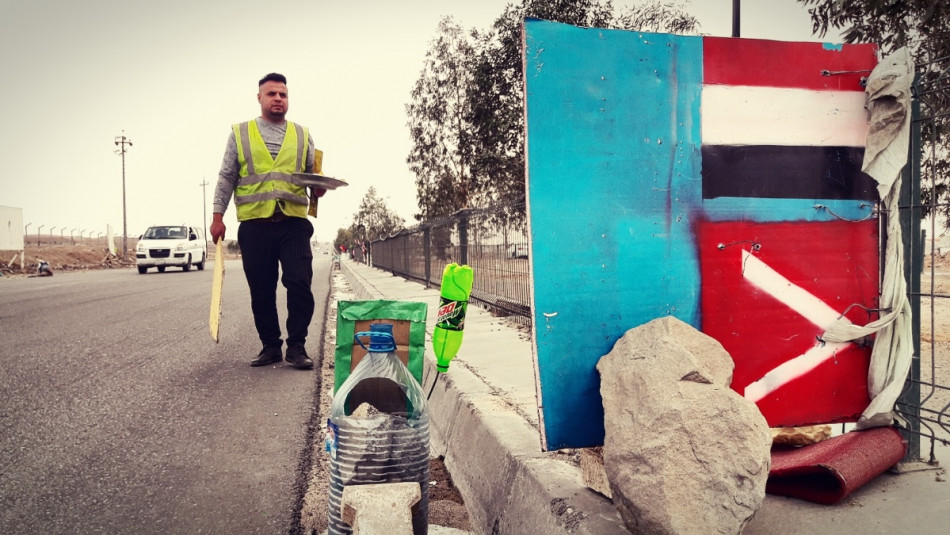 My name is Ayoub Mustafa, I am 28 years old, a jobless postgraduate.
One day, I drove by a street located behind the Kirkuk Traffic Directorate building, which is one of the main roads linking the governorates of Iraq with the Kurdistan Region, and a traffic accident occurred there. The traffic investigation showed that the cause of the accident was due to the presence of bumps on the road without any traffic signs.
At that time, I noticed the need to put road signs before every bump, especially on the highways outside the city of Kirkuk which show the least number of traffic signs, so I decided to take the initiative of installation of traffic signs as a humanitarian act, with the help of a friend.
We make warning signs using simple and used equipment, such as cardboard, big plastic water bottles, phosphorescent dyes and labels, and place them near the bumps.
We buy some of these supplies ourselves and sometimes some stores donate others.
We faced some big risks while doing our work. We were almost run over by vehicles several times, and sometimes drivers commended us.
I think that we have contributed to some extent in reducing traffic accidents. In my volunteer work period, I have witnessed the explosion of tires for 26 vehicles due to bumps.
Putting up traffic signs is the duty of the government and the municipality should fix the bumps and potholes, but now we're doing it instead.