Six days had passed on their wedding day when Khalil removed the bride's blanket and said, "Khalida..Khalida.. wake up, it is late. Let's have breakfast and go to your father's house."
It was a special morning for Khalida; she was very excited to visit the family with her husband.
According Ezidis' traditions Khalida Qaso, 39, and her husband Khlail should pay a visit to the home of the bride's family 6 days after the wedding. But a horrifying incident did not let that happen.
On the morning of April 11, 2019, Khalil Sulaiman, also 39, after he woke up Khalida, he went to another tent in the IDP camp where they lived in Duhok province. A short while later, the sound of a shooting was heard.
"When Khali woke me up I said fine, you go and I'll be ready in 5 minutes.. When I heard the shooting I rushed out of our tent and they told me Khalil had committed suicide", said Khalida crying.
The love story of Khalil and Khalida
Khalil and Khalida's wedding ceremony was held on April 5 at the Sharya IDP camp in the presence of their relatives.
According to Khalil's family
The bride and groom where so happy on their wedding day. "the wedding was very special; we were very excited that Khalil was getting married because he was no longer young", said Khairi Sulaiman, the groom's brother told KirkukNow.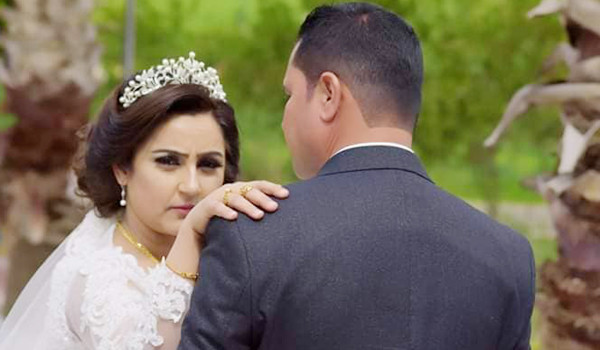 Khairi said on that day the wishes of two families and two lovers were coming true.
"Before they got married, Khalil and Khalida were in a relationship for 4 months. They were very happy on the wedding day; we didn't sense any signs of sadness or anxiety on their faces', said Khalil's brother who was so close to him.
Khalida's family who were also displaced in the wake of the Islamic State group's attack on their hometown of Shingal, west of Ninewa province, settled in Mahat IDP camp in Duhok's Sheikhan district.
Khalida's recalls the last moments before the tragedy
The last conversation between Khalil and Khalida was when he told her to get ready to have breakfast and go to visit the bride's house together.
"My final words with Khalil were I'll be ready in 5 minutes", said Khalida who minutes later found her husband drenched in his own blood.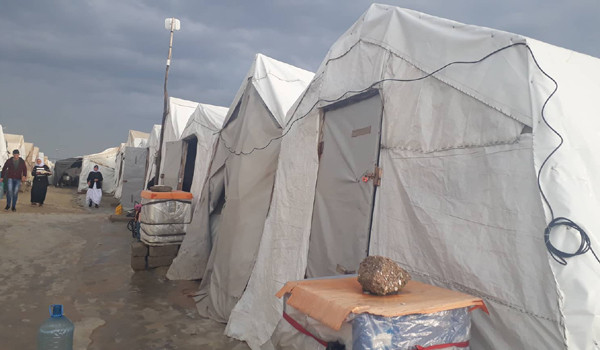 The newly-weds' new home was next to the tent where Khalil's family lived in Sharya camp. Khalil was found dead in a nearby tent which also belonged to his family, with a bullet struck the back of his head.
According to the Ezidi religious community traditions, the bride and broom together visit the home of the the bride's family; therefore they were planning to go to Sheikhan on that day.
What did Khalil say the night before his death?
Khairi Sulaiman 26, who works on a farm near Mahat IDP camp told KirkukNow the day after the incident that he talked with his brother Khalil on the phone for more than 20 minutes the night before the tragedy.
"He told me that he was going to help me in the farm", said Khairi, adding that he told him it wasn't necessary and that he'd better stay with his wife. "He seemed very happy", according to Khairi.
Khalil the second eldest of 5 brothers and four sisters in his family; before they arrive to Duhok, they lived in Siba Sheikh Khidir in the environs of Shingal (Sinjar).
"He was a good person and we all loved him. He didn't have any health problems. We were all shocked by the incident", says Khairi.
Khalil's family believe that the incident was a "suicide" saying that he used his own rifle, however they say what happened shocked them emphasizing that he didn't have problems with anyone.
Shamo Smayl, Khalil's uncle says "no one can ever know why he killed himself", hoping that "everyone avoid false accusations and not jump to conclusions."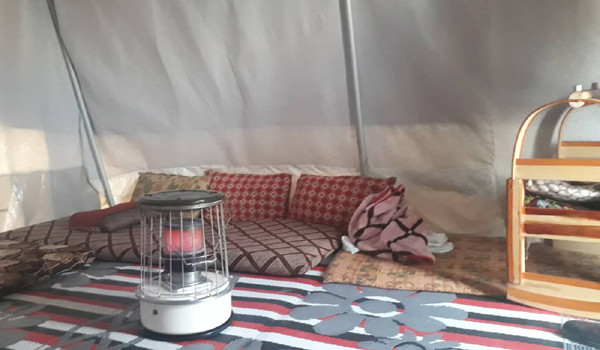 According to Tatar Ibrahim, one of Khalil's neighbors, they were poor and depended on agriculture for a living.
Hakar Muhammad Amin, manager of Sharya camp couldn't hide his own suspicions concerning the incident based on preliminary investigations, however the security departments refuse to reveal any information.
"The bullet hit the back of his head; how could someone ends his life this way", the camp manager said to KirkukNow.
"It is true that Khalil had an AK 47, but preliminary investigations have shown that the weapon used in the incident was not an AK 47. The security department in Duhok is continuing its investigations to find what exactly happened."
Hakar Muhammad reaffirmed that Khalil's family had no problems with the camp residents, hoping that "new facts would be revealed soon."
Whatever the outcome of the investigations be, Khalida has lost Khalil forever. "We spent six sweet days together. I will never forget theses days. I can't believe that he killed himself. I lost hime forever.", said Khalida.