The beekeeping industry is witnessing revival in western Ninewa's Shingal (Sinjar) with many Ezidi families displaced during the Islamic State (IS) offensive returning to their home areas.
Shingal is a significant place for beekeeping, and the honey produced there is recognized as one of the best in quality.
After IS swept through the area in August 2014, the honey production sector in Shingal was also affected by the consequences of the war.
Khalid Farsan, a resident of Shingal's Gurmuz village returned home with his family in 2016 after spending 2 years in IP camps.
With no jobs available, he was barely able to feed his seven children. But an American charity which was distributing bee hives to returnees helped him to get back on his feet.
"I started to raise bees; they grew in number and in 2017 we were able to produce 140 kg of honey", said Farsan.
There is a high demand on Shingal's famous natural honey. Farsan bought his honey with 45,000 Iraqi dinars (US$ 38) for each kilogram which helped his family overcome those difficult times.
Farsan's business boomed in 2018 after he rose his honey production to 240 kg.
"I became rich and assisted my neighbors financially," he said.
The existence of wildflowers and different herbs such as Ghazal and Zakhtar in addition to the perfect climate conditions has turned Shingal into a heaven for bees.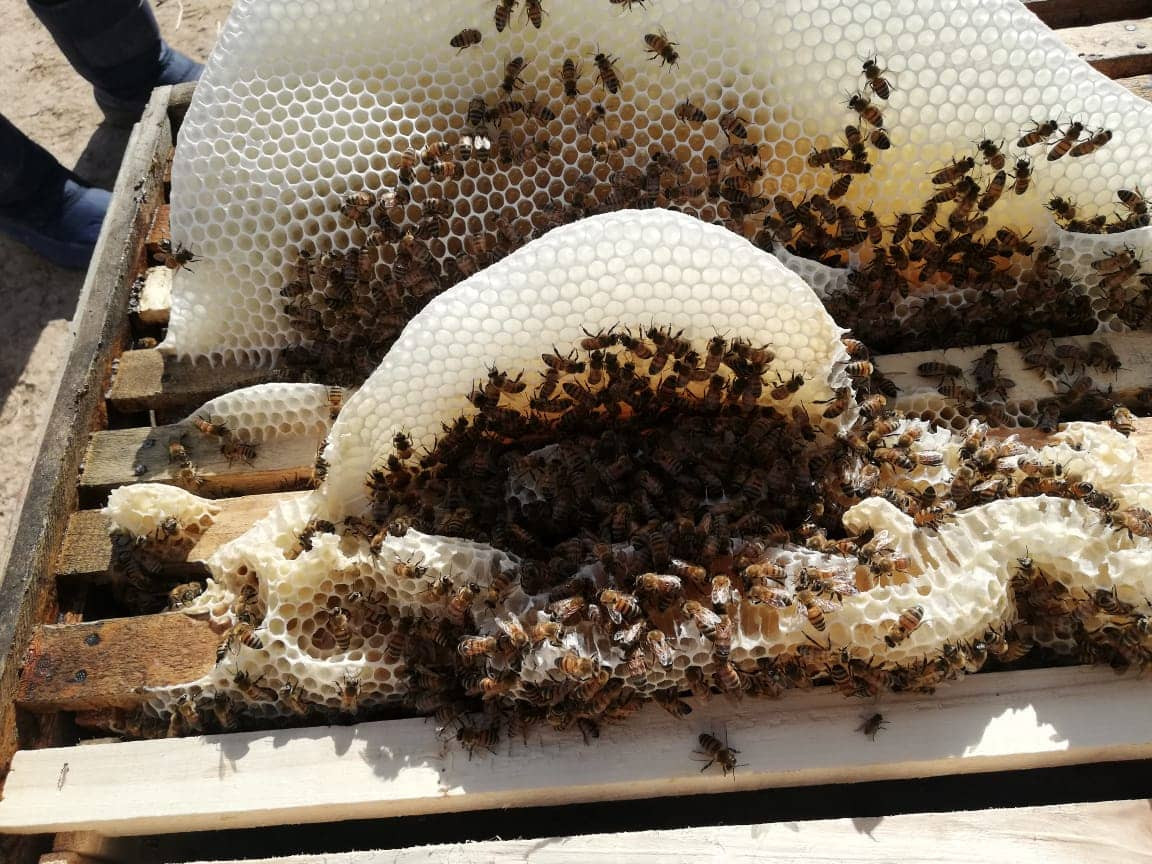 Shingal's honey which has three types: red, black and yellow, is most favorable in Iraqi markets.
Saeed Hamo, an employee at the US S&P organization specialized in beekeeping says only in 2017 the organization distributed beehive boxes to 50 families in Shingal with each family getting 7 beehives.
In 2018, the organization distributed beehive boxes to another 75 families. The project led to the revival of the beekeeping industry in the area, and honey exports to other Iraqi cities increased considerably.
According to figures released by S&P, 2,000 kg of honey was produced in 2017. The bulk of production doubled in 2018.
Saeed Hamo indicated that besides the distribution of beehives, the organization is providing training for beekeepers. He expected the honey production in Shingal to reach 8,000 kg this year.
S&P is bringing bee swarms from Iran and the Kurdistan Region's Duhok province and distribute them to Shingal beekeepers.
Khalil Hussein, a resident of Shingal's Shahabeer village lost all his bees after the arrival of IS.
In 2017, a Shingali beekeeper won first place at an international honey industry event in Egypt
Hussein now has 30 beehive boxes and says if Shingal beekeepers are supported they will be able to boost production.
In 2017, a Shingali beekeeper won first place at an international honey industry event in Egypt.
Saeed Hamo who is originally from Shingal and works for S&P believes that the revival of beekeeping industry in Shingal will improve the living condition of hundreds of families and will increase honey exports to Iraq markets.
Ninewa, Baghdad and Kurdistan Region provinces are major importers of Shingal honey, while a significant bulk is sent abroad.
Recent fire have affected beekeepers in Shingal, including Khalid Farsan who lost all 31 beehive boxes he had in a fire which broke out in Gurmuz farmlands. "I suffered 10 million dinars (US$ 8000) in losses," he said.
Saeed Hamo explained that "S&P cannot compensate affected beekeepers but can distribute beehives to them."