After nearly two years of closure due to political and military disputes, a main road connecting Kakayi populated villages in the Ninewa Plains to Ninewa's Hamdaniya district in an area disputed by the Kurdistan Regional Government (KRG) and the Iraqi federal government was reopened.
The road was shut down following the October 16, 2017 events when federal forces retook control of all disputed territories as a repercussion of a referendum on independence in the Kurdistan Region.
Although the road was earlier reopened unilaterally by the Iraqi army nearly two months ago, a decision to allow traffic from the Kurdish part was delayed until September 12.
The Kakayis, a religious minority scattered in different parts of Iraq, mainly in disputed territories. The Kakayis have distinct religious practices and have many sacred shrines scattered in Kirkuk, Ninewa and Halabja; however, their faith has not been officially recognized in the Iraqi constitution.
In the Ninewa Plains, the Kakayis are mainly settled in Qaraqush, the center of Hamdaniya district southwest of Mosul, particularly in the villages of Zangel, Majidiyah, Tulaband, Wardak with Kabarli.
The reopening of the road will shorten trip between Hamdaniya and these villages.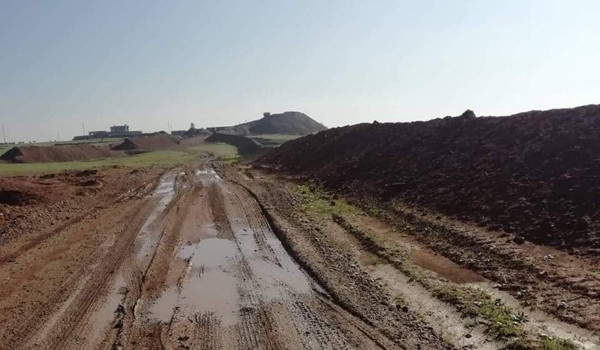 "In the past two years, the Kakayis had to travel 60 kilometers, but now the trip is shortened to only 22 kilometers," Ghazi Khalil, member of Hamdaniya district council told KirkukNow.
According to Ghazi, the council was engaged in concerted efforts to urge both sides to reopen the road.
"Now residents of the area, particularly teachers, students and civil servants can travel easily," he added.
Ala'a Khazali, a university student said, "We had to travel through the Khazr road which took about two and a half hours. Travel expenses cost us 100 thousand IQD per month, while the road was not accessible on rainy days."  
With the reopening of the road, joint checkpoints due to be set up in the area between the Iraqi army and the Kurdish Peshmerga forces; meanwhile, Hamdaniya officials urged commuters to avoid using the road until it is fully cleared of explosive hazards.