Over 18,000 homes and Shingal's Grr Ozer (Qahtaniya) sub-district have been cleared of Islamic State (IS)-era explosive hazards, after a month-long campaign which left casualties.
The clearing operations which were carried out by special units in the Iraqi army and the Shingal Protection Forces began at the end of last August in Grr Ozer and will include other parts of Shingal.
"After 30 days of continuous work, we were able to clean up the center of the sub-district and the residential compounds of Girzark and Siba Sheikh Khidri from landmines and other explosives," Jalal Khalaf, Grr Ozer sub-district commissioner told KirkukNow.
The accomplishment was announced in a special ceremony on September 25, attended by the governor of Ninewa.
Three military divisions as well as 15 mobile teams took part in the clearing operations.
"Within one month, we managed to clear 7,000 houses in Siba Sheikh Khidri compound along with 6,000 more houses in the center of Grr Ozer; unfortunately the operations led to 3 casualties."
On September 7, wo Iraqi army officers were killed and a soldier was injured while attempting to dismantle landmines inside a booby-trapped house in Girzark residential compound.
Grr Uzer is comprised of three residential compounds and more than 15 villages.
The sub-district commissioner of Grr Ozer indicated that clearing operations are yet to begin in the Ba'aj area.
"We want to reassure the people that it is now safe to return to their homes," he said.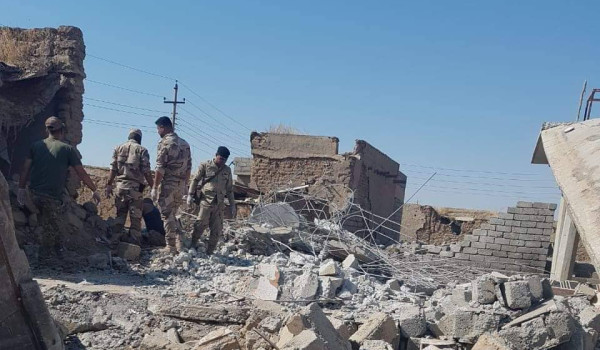 The landmine clearance charity, the Mine Advisory Group (MAG) has been supervising the mine clearance operations in Shingal. It is estimated that nearly 85% of the district has been cleared of explosives.
Thousands of Islamic State-era landmines and other explosives are littering large areas in Ninewa's Ezidi district of Shingal, setting back the return of displaced families.
Before being driven out by Iraqi forces, IS fighters placed a huge number of explosives, including mines, improvised explosive devices (IEDs) and complex booby-traps, which have led inflicted many casualties among civilians and security personnel.
Shingal district commissioner Fahad Hamid confirmed to KirkukNow that "the center of Shingal as well as Sinune and Grr Ozer sub-districts  have been completely cleared, except for some ruined houses which is still unclear whether they were booby-trapped or not."