Iraqi federal police on Wednesday prevented the head of the Kirkuk office of the high electoral commission and an accompanying delegation from entering an IDP camp in eastern Kirkuk to hold a seminar about the upcoming provincial council elections.
The seminar was organized by the commission, on Wednesday, 2 October in coordination with the Migration and Displacement office, with the aim of raising awareness in regard to the voting process and the legal procedures adopted during the elections.
Qays Muhammad Khurshid, head of the electoral body's Kirkuk office, speaking to KirkukNow, said "this is not the first time that federal police manning the Laylan checkpoint ban us from entering the IDP camp despite that we have formal permissions, and the Joint Operations Command has been already informed."
The electoral office had earlier invited the media to cover the seminar which was planned to be held in Laylan-1 camp.
"We are not linked to a particular political party; we are supported by the Iraqi government and therefore we should not be prevented from doing our job," he said.
Two IDP camps have been set up in eastern Kirkuk's Laylan sub-district, which are housing more than 2,000 displaced families, mainly from Hawija district and its environs.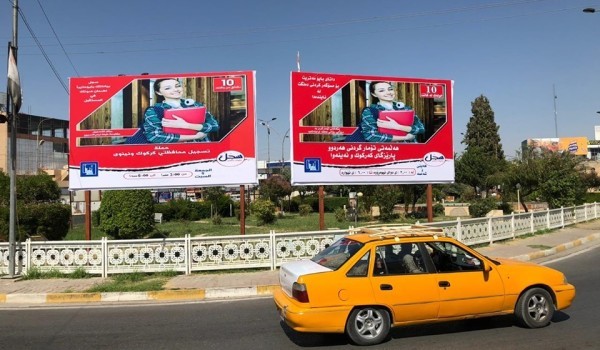 The electoral commission's delegation was accompanied by journalists and a staff from the United Nations Assistance Mission in Iraq (UNAMI).
KirkukNow correspondent said, "we managed to cross the federal police checkpoint but the head of the electoral commission's Kirkuk office was not allowed to pass."
Preparations are underway for holding provincial elections which are scheduled for 1st April, 2020.
The last provincial elections in Iraq, except Kirkuk, were held in 2013. The elections have not been held in the multi-ethnic province for 14 years due to long-standing disputes over several issues, including the electoral register and the normalization of the situation there.