Iraqi authorities are mainstreaming community policing approach in Khanaqin and other parts of Diyala province with the aim of dealing with post-conflict challenges, delivering social services, mending the social fabric in communities, and ensuring laws are enforced for the safety and security for all the inhabitants.
The Community Policing Forum (CPF), run by the ministry of interior was established in Khanaqin on Saturday October 12, 2019. The CPF will operate in seven other areas in Diyala.
Sarwar Ali, CPF deputy head in Khanaqin speaking to KirkukNow said, "The main goal behind the establishment of CPF is to contribute to enhanced security and stability in the area by facilitating dialogue between communities and the government institutions."
Members of the community policing program, according to Sarwar Ali, will work voluntarily to raise awareness and "enhance community engagement in identifying and preventing crimes and addressing security concerns, including drug trafficking."
He indicated that their first activity in Khanaqin will be launching a campaign in schools "to raise awareness about the dangers of illegal drug trade well as sexual harassment."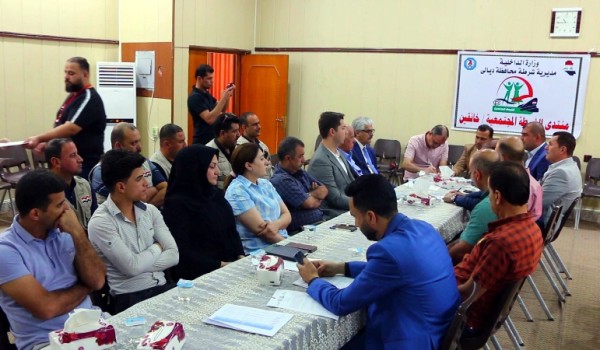 In the aftermath of the war against the Islamic State (IS) group, the Iraqi government in cooperation with the International Organization for Migration (IOM) has been attaching great importance to community policing in areas affected by conflict and displacement aiming to promote social reconciliation.
"CPF aims to build a bridge between communities and law enforcement actors to address serious challenges facing the residents," Major Miqdad Zuhairi, head of Diyala's CPF told KirkukNow.
He added that dealing with security-related concerns; including drug trafficking and misuse of internet will be other tasks undertaken by CPF.
In addition to Khanaqin, CPF has been established in Mandali, Sa'diya, Jalawla, Khalis, Sharaban and Diyala's provincial capital Baquba.