Dozens of civil society activists and members of the Iraqi Communist Party in Kirkuk to show support to protestors in Baghdad and urging authorities to avoid resorting to the use of lethal force against protestors and allow them to submit their demands freely.
The stance was declared in a rally held on Saturday October 26 in front of the office of the Iraqi Communist party in Kirkuk.
"Baghdad protesters demand their lawful rights and want to put end to corruption. We totally support them and offer our condolences to the families of the victims and wish speedy recovery for the wounded," said Hayfa Salahaddin, one of the participants of Saturday's rally.
Meanwhile, Salam Aziz, another participant indicated that "what is happening now is the result of the accumulation of years of suffering from lack of basic services and unemployment. People no longer have trust in this authority."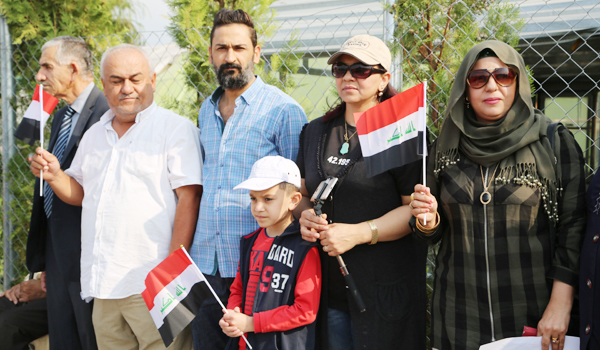 The rally coincided with renewed anti-government protests in Baghdad and other Iraqi provinces, the second major bout of violence this month.
Only on Friday, at least 30 protesters were killed and 312 others injured most of them after being struck by tear gas canisters launched by security forces.
Fahmi Subhi, head of the Iraqi Communist Party's local committee, speaking to KirkukNow, said, "We gathered here to urge the government to pay heed to demands of the citizens and avoid using tear gas and bullets."
Subhi stressed that those involved in the killing of protestors should be brought to justice; at the same time he urged protestors to avoid sabotaging government properties.
Baghdad protesters who took to the streets on Friday October 25 have been demanding the dismissal of the parliament and the government.