Hundreds of Ezidi families, including those who fled the Islamic State (IS) attacks on northern Iraq back in 2014 towards the predominantly Kurdish-populated part of Syria, are facing another wave of displacement since the launch of the Turkish offensive in northern Syria backed by Turkish proxy militias. The religious minority has been also facing pressure by Syrian opposition parties to convert to Islam.
The Turkish military incursion began on October 9, 2019 controlling the cities of Tal Abiadh and Ras al-Ain in Syria's Rojava with the aim of establishing a safe zone and confronting the Syrian Democratic Forces (SDF).
Fighting broke out in a number of villages inhabited by the Ezidi minority, among them displaced families which had fled their homes in Shingal (Sinjar) and its surrounding areas after the arrival of IS.
According to a follow-up conducted by KirkukNow, hundreds of Ezidi families from Sinjar and its environs have sought refuge in the Kurdistan Region, while others escaped into Syria's Rojava cantons or fled outside the country.
Ezidi journalist Warivan Abdo, a resident of Syria's Kurdish-inhabited Rojava who has been observing the start of the new wave of displacement which occurred with the launch of the Turkish military operations, says that the majority of the Ezidi population has moved towards safer areas, while some of them managed to arrive in European countries.
According to Abdo, more than 50 families left their homes in the center of Tal Abiadh, which was controlled by Turkey after a US-brokered ceasefire deal was reached.
The majority of the Ezidis were displaced from villages located on the border with Turkey, including 50 families in the village of Drejik and only one Yezidi family remained inside the village, and another 40 families from the village of Mzgaft, 70 others from the village of Tal Khatun displaced, and 17 Ezidi families out of 23 families have fled the village of Tal Ganish.
Out of the 35 families settled in al-Rasha village, 28 families have been displaced, meanwhile, only one Ezidi family remained in remained in each if Shalhomiya and Karki Shamo villages.
According to UN statistics, some 300,000 civilians have been displaced from border areas close to Turkey, some of them fled to the Kurdistan region of Iraq.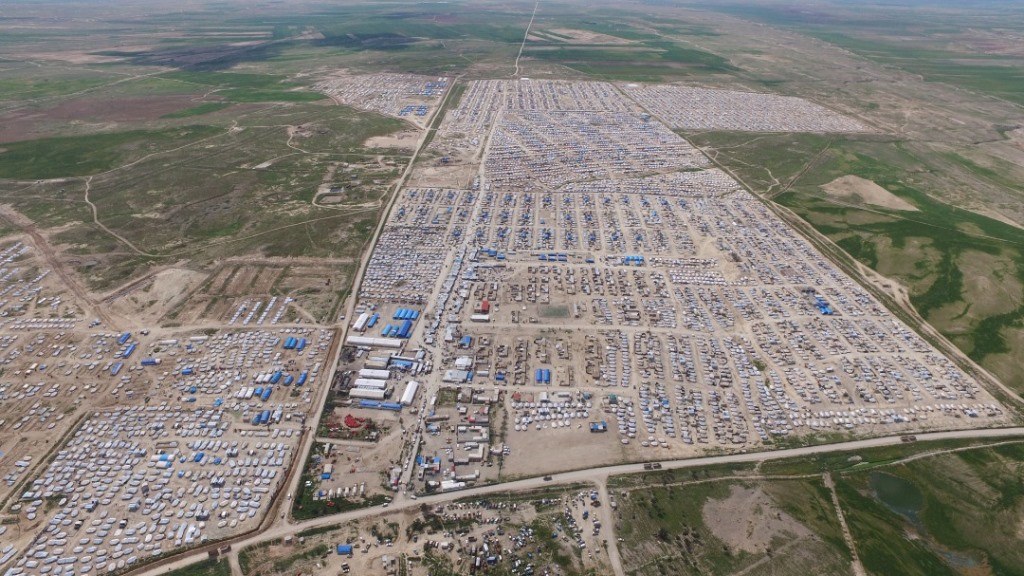 According to information collected by Warivan Abdo, eight villages associated with Tal Abiadh city have been completely evacuated.
Among those who moved to safe areas in the Kurdistan Region following the Turkish incursion are Ezidi families who had settled in Syrian villages for fear of being targeted by IS fighters.
More than 360,000 were displaced following the IS attack and 1,293 Ezidis were slaughtered under various circumstances.
Until June of this year 80 mass graves of Ezidi victims were found in different parts of Shingal.
 The IS attacks had also led to the destruction of 68 Ezidi historical and sacred places.
Out of the 6,417 kidnapped by IS fighters after they overran Shingal, 3,476 have been freed, while 2,941 Ezidis remain missing.
After the IS attack, hundreds of Ezidis moved to areas under the control of Syrian Democratic Forces (SDF) and stayed there, before the Turkish offensive left them vulnerable once again.
"Similar to what IS militants were doing, Turkey-backed armed groups in Syria are forcing members of the Ezidi religious minority to convert to Islam," Mustafa Nabo, a representative of the Ezidi minority in the autonomous administration of Syria's Rojava told KirkukNow.
"They started to build mosques in Ezidi-populated villages in Afrin after they controlled the town last year, forcibly teaching children the Quran and forcing women to wear the hijab."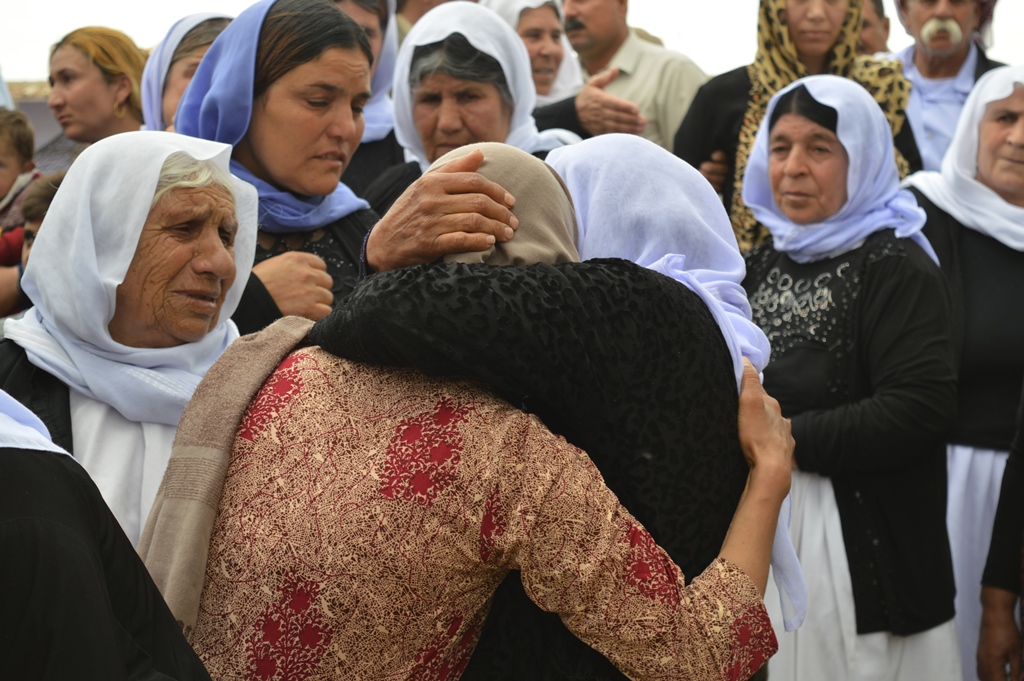 The city of Afrin in Syria's Rojava was controlled by Turkish army and the Syrian opposition groups backed by Turkey last year during Operation Olive Branch which forced the withdrawal of the SDF.
"The number of Ezidis in Afrin before the Turkish operations exceeded 50,000 people. Many had fled outside the country, while 25 thousand of them remained in 22 villages associated with Afrin, but after the start of recent Turkish military operations 10,000 of them were forced to flee to the Kurdistan region or areas in the north and east of Syria" said Nabo.
 SDF fighters, who are fighting Turkish forces and their affiliates in Syria, had been also engaged in fierce battles against IS for more than 5 years and were able to free hundreds of Ezidis from IS captivity.
Ezidi activist and Nobel Peace Prize laureate Nadia Murad, commenting on the escalations and the build-up of troops in northern Syria urged all parties to "work together for a peaceful political solution."
She emphasized that "violence will result in more loss of life, more displacement and instability in a region suffering from continuing humanitarian catastrophes", adding that war will create conditions for the resurgence of IS, whom the Kurds bravely fought and defeated."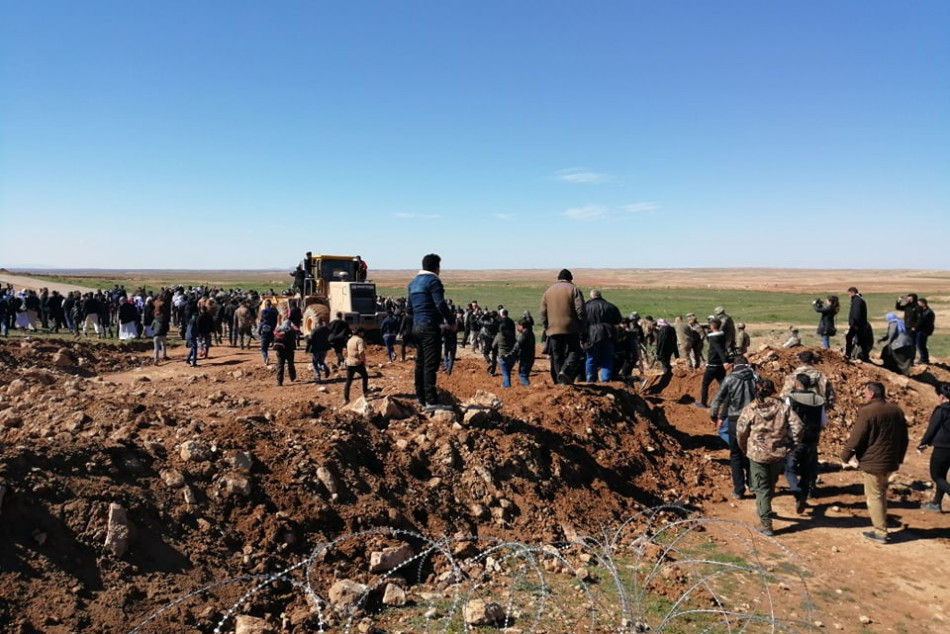 According to KirkukNow follow-ups, only 4 to 5 families have remained in each of the the villages of Tulco, Tal Taweel, Malah, Majmoudia, Tal Teran, Zivan, Ma'ak, Boriseaj, Khirbat Jamal, Tal Aswad, Antari and Qamar, which were previously inhabited by nearly 70 families.
The Ezidis are also at great risk in Syrian camps, especially in the al-Hol camp, where hundreds of Ezidis, mostly women and children are housed.
"Fear, giving birth to children of rape and doctrinal change are major obstacles which have prevented hundreds of Ezidis from returning to their homes in Iraq," Rojhat Ali, a counselor at the camp told KirkukNow.
The camp, located west of Hasaka, and is run by the Syrian Democratic Forces (SDF), is housing 72,000 displaced people among them families of IS fighters in addition to those who escaped captivity after the SDF backed by coalition forces controlled Baghouz, the group's last holdout of in Syria in March 2018.
Since the Turkish military operation began, there have been regular reports of prison breaks at facilities that hold ISIS affiliates in northeast Syria including the al-Hol camp.