The president of Kirkuk University and two of his assistants have been dismissed from their posts, within a set of reform measures launched by the Iraqi government under pressure from growing protests in Baghdad and other Iraqi provinces.
According to a series of reforms announced by PM Adil Abdul-Mahdi, the ministry of higher education and scientific research started a reshuffle of posts in Iraqi universities which went into effect earlier this month.
According to the new changes, Sabah Ahmed, acting president of Kirkuk University and both his assistants for administrative affairs and scientific affairs have been removed.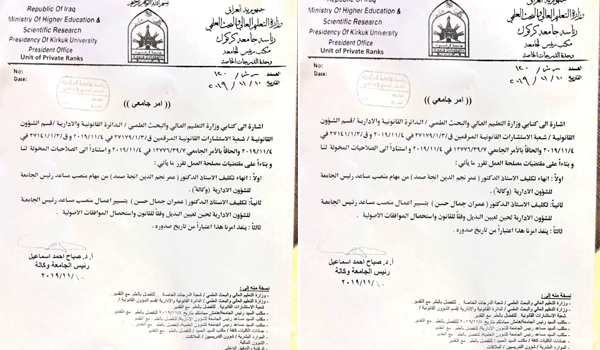 The Iraqi parliament is expected to vote for ministerial changes along with the reshuffles in the university posts soon.
Omer Inja, outgoing assistant for administrative affairs at Kirkuk University indicated that "the changes are not politically motivated."
Sabah Ahmed, a Kurd, replaced Abbas Hassan, an ethnic Turkmen, as acting president of the university, a move which sparked outrage among the Turkmen community of the multi-ethnic province of Kirkuk.
Kirkuk University was established in 2003, and includes 15 faculties.