She is calling and telling someone, "I left the food in the microwave, warm it, and eat it." Her face is not fully visible as she is wearing a mask in addition to her hijab. She is also wearing a white dirty and bloody coat and is carrying a backpack.
Suhai, 38, is a first aid provider in Khalani square in Baghdad, where it has become the stronghold of the protestors. She got a black eye because "a paid man approached her and headbutted her right eye."
A paid man approached her and headbutted her right eye
Suhai, who only revealed her first name, is in the situation that tens of women are going through at the protests in Baghdad and several other Iraqi cities. She was attacked, but, with hope, she reaffirms her continuous participation in the protests.
More than 300 women have taken part in the protests. Since the emergence of the protests, there has not been a tent among the 285 protestors tents that does not contain at least a woman, neglecting that the protestors have faced death, injury, abduction, and attacks by the "militia forces."
Fatin Halfi, a member of the Iraqi high commission for human rights (IHCHR), said that they do not have an exact statistic on the women protestors and activists who have faced violence. Some of them are not ready to file a lawsuit, and the others are prevented by their families to speak.
According to the latest data of IHCHR, 650 people have been killed, and more than 25 thousand citizens have been injured since the spark of the protests last October. While Fatin says women have composed 12 percent of the protestors, but her commission has not been able to determine the rate of violence committed against women.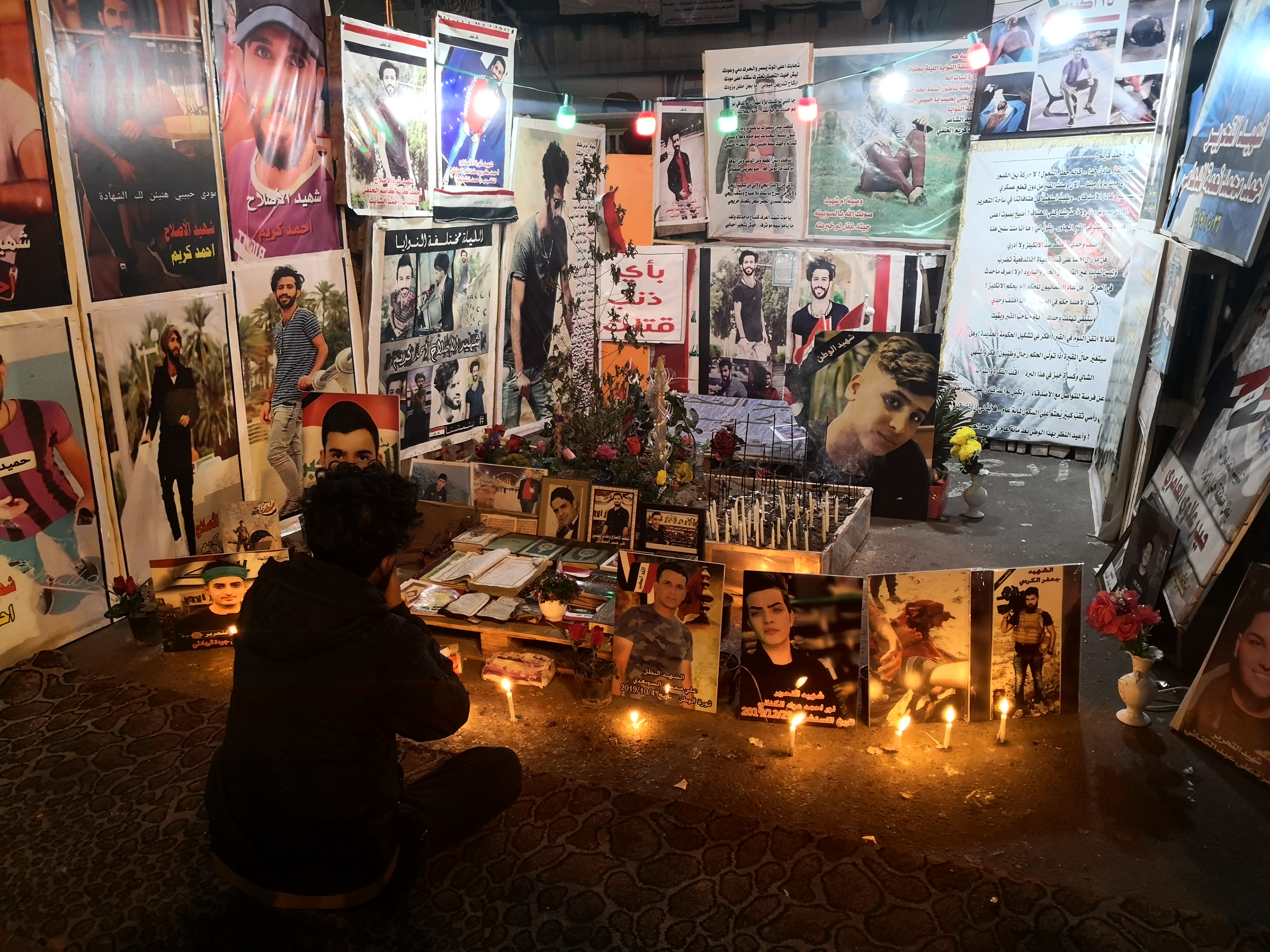 Iraqi uprising started early last October and soon spread to numerous provinces. The protests have aimed at putting an end to rampant corruption, militia forces as well as demanding good governance, job creations, and service delivery.
Even though the threats and violence against women have not been recorded by the international organizations or local organizations, Suhai and her sister vigorously continue protesting and sustain the struggle instead of their other sister, too, whose leg has been hit with tear gas.
Deadly Violence Against Women
The violence against women activists and protestors sometimes might be deadly. Fatima is an example of those women who were brutally injured. Nevertheless, she has devoted her days equally to her studies and her participation in the protests.
Since the beginning of the protests, Fatima is at the frontline where the militias are stationed. In the same place, a sound bomb blew up to her body, in particular her stomach.
When she fell off as a result of the bomb, she experienced a severe pain. "At that time, I was only afraid of being arrested, not death, but the protestors pulled me. After receiving treatments, I once more went back to the square," Fatima said.
At that time, I was only afraid of being arrested, not death
On February 18, 2020, Fatima was standing up in the Khalani square and was flying an Iraqi flag. She was chanting, "I die for you Iraq", but all of a sudden, her hand and leg were shot with air pellet rifles gun by the militias. One of the rifles is still inside her body and needs to be removed by an operation.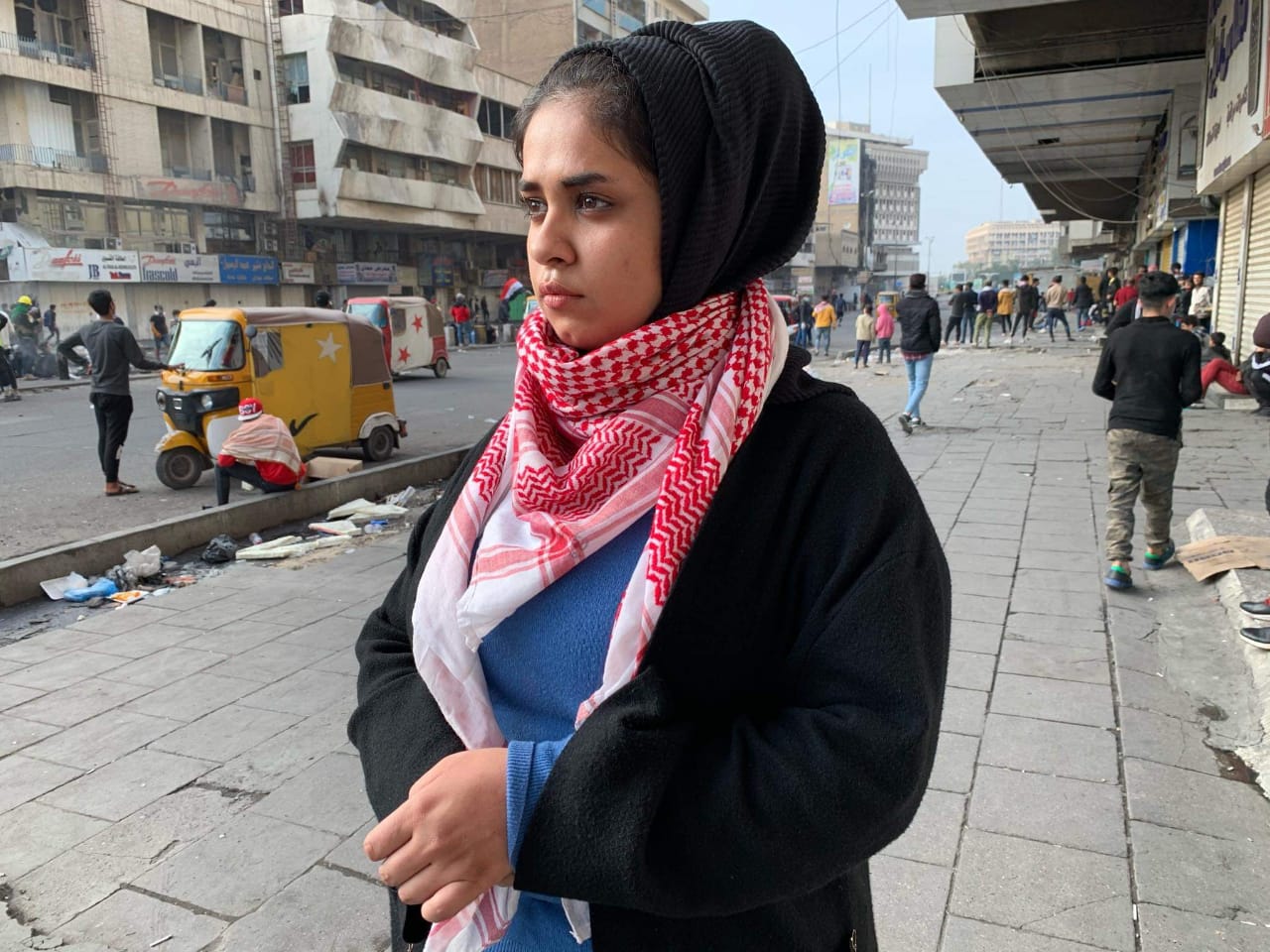 Fatima,18, visited freedom square with a first aid team for the first time. She learned their profession and helped them with giving treatments to injured protestors.
"Approximately, 100 days ago, I participated in the protests because of the low quality of education and also because the Iraqi people deserve a respectable life… and as an honor to the blood of martyrs, I will never leave the square until their demands are delivered."
The protests forced Prime Minister Adil Abdul Mahdi to resign in November. They refused the designation of Mohammed Tawfik Allawi to form the government even though he promised to hold perpetrators of the violence against protestors accountable. Allawi failed to form the government and withdrew as the PM-designate.
Since October 2019, the protestors ask for the removal of the political class that has ruled the country since 2003 and has involved in rampant corruption in the country.
Sadiq's Mother Making Fresh Bread
The women protestors have different roles in the demonstrations. They are all busy and help their fellow citizens. Sadiq's mother, 41, is one of those women who makes fresh bread to the protestors from the morning to evening.
She was wounded by tear gas. After being home for five days, she went back to the protests. She was injured for the second time, but did not give up and still is making fresh bread for the demonstrators. Her bread is either typical bread or bread mixed with meat and vegetables.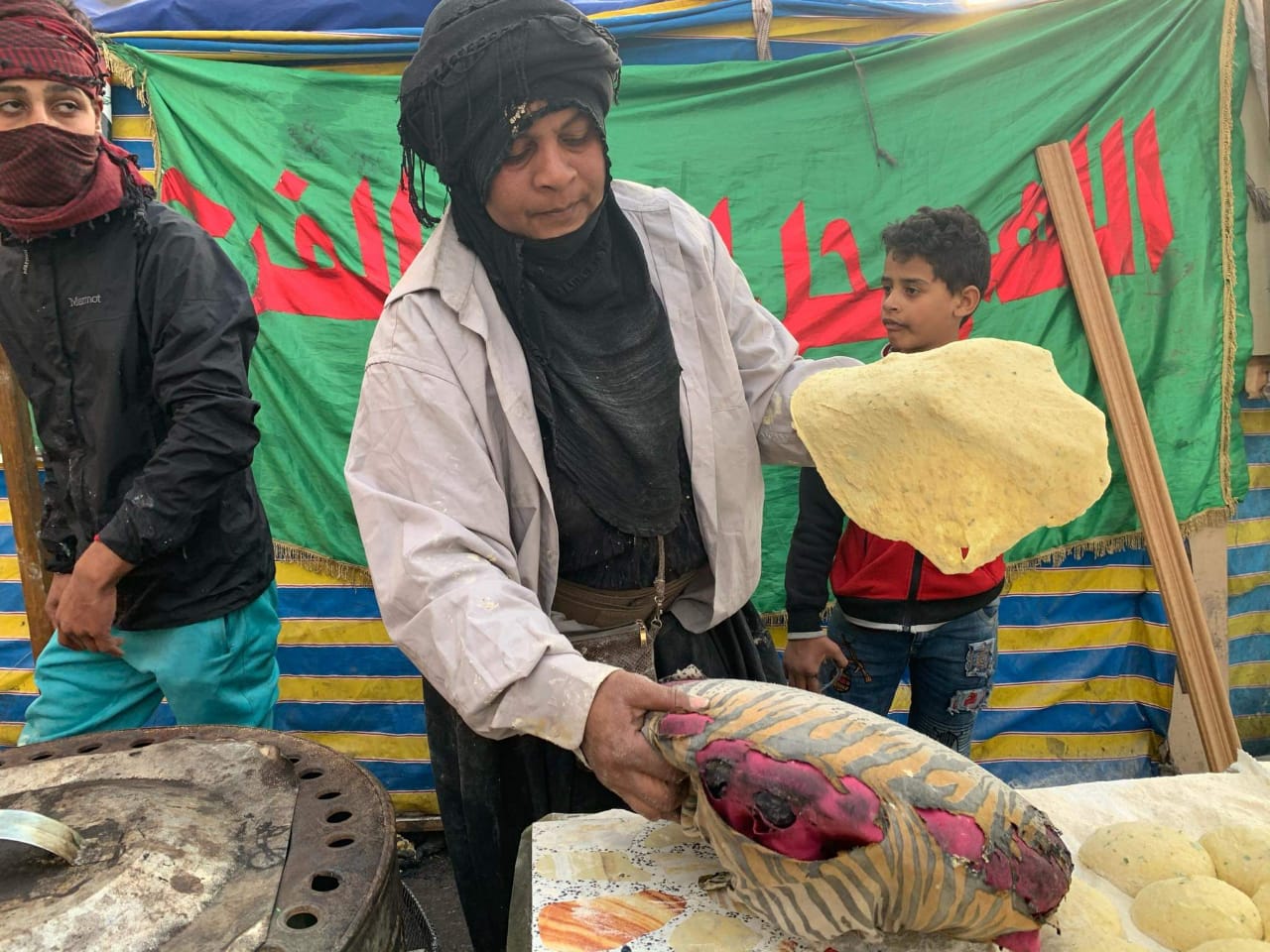 "I do not fear death and do not fear the presence of my children at the protests. Their bravery is not less than that of martyr Safa Sarway. Whenever I confront death, I remember the bravery of Safa and other youths," She said.
Safa Sarway was a protestor whose eyes were hit with a tear gas that resulted in his death.
Sadiq's mother lives in a poor neighborhood in the Mashtal area. Her participation in the protests is to achieve a life with dignity.
124 Days of demonstration
She has put many tea glasses on a table and happily serves tea to the demonstrators at the Tahrir square.
Alla's mother, whose husband is a "martyr", has five protestor children. One of them was under operation for four hours due to his severe injury, but once he recovered, he came back to Tahrir square.
When she was asked why she remains at the protestors square, even when one of her sons was severely wounded, she said, "the homeland is more valuable than my sons, there is no difference between the protestors and my sons. All the protestors are my sons."
Alla's mother has been demonstrating for 124 days. She started participating before her sons. A bomb was exploded to her hands, but it has not stopped her from serving teas to the protestors.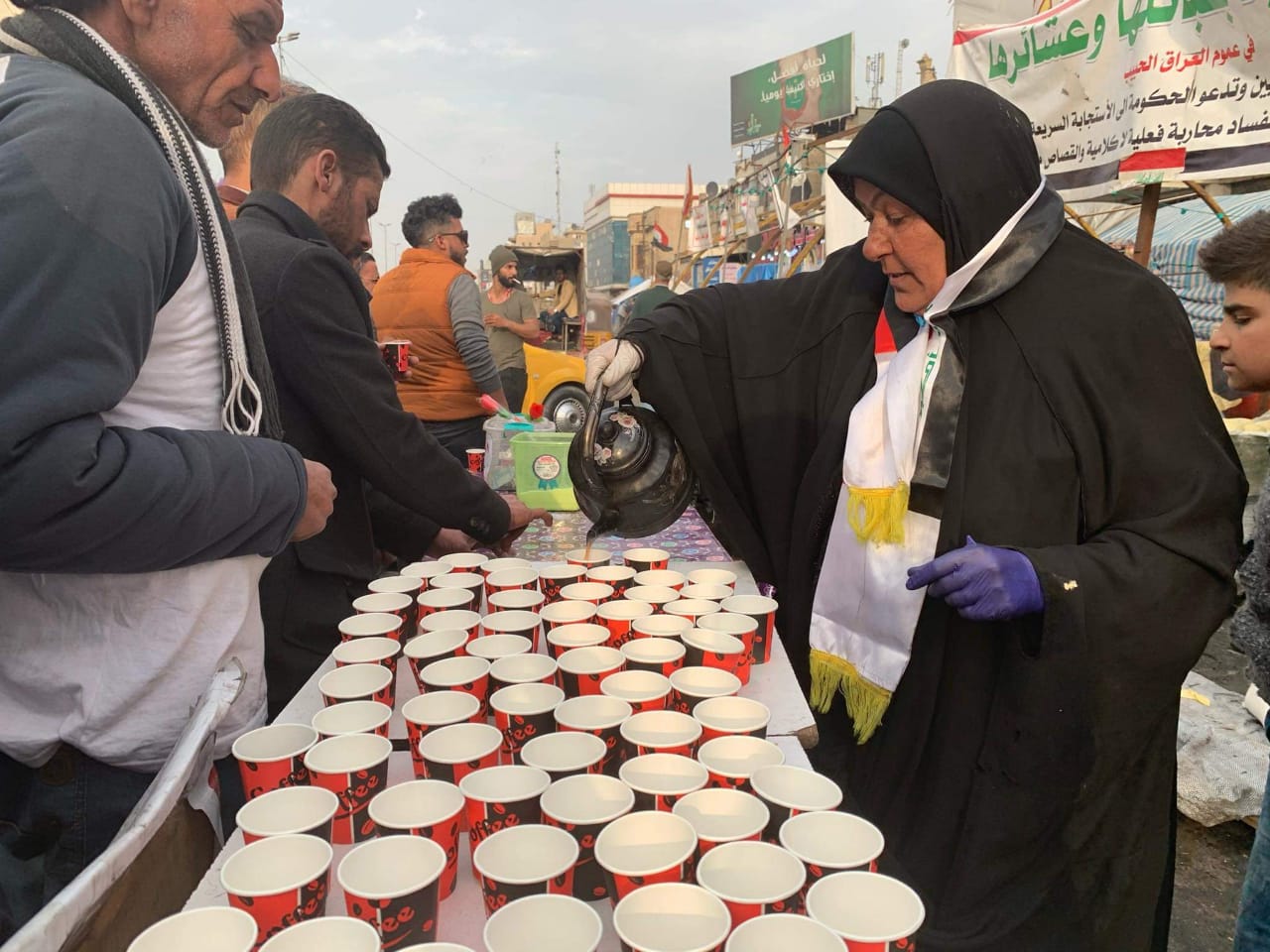 She is 52 years old and lives with her sons in a 72-meter square house in Sadr city. "I buy the tea I serve to the protestors, and it is for free. Only a few people pay me a little amount of money."
Her son was next to her and started dancing to a song. "Do not dance as a respect for the martyrs," she said, "we will not leave here until we avenge the blood of our martyrs."
Do not dance as a respect for the martyrs
Irresistible protestors
Suhai is not alone. Her sister Su'ad, who is less than 40 years, is with her at Khalani square, which is the frontline between the protestors and the security forces.
Su'ad, a mother of six children, said, "my husband greatly believes in the importance of our continued participation in the demonstrations. He used to come to the protests daily, but now he cannot due to his health, but I am always at the forefront of the protests."
My husband greatly believes in the importance of our continued participation in the demonstrations
Suhai and Su'ad help each other by providing first aid to the injured protestors because they have experience. Their sister had the same role but stopped because she was wounded.
"Four months and 20 days have passed since my first participation in the protests… even though my husband disagreed with my participation, he respects my decision to provide first aid to the protestors with my sister," stated Suhai.
Suhai neglects the dangers she faces and can neither go home to care for her children nor can she continue working as an employee of the ministry of health. What keeps her at the protests is "the blood of those demonstrators who gave their lives for the continuation of the protests."