The federal government and the local administration of Nineveh separately change high administrative positions in Mosul, including changes within the department of police and health directorate.
The decision to put a new general commander in charge has been made on April 28, 2020, according to a decree issued by Yasir Yasri, the minister of interior.
The general police department in Nineveh on the same day confirmed the change.
A source, who is familiar with the decree, said, "according to the decree, Brigadier General Lais Khalil Hamdani will replace Major General Hamad Nams."
The source mentioned that Hamdani was involved in the province's internal administration and Hamad has been transferred from the police department to the Ministry of Defense.
The positions of Nineveh province were shared between the different blocs based on a political power sharing agreemen reached in 2013.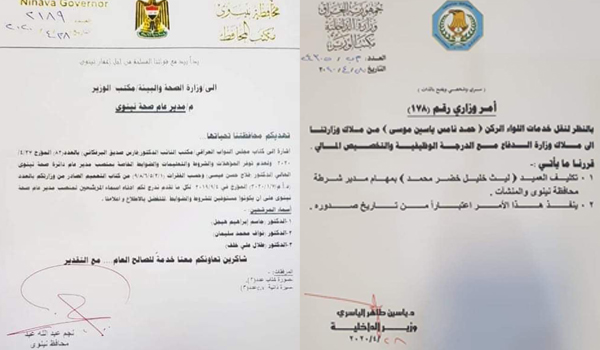 Najim Al-Jabouri, Nineveh governor, has submitted three nominees for the Nineveh health director to the Ministry of Health on April 28.
Doctor Jasm Ibrahim, Doctor Mohammed Sliman, and Doctor Talal Ali are the three nominees, one of whom would be selected based on the relevant criteria.
Falah Hassan, head of health directorate, has been dismissed by Al- Jabouri because "he is incompetent, and does not fulfil the requirements for such a position."
Meanwhile, recently, Yusuf Faraj Sab'awi, took office as the general director of education, replacing the acting education director, Khalid Taha.
The dismissal of Khalid Taha coincides with the Iraqi Integrity Commission's arrest warrant for Taha as well as head of finance and legal department of the education department, who are accused of being involvement in corruption.
A source from the police department of Nineveh said, "the arrest warrant for Taha is because of a contract with a bank, which is opposed to distribute the salaries of the department's employees through cards."
In Nineveh, many administrative replacements were issued last year, including the nomination of a new governor.