Around 300 Peshmerga soldiers have been dismissed and their salaries for several months will be withheld.
In the past few months, salaries of a number of Peshmerga soldiers from Shingal whose task is to guard the Sharafadin Shrine have been withheld and some of them are discharged, because they were unable to report for duty due to different reasons, among them curfews enforced to halt the spread of Coronavirus infections.
Hamid Rasho, whose salary has been cut after 5 years of service, told KirkukNow: "Before the curfew, one of my kids had to undergo an operation. That's why I didn't report for duty for a while, and after that the curfew was enforced and couldn't go, so they withheld my salary."
From March 2020, both Baghdad government and KRG restricted movement between cities and provinces as part of preventative measures against the COVID-19 pandemic.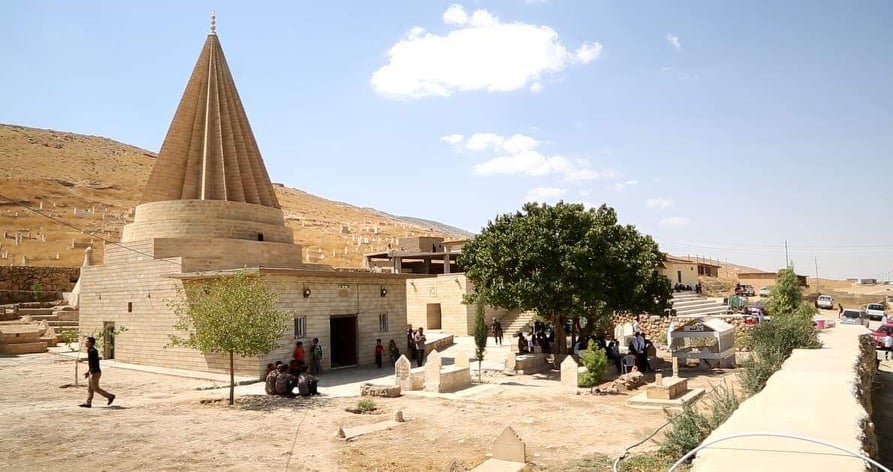 "They have been withholding my salary for the last six months, while I had a family issue and later the road between Shingal and the [Kurdistan] Region was closed and couldn't return [for duty]"
The Peshmerga force that is tasked with guarding the Sharafadin Shrine in Shingal District, was formed by orders from Masoud Barzani, former president of Kurdistan Region, in 2014 after the attacks by ISIS. Their salary consisted of a sum of $300, and was later reduced to $200.
"My home is in Shingal and can report for duty, that's why I received my salary. But tens of Peshmerga soldiers who live in the camps in Duhok, were not able to report for duty and thus their salaries are withheld. Which is a great injustice because [their absence] was not intentional, but the curfew prevented them from reporting for duty."
Shingal Command is part of KRG's Peshmerga Forces, and initially consisted of 8000 members but now only 3000 of them guard the shrine.
Qasim Dirbo, one of the forces commanders, told KirkukNow that "recently 200 to 300 Peshmerga soldiers were sacked for different reasons. Some of them hadn't reported for duty, or after the end of the curfew hadn't showed up for work, so their salaries were withheld."
Dirbo described the discharges as "normal," explaining that "anyone who doesn't report for duty will be sacked. If a Peshmerga soldier is absent for a week or 10 days, it wouldn't be a problem, but not showing up for more than a month, would."
The number of Peshmerga under Shingal Command was reduced to 4000 after the events of 16 October 2017 (when Federal forces retook the disputed areas from Peshmerga forces). 2000 of them were tasked with guarding the Sharafadin Shrine.
According to Dirbo, the 2000 was later increased to 3000.