A number of teachers in Kirkuk City protested against the way the Health Department treated one of their colleagues, who was handcuffed to a hospital bed after breaking a medical device during an incident at the hospital.
Among the teachers who gathered today, 14 July 2020, were members of the Halwest Group, an advocacy association for teachers educating in the Kurdish language, who demanded that the incident be investigated.
The protest started after a video was spread on social media, in which the teacher in question, Muhammad Karim Jabari, appears to be handcuffed to a hospital bed on which his dead wife was still lying.
Jabari's wife died of a COVID-19 infection at the hospital on Monday, 13 July 2020.

the video which shows Jabari being handcuffed to the hospital bed on which his dead wife still lies
The head of the Halwest Group, Rauf Abdulla, told KirkukNow: "Muhammad had bought eight oxygen canisters for his wife with his own money, yet the hospital staff had used them for another patient. Such injustice is unacceptable."
The oxygen issue had led to a scuffle between the hospital staff and Jabari "who broke a ventilator during the scuffle."
The protesting teachers think it necessary for high-level officials in Baghdad to get involved as well.
To prevent the situation from exacerbating, half an hour after the protest started, police units arrived at the hospital's entrance.
Luqman Rostam, another teacher among the protesters, told KirkukNow: "How is it just to handcuff that teacher? They have removed his wife's oxygen.. It's a travesty.. That he should be handcuffed to the bed on which his dead wife lies."
He finds it necessary for a committee to conduct a thorough investigation.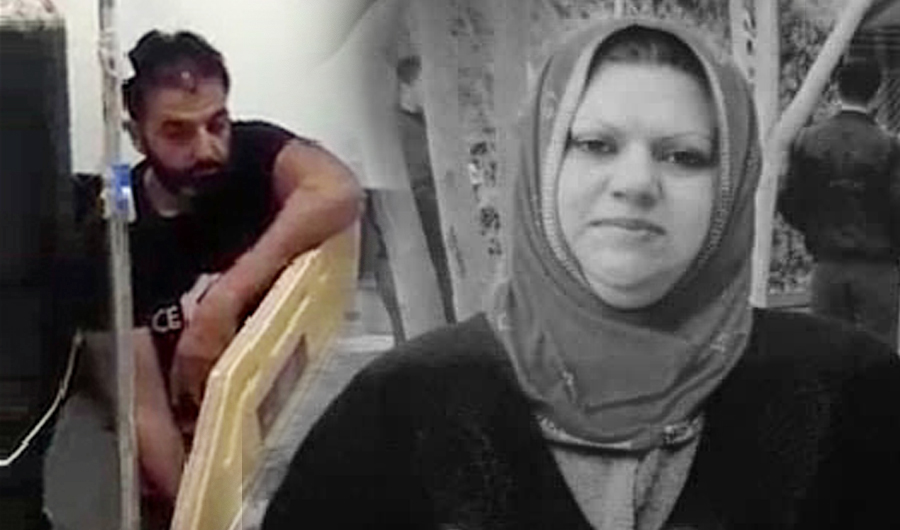 Jabari was released on bail late last night so that he can attend his wife's funeral.
Muhammad Jaleel, member of Kirkuk branch of Kurdistan Teacher's Union, told KirkukNow: "For three years, they are trying to tarnish our dignity, human rights are being trampled on. Why should people be humiliated? We are educators, why has such a large force surrounded us here?" Alluding to the present police force. He demands that the Public Prosecutor looks into the case.
The teachers ended their protest after they were promised an investigation that would be concluded within a week.
The Health Department in Kirkuk has issued two separate statements on the incident. In the latest, they say that Jabari has broken a ventilator which is rare and essential these days, but according to an understanding the judge has released him on bail.