The widely-shared picture captured the misery the Yazidis suffered at the hands of ISIS militants. Compared to those times Khunaf Qasim's life feels like heaven.
Six years is the time period between those two pictures above, snapshots of two different lives: one taken in Shingal, and the other in Germany.
In the first picture a Yazidi woman holding a toddler and two young girls next to her can be seen; all of them covered in dust and clearly exhausted from their exodus on a barren field with a column of fellow fleeing Yazidis behind them.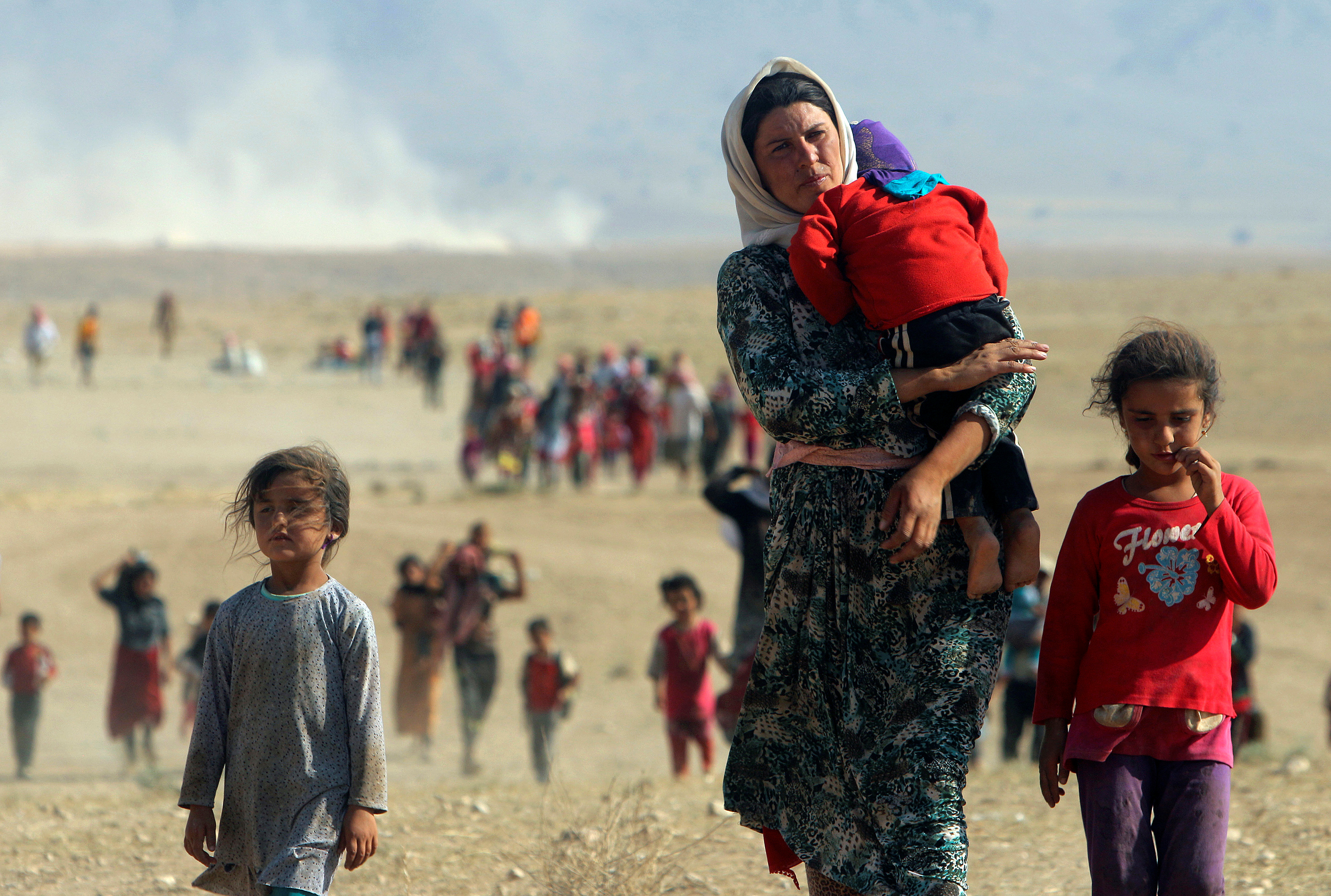 The image dates back to 8 August 2014 in a place between the villages of Dhola and Dugre near the Iraq-Syria border in Shingal District.
The day that picture was taken was like hell or doomsday
"The day that picture was taken was like hell or doomsday; we didn't know where to turn to. It was such a dark and miserable day, I don't have words to describe it."
When the picture was taken, Khunaf was 31, the toddler she was holding was 3, and the girls, Zina and Dalia, were 5 and 6 respectively.
The family flees their home in Girzarki in Shingal District when on 3 August 2014 ISIS militants reach their area. After six days walking, they reach Mount Shingal, and on 9 August they start walking towards the Syrian border.
During the exodus forced upon them, a number of journalists were able to show the world some of the torment the Yazidis suffered. The camera of one of them, Syiran Kurdish photographer Rodi Said, captured Khunaf's and her family.
"I never thought that that image would change our lives so much and receive so much sympathy from people [because of it]," Khunaf told KirkukNow.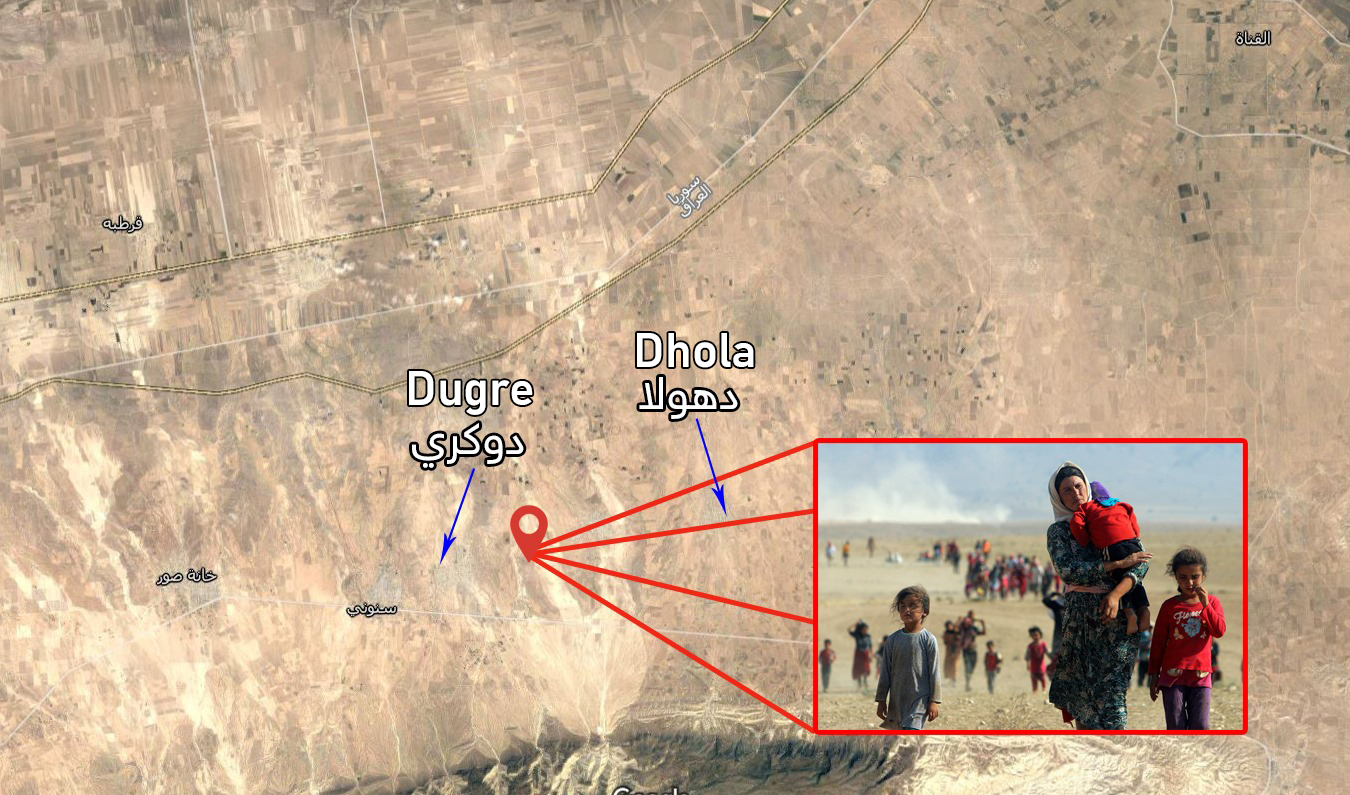 All the members of this family managed to reach safety.
That year, ISIS militants killed thousands of Yazidis and kidnapped about six thousand. The fate of half of them is still unknown.
"Soon after the picture was taken, we reached Syria. But we stayed there for only about 24 hours. We went to the Kurdistan Region [of Iraq], and after 15 days we went to Turkey," said Sa'id Yusif 38, Khunaf's husband. He says they don't know the journalist, but that the image has become a symbol and helped them a lot.
The family went to Turkey with the intention of migrating to Europe.
Khunaf said: "In Turkey, a Kurdish family recognized us, and said 'you are that woman in the picture'. I didn't believe it until they showed me a newspaper."
After nearly six years, Khunaf and her three children took another picture and posted it on social media to show the difference between now and then.
In the second picture, which was taken in Germany in July 2020, on the faces of the children, now grown, and their mother, instead of fatigue and fear, comfort and smiles can be observed.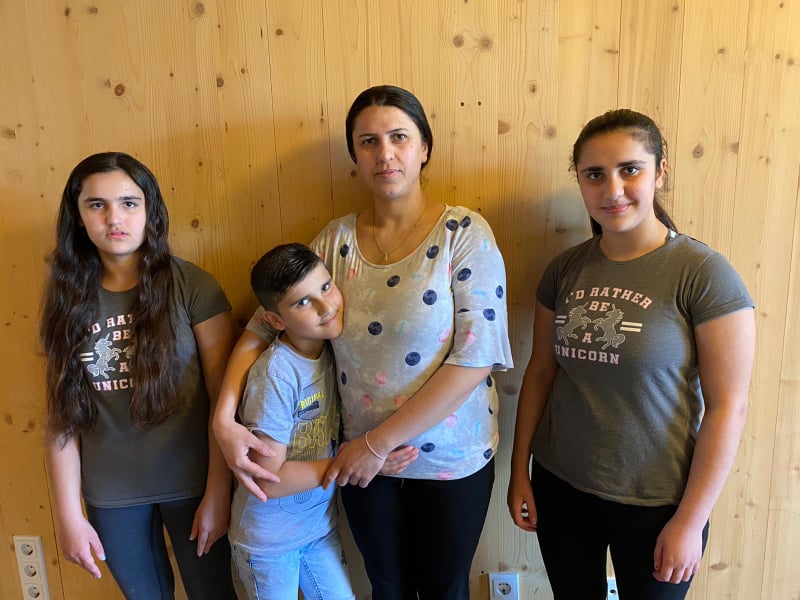 Khunaf adds: "Because of the picture, also in Germany, officials showed us much respect and provided us with everything, like a place to stay and living costs."
After staying in Turkey for five months, the family goes to Greece, and from there to Germany, where they have been living ever since.
We now have a happy life without problems
Yusif thanked people in the Kurdistan Region and Syria for helping them, and said: "Germany provided us with a place to stay and living costs. We now have a happy life without problems."
Khunaf's two daughters and son attend school in Germany. The family also has a new member now: 3-months-old Liza.
"We don't want to forget the first picture, that's why we hung it on a wall at home, and hoping that the Shingal atrocity be recognized as genocide, and every Yazidi be compensated for their loss," said Khunaf.