Mariyam moves to Khanaqin when she is young and stays there. Today, she is the only Christian in the city.
"I consider myself as a Khanaqini and will not leave my city," Mariyam said.
67-year-old Mariyam Michael Ishaq, known as Maria among the people of Khanaqin, originally comes from Sarsang in Duhok. In the 1970s her family moved to Khanaqin.
When Mariyam is 17, her father gets arrested and her family is therefore forced to move, first to Basra, then to Baghdad, and finally to Khanaqin.
"We were a big family, five brothers and four sisters. We rented a house in the Hamidiya neighbourhood."
After some time, Mariyam gets married with a Muslim man. Her family soon after moves back to Duhok and she has been living far from them ever since.
"It was a little hard to adapt to a different religious and social environment in the beginning, but I was very open to it. My husband's family and our neighbours loved me a lot."
I have never felt like a stranger. All the people love me and treat me with respect. And I love them all
In the beginning, Mariyam and her husband live in the house of her in-laws.
Mariyam says that despite the fact that her husband's family were Muslims, she was never made to feel different and they treated her without discrimination.
At the time when Mariyam got married, there were many Christian and Jewish families living in Khanaqin. But in the 1980s, and with the start of the Iran-Iraq war, they all gradually left the town.
"Back then, together with other Christians, we would go to Bashara Church for religious ceremonies. I would pray there in the holy days. Muslim friends and neighbours would also often join, without there being any kind of discrimination."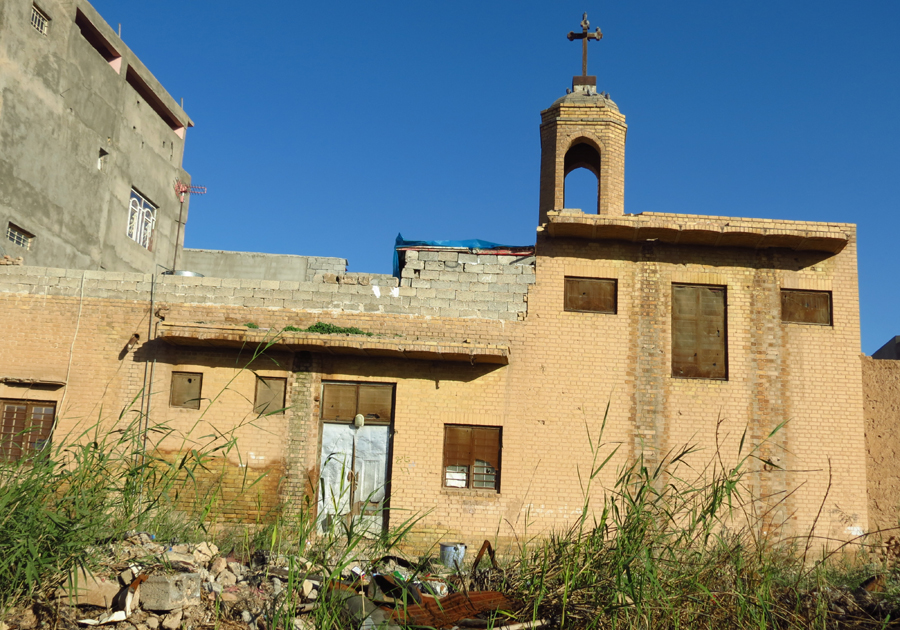 The Bashara is the only church in Khanaqin town. After the Christians left the town, it was used as a shelter for a number of poor Muslim families. It was built in 1950 on a parcel of 430 square metres.
"I feel very sad and it pains me to see the church closed. I don't hear the church bells and I am not able to light candles there," Mariyam says, adding that she has tried several times to let the church be opened for town worship, but to no avail.
On some holy days, Mariyam goes to Sarsang in Duhok to attend the churches there. On other days, she prays at home.
"I have many memories in the church. During the first world war, Bashara had been a house before it was turned into a church. My grandfather married a Turkish girl from Istanbul. He had come to Khanaqin through Iran. They had held their marriage ceremony at that house before going back to Sarsang."
I feel very sad and it pains me to see the church closed
In all of Diyala province, there is only one functioning church: The Um-Bashara Salih Church in Ba'quba, which was renovated in 2019 after being closed for 14 years.
Currently, Mariyam is the only Christian who permanently resides in Khanaqin. A few other Christian families keep moving between Khanaqin and other towns.
"People here consider me family; I have never felt like a stranger. All the people love me and treat me with respect. And I love them all."
"And I don't want to leave Khanaqin, because I consider myself a Khanaqini and will always remain in this city."