Four senior leaders of ISIS and six militants killed in an operation south of Kirkuk, Iraqi counter terrorism service said in a statement on Wednesday.
Iraqi forces launched a wide air-land assault against ISIS in Wadi Shay south of Kirkuk, in (Revenge for martyrs) operation, in retaliation for the deadly double suicide bombings in Baghdad which left 32 killed and 1oo wounded last Thursday.
The operations started last Friday. Jabbar Salman Ali, nicknamed "Abu Yasser", who is the governor of Iraq and the alleged Calipha deputy of ISIS organization, was among the fighters killed in the operation, the Iraqi counter terrorism tweeted.  
Iraqi air forces bombed the strongholds of ISIS militants then counter terrorism units raided the area, a security source anonymously told Kirkuknow. "Several militants were killed and plenty of weapons and ammo taken."
Several militants were killed and plenty of weapons and ammo taken
Senior medical staff, Engineering and telecommunication members of ISIS were killed in direct clashes, couple of suicide bombers were shot dead, counterterrorism statement adds.
Following Baghdad suicide bombings, Security forces in Kirkuk were on alert. Extra checkpoints were deployed downtown as precautionary procedures.
Prime Minister and Commander in-Chief of armed forces Mustafa al-Kadhimi sacked several security officials, including head of Anti-terror Intelligence of the Interior Ministry, Iraqi army Commander of Baghdad Operations and Federal Police chief.
The oil-rich city of Kirkuk, 240 km north of Baghdad, is Iraq's 5th largest with an estimated population of 900,000 Kurds, Arabs, and Turkmen. It is one of the main disputed areas that a three-stage process outlined in Article 140 of the Iraqi constitution in 2005, stipulating normalization, a population census and a referendum on the status of the territories, was drawn to put an end to Kurdistan region government KRG-Iraqi Federal government dispute over these areas.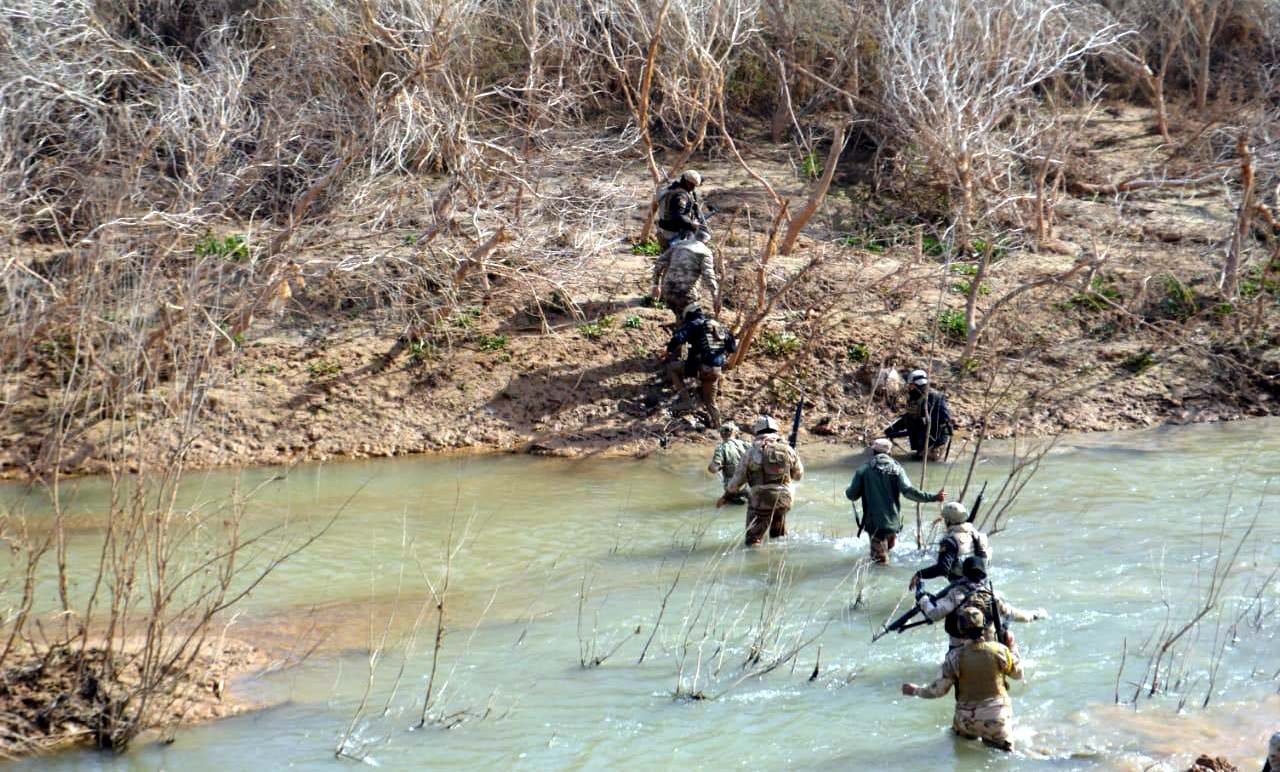 Iraqi national security said in a statement on Wednesday it has foiled "a terrorist plan" by ISIS in Kirkuk based on detailed intelligence reports.
Two informants of ISIS were arrested in a raid in Kirkuk. "They were gathering information about deployments and operations of the security forces in Kirkuk," the statement added.
Iraqi federal forces launched an operation in Waara, south of Kirkuk, security media cell said on Thursday.
The Iraqi forces are trying to leave no safe haven for ISIS militants, said Lieutenant general Saad Harbeyeh, commander of the joint operations command in Kirkuk.
Some of the operations are backed by air forces of US-led coalition forces which is supporting Iraq in its fight against ISIS since 2014.
Security Media cell stated that 10 ISIS fighters were killed in an air strike by US-led coalition forces.
Local police and Brigade 61 are in charge of security of centre of Kirkuk. The Iraqi military units, military popular mobilization forces PMF (Hashid Al Sha'bi) and federal police are deployed at the outskirts of Kirkuk led by joint-operations' command.