Christian community of Nineveh province are willing that following Pope Francis's visit to Iraq they can resume their ordinary life and leave the IDP camps where they spent six years.
On the first ever papal visit to Iraq, The pontiff is making his first international 3-day trip since the start of the corona virus pandemic.
He is planning to meet Iraq's senior Shia Muslim cleric Ali al-Sistani in Najaf, an inter-religious dialogue in Ur, home of prophet Abraham and meet the Christian community in the Nineveh plains.
"I am confident that after the visit of Pope, a big number of Christian IDPs will be back to Mosul," said Bryde Adel, general supervisor of the Syriac Orthodox churches in Mosul, said.
Adel believes the visit by the pontiff will be a source of pleasure and blessing for Iraqis in general and Christians in particular as "it will be a big support and promoted the will of Christian IDPs to return home and resume their ordinary life."
Lately 70 Christian families left the camps and the return process is ongoing, Adel added.
Iraqi Kurdistan regional government KRG statistics showed that out of almost 700,000 IDPs in 26 camps, over 7% are Christians.
Tens of thousands were forced to desert their homes when Islamic State (IS) militants overran northern Iraq in 2014, destroying their houses and historic churches, and forced them either to pay a tax, convert to Islam or leave.
Over 20,000 families have fled abroad to escape the violence that has plagued the country when Saddam was ousted in 2003.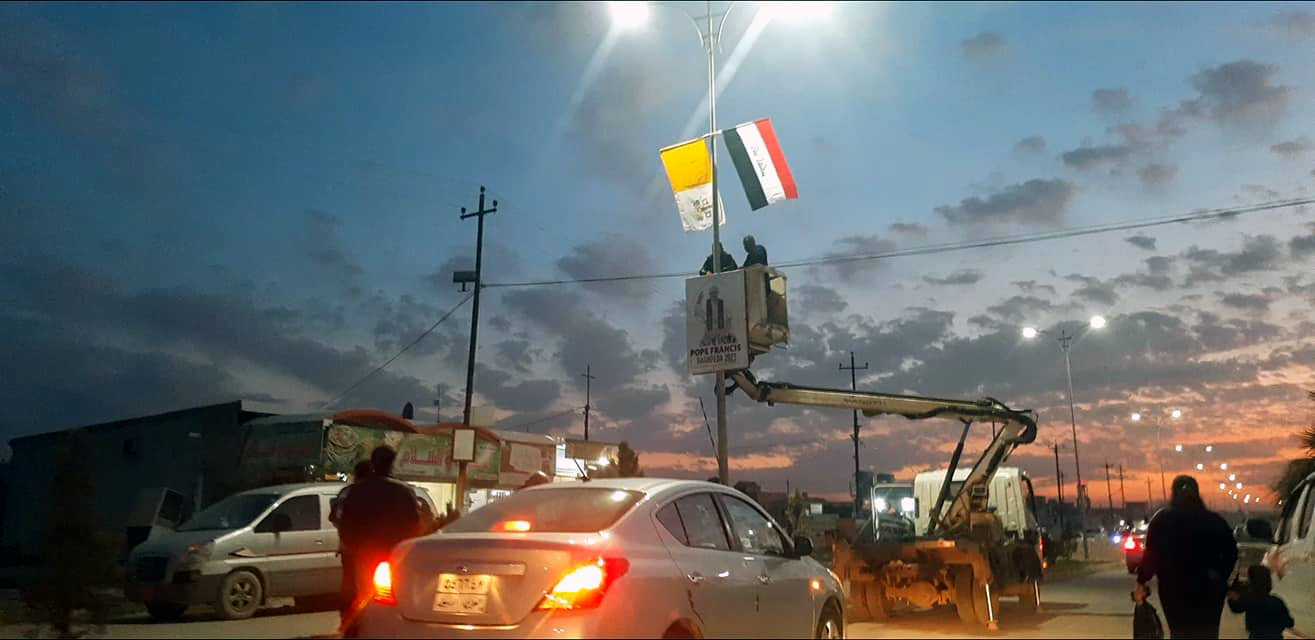 "Mosul is safe in terms of security and we face no threats, we practice our prayers and festivals in Church," Said Mounir Ni'amat, a Christian from Mosul, who fled in 2014 and returned in 2018 yet he still pays $100 a month for the flat he rented as Daesh demolished his house which he could not rebuilt.
Local officials say that Christians are welcomed to come back home and offer all available facilities. Ali Homar Gabo, deputy governor of Nineveh, confirmed lately 70 families returned home to Mosul city center.
"The return of the Christians is very important because they are an ancient and vital component of the region.
Christianity ranks the second religion after Islam in Iraq and it is a recognized religion by Iraqi constitution and their official language is Syriac.
Two decades ago, Iraq was home for over 2.5 million Christians, 3% of Iraq's population falling to 1.8 m in 2003 following gulf war. They are mainly living in the provinces of Baghdad, Nineveh, Duhok, Kirkuk and Erbil. Latest figures say currently only 400,000 Christians are living in Iraq.
Ni'amat is confident that Pope's trip is effective and hopes that Iraqi authorities supports returned Christians financially to rebuilt what the extremist Jihadists destroyed.