On the first-ever papal visit to Iraq, Pope Francis has called on Iraqi leaders to end violence and factions and open the way for those who are faithfully willing to bring in peace through constructive dialogue.
Following the welcome ceremony by Iraqi Prime Minister in Baghdad International airport on Friday, the pontiff delivered a speech in Baghdad Presidential Palace to a gathering of senior Iraqi officials, political figures, religious clerics, diplomats and representatives of NGOs.
Pope called to stand for corruption and hailed steps for reform in Iraq. "Iraq has suffered the disastrous effects of wars, the scourge of terrorism and sectarian conflicts often grounded in a fundamentalism incapable of accepting the peaceful coexistence of different ethnic and religious groups."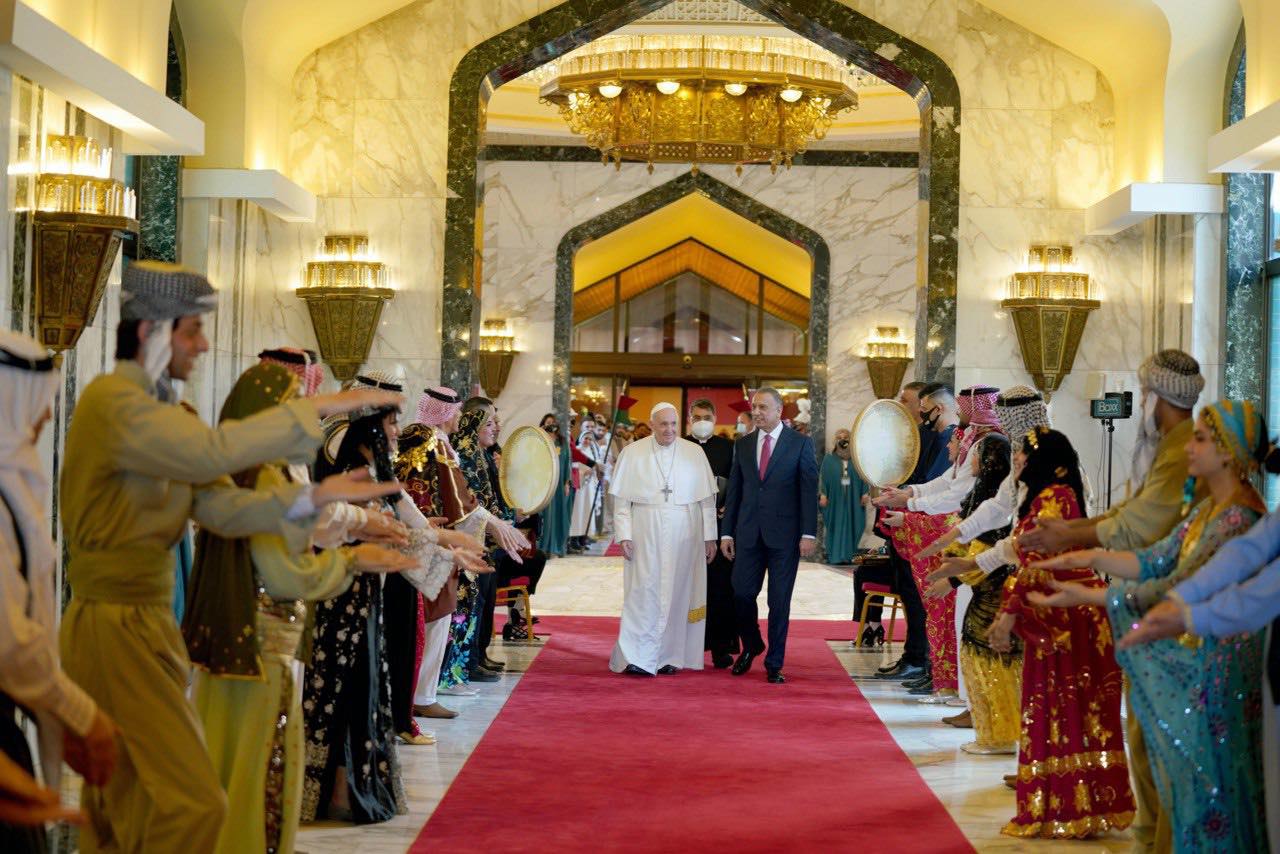 Despite security and health concerns, but the 84-year-old insisted to visit five Iraqi provinces in a –three-day visit from March 5th-8th. Over 10,000 Iraqi Security Forces personnel are being deployed amid weekend full lockdown to limit the spread of Covid-19 pandemic.
"I can refer to Ezidis who were civil victims of inhuman attacks and been oppressed and slaughtered by religious excuses putting their identity and even existence under big threat," Pope said.
"Fraternal coexistence needs real dialogue," referring to the diverse religious mosaic of Iraqi society. "Unified and fraternal community is that where people live in cooperation and passion for each other."
Pope added he came to Iraq as a pilgrim, bringing peace in the name of Jesus Christ, prince of peace.
Hundreds of people lined the airport road as the Pope's convoy drove to the centre of Baghdad. Flyers and paintings of walls were seen all over the city that warmly welcomed the "Baba."
"I have been praying for years for peace and stability to prevail in Iraq  and religion should aim at peace and fraternity."
Pope Francis went to hold Mass in Baghdad's Syriac Catholic church of Our Lady of Salvation, targeted targeted by a deadly attack in 2010 by extremist jihadists left 52 Christians and policemen dead and over 70 injured. 
On the second day of his landmark trip to Iraq, the "Baba" is to hold a symbolic meeting with one of the most powerful figures in Shia Islam, Grand Ayatollah Ali al-Sistani, the 90-year-old spiritual leader of millions of Shia Muslims, in the holy city of Najaf.
"Despite the winds of violence, tyranny and totalitarianism that have swept through our land at episodes in its history, Iraqis take pride in the fact that they have lived in towns full of diversity, where Muslims, Christians, Jews, Sabaens and Yazidis live side by side, as brothers, in one settlement and one district" Iraqi president said in the welcome ceremony.
"Iraqis also take pride in the fact that they are protectors of the churches."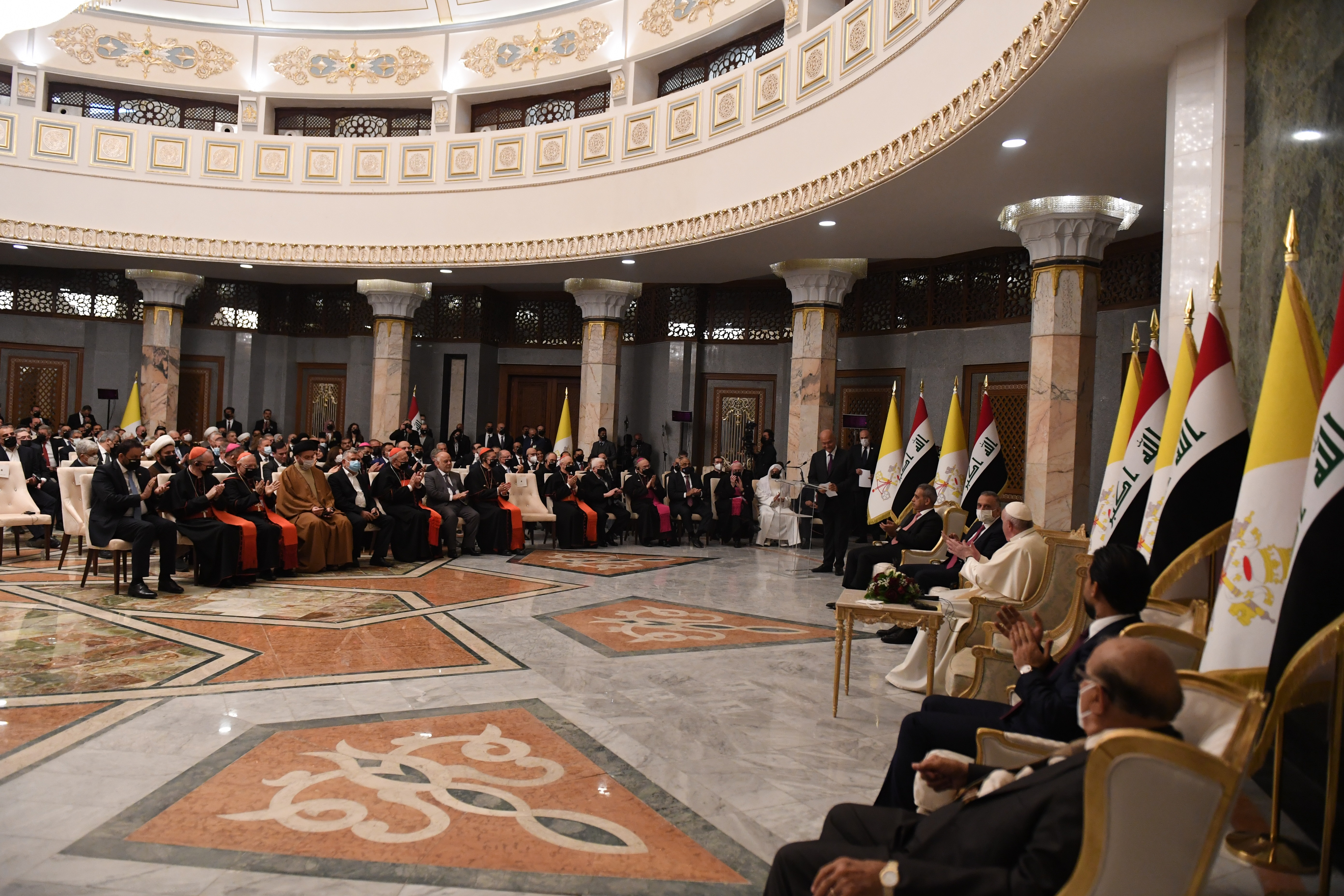 "Parts of the world, especially in the East, have lost their sense of plurality, diversity, and acceptance of the view of others.  This is caused by terrorism, incitement to violence and hate speech, and due to committing atrocities based on excuses that have nothing to do with the God's message.  This is a threat to all of our futures," Iraqi president added.
The worst violations were carried out against Ezidi and Turkmen women, and the most egregious massacres in Shingaland Speicher.  Muslims, Christians, Yazidi, Sabaeans, Kakaiyas and others were targeted, Salih added.
"We note especially the great suffering of our Christian brothers, who were forced to abandon their homes and their homeland.
Salih proposed the initiative to establish (the House of Abraham for Religious Dialogue) to be pursued.  "I also hope to create a permanent conference or seminar for dialogue, headed by representatives from the Vatican, Najaf, al-Azhar, al-Zeituna and other big religious centers that study joint and different histories in light of the holy code and the cuneiforms heritage."
Following the meeting in Najaf, The pontiff will fly to the ancient city of Ur, where the Prophet Abraham, founder and father to Islam, Christianity and Judaism, is believed to have been born.