Though he is a pensioner, yet his passion for his career pushes him into the fire of oil wells he puts off in order to save the wealth of his city and earn billions for the company he worked there for decades.
Abdul-Qadir Ahmed Sultan Al-Jumaili, 66, has got no degree. He was employed as a driver by state-run North Oil Company, oversighting the five oil wells of Kirkuk. He gradually was promoted and turned into manager of heavy equipment in 2018 and got retired.
Al-Jumaili since then is at the front row of the firefighters whenever a fire erupts in an oil well to fight it. He got skills in fighting fire, a talent he acquired by passion.
Back in 2013, he successfully put off a fire in Gayara oil well by unidentified gunmen. The last oil well he extinguished was early May putting off Khabaza oil well.
He recalls that North Oil Company has to contact foreign companies once fire erupted in an oil well and in turn, they were asking for billions of Iraqi Dinars IQD (1.5 Billion IQD equal to 1 M USD).
"The foreign experts were using the company equipment and was escorting them and gradually got an experience."
"The foreign experts were using the company equipment and was escorting them and gradually got an experience."
He proposed to fight a fire in Gayara oil well and the company approved his request.
"I was thrilled when I managed to extinguish the fire. I felt that I can offer a big service."
The northern oil-rich city of Kirkuk, Iraq's second largest oil reserves, is ethnically a mixed province for 1.2 million Kurds, Arabs, and Turkmen. It has long been at the center of disputes between Baghdad and the autonomous Kurdistan Regional Government KRG.
The five oil wells of Kirkuk have produced 2.86 million barrels in April generating 177 million Dollars USD for Iraq's national revenues compared to 3 million barrels last March for $195 million, Iraqi ministry of oil figures show.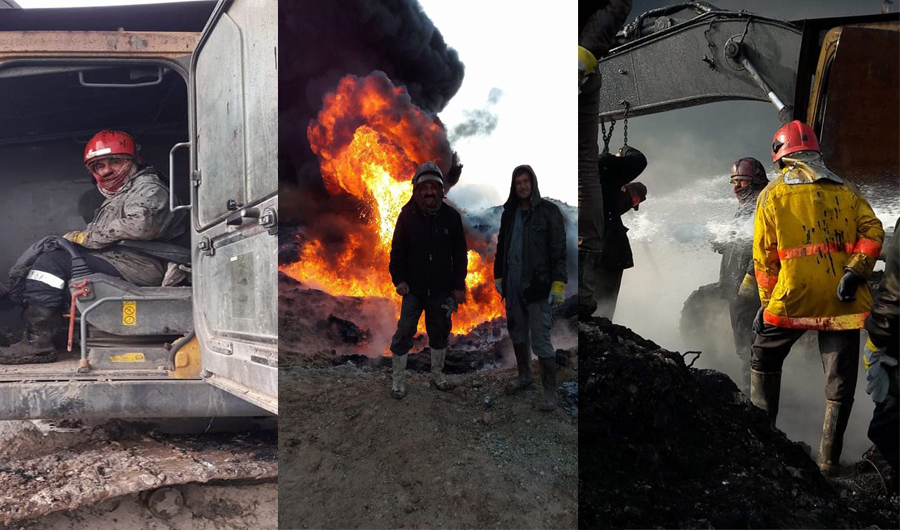 Following the pop up of the so-called Islamic State in Iraq and Syria ISIS Mid 2014, Jumaili went busy as oil wells were a hot target for the extremist militants.
IN ocotber 16, 2017, when the Kurdish Peshmerga confronted with Iraqi forces in Kirkuk, an oil well of North Oil Company was bombed. A company based in Erbil asked for 3 billin IQD (2 M USD) to blow out the fire and no deal sorted out.
"I have decided to fight the fire with my colleagues and we were successful," he added.
On May 4th, IS militants riding motorbikes assaulted oil guard units in the village of Aziziya of Bay Hassan Oil field in the district of Dubiz, or Dibis, 35 km west of the oil-rich city of Kirkuk.
A source in state-run North oil company, told KirkukNow two oil wells were bombed. The first one, oil well number 177 was controlled in a day and the second, well number 183, was controlled on May 9th.
Jumaili successfully controlled fires in both oil wells of Khabaza oil field.
"Renovation and restoration of those two oil wells takes at least 20 days. We have made use of the retired staff and have not used foreign companies this time," the anonymous source added.
Jumaili has retied in 2018 yet he is always on alert whenever the company needs his service and expertise.
He proudly took part in fighting fire in 30 oil wells. "18 of it were during the fight against Daesh in Gayara sub-district of Nineveh and 12 oil wells of Kirkuk."
The experience he got from the professional companies he escorted is now using it to extinguish falmes that swallow Iraqi oil yet for free.
"Whenever any company was contracted for fire extinguishing, I was accompanying them, carefully watching them, what they do and how they act. I have a big love for it which made me get a good experience."
I have a big love for it which made me get a good experience.
The North Oil Company was encouraged by Jumaili to make a professional fire brigade for the oil wells, earning billions of Iraqi Dinars to extinguish oil fire by professional foreign companies. "Fighting fire of oil wells is on e of the hardest and risky tasks. I was close to death couple of times, thank God we have survived."
"Extinguishing diesel wells which I did once is harder yet I managed it successfully."
He believes that Daesh militants are experienced in exploding oil wells by choosing the site and the place which gives a big blow to the oil well. "They do it in a way that makes our mission very hard."
As one of his last tasks, he enjoys training a team for fighting fires of oil wells.
"I keep telling them try to learn the career so that our country needs no foreign experts."