For seven years, Jihad Ravo is listening to empty promises by officials to rescue his relatives enslaved by the extremist militants of the Islamic State in Iraq and Syria ISIS.
The militants, whom accuse the ethno-religious Ezidi community of being heretic, captured his parents, wife, three kids and six relatives in August 2014 in Shingal, the predominant Ezidi district north west of Mosul on the border with Syria.
Ravo managed to free his wife and three kids for USD26,500 in March 2016.
What a sense is this by the officials to stay silent and forget about the enslaved people?
"We have collected money by ourselves but later the Kurdistan region office for rescue of the abducted reimbursed us. Since then, I am waiting for the return of my parents and relatives.
Mediators, contact people and traders mediate with Daesh militants to free the enslaved Ezidis in return of an amount of money.
"Now its seven years so how long we have to wait? Up today I keep crying like a kid for my father and mother. What a senseis this by the officials to stay silent and forget about the enslaved people?"
Ravo lives in Qadia camp for IDPs since seven years. He has no more hopes for the government to free his beloved people or the return to his hometown.
In August 2014, Daesh took over Shingal and took 6417 Ezidis as captives and sex slaves, mainly women and children. Up today, 2781 of them are missing and brought to unknown destiny, the Kurdistan Regional Government's KRG office for rescue of the abducted Ezidis.
Ezidis are an ethno-religious minority of about 550,000 people, mostly residing in Shingal, in northern Iraqi province of Nineveh. The militants of Daesh extremist group in 2014 attacked their communities, killing thousands of men and taking thousands of women and children, in an atrocity the U.N. said amounted to genocide.
IS reportedly used the women and girls as sex slaves. Tens of thousands of Ezidis are still living in Internally Displaced Person IDP camps in Iraqi northern province of Duhok.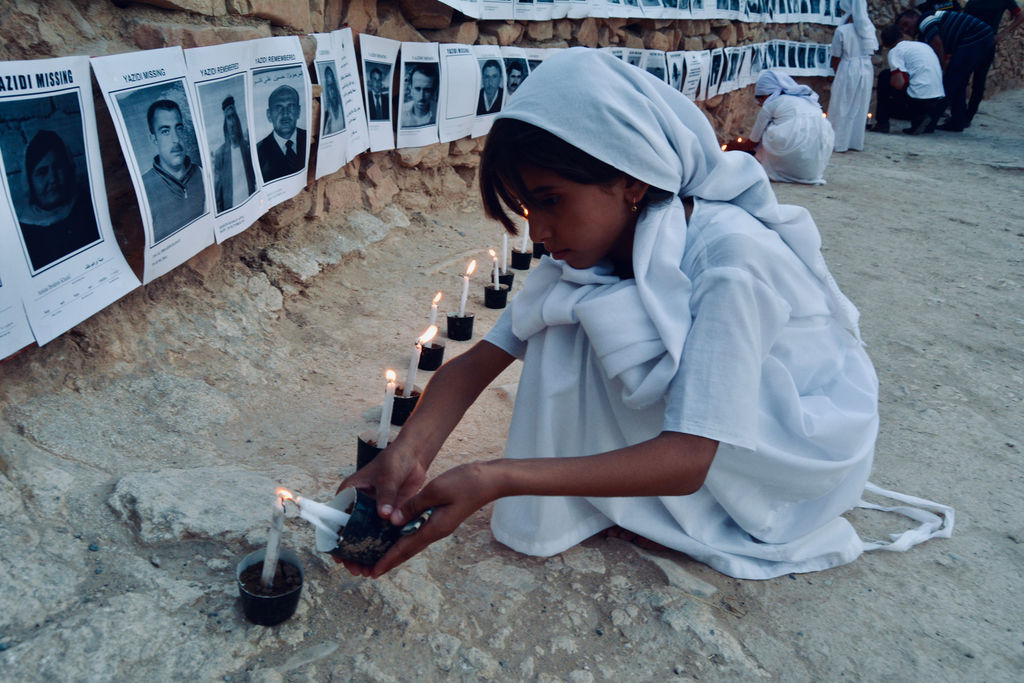 Hussein Qaqidi, in charge of KRG office for resuce of the abducted Ezidis said the process of liberation of the abducted has not come to end. "Its true few people rescued lately but unfortunately the Iraqi government and the international organizations are not cooperating with us in this regard. Only the KRG is cooperating."
Qaidi blamed Covid-19 pandemic also which resulted in slowing down the process and the closure of Iraq-Syria roads.
"According to our information, over 400 abducted Ezidis are in al-Hol camp, west of Kurdistan," he added, in reference to the Kurdish territories under Syria Democratic Forces SDF.
According to KirkukNow follow up for the press releases and statements about freeing the kidnapped Ezidis, only one Ezidi was released in 2021.
"Is it reasonable after seven years, still our family members are missing?"
The only Ezidi recued in the last fifth months is Ardawan Muhsin, 15-years-old teenager. Mhusin was only 8 when he was enslaved by Is militants and reunited with his father on May 25th, 2021. His mother and two sisters are still missing.
Muhsin Khdir, father of Ardawan, told KirkukNow his son was found by the Asayish, Kurdish security, in al-Hol camp north of Syria, home to over 72,000 IDPs, mainly family members of Iraqi, Syrian and foreign IS fighters and some Ezidis captured in 2014 in Iraq and taken to Syria by the extremist fighters.
KirkukNow found out that hundreds of Ezidi women and girls are still leading a miserable life in fear of their families, giving birth to children from an Is fighter, conversion of religion and can't make it back home.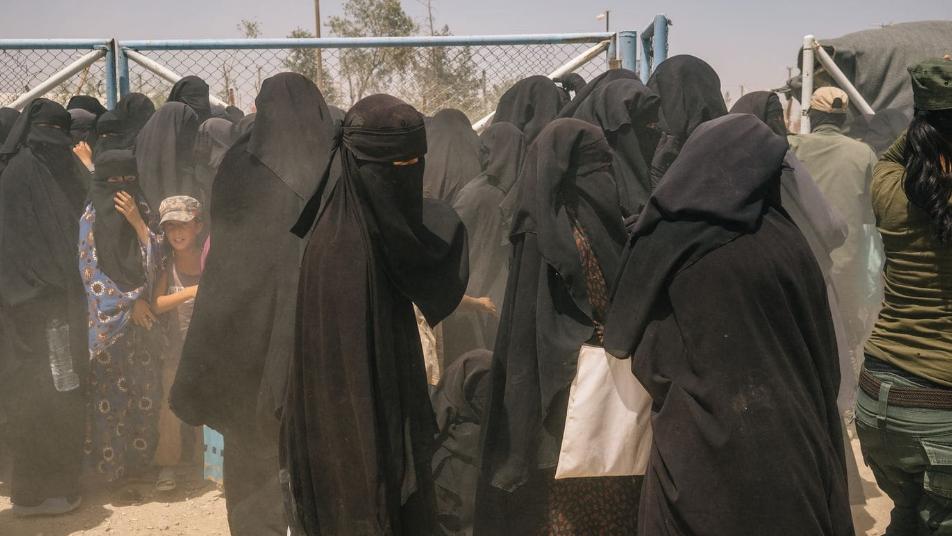 The representative of the families looking for their missing members in the village of Kojo, Marwan Jad'an blames local and international role players for overlooking their suffering.
"We have visited senior Iraqi officials and the UN, all promised to free the kidnapped. Is it reasonable following seven years of abduction, our family members are still missing and only recalled in the events and memorials?"
In the village of Kojo, Daesh massacred hundreds and buried them in mass graves, mainly the men. Last February, tens of remnants were exhumed and identified.
Hundreds of women, girls and kids were enslaved.  So far, 80 mass graves have been discovered in Shingal along with dozens of single graves, all of which dating back to the time when ISIS attacked and took control of the district. Only few of it has been exhumed.
Marwan's wife and four kids were freed few years ago. He is not pleased by the aids and financial reparation. "I have not even received the 2 million IQD ($1350) because you need a mediator. Generally no one is worried about us and our sacrifices."
Ezidi survivors are entitled to receive 2 M IQD beside some other aids.
The financial compensation was awarded ahead of endorsement of reparation law for Ezidi women survivors last March by Iraqi parliament which offers legal framework for the missing.
 Most of the missing Ezidis are women and children
According to minor guardian law number 78 in 1980, the court can consider a missing person dead once prove submitted or after four years of missing.  
Daud Murad, representative of part of the families of the Ezidi victims, said "according to our information, most of the missing are women and children because the men were martyred.
In addition to the issue of the missing, 1293 Ezidis were killed at the hands of IS extremist fighters whom accuse the vulnerable war-torn ethno-religious minority of being heretic and devil worshippers.   
Murad doubts the promises of freeing the abducted Ezidis.
"Those who say that do not mean it because search in al-Hol camp is very difficult and the officials have forgot about the dossier of the aabducted completely."
On May 19th, a campaign was launched by Ezidi activists named "Rescue abducted Ezidi women" on social media.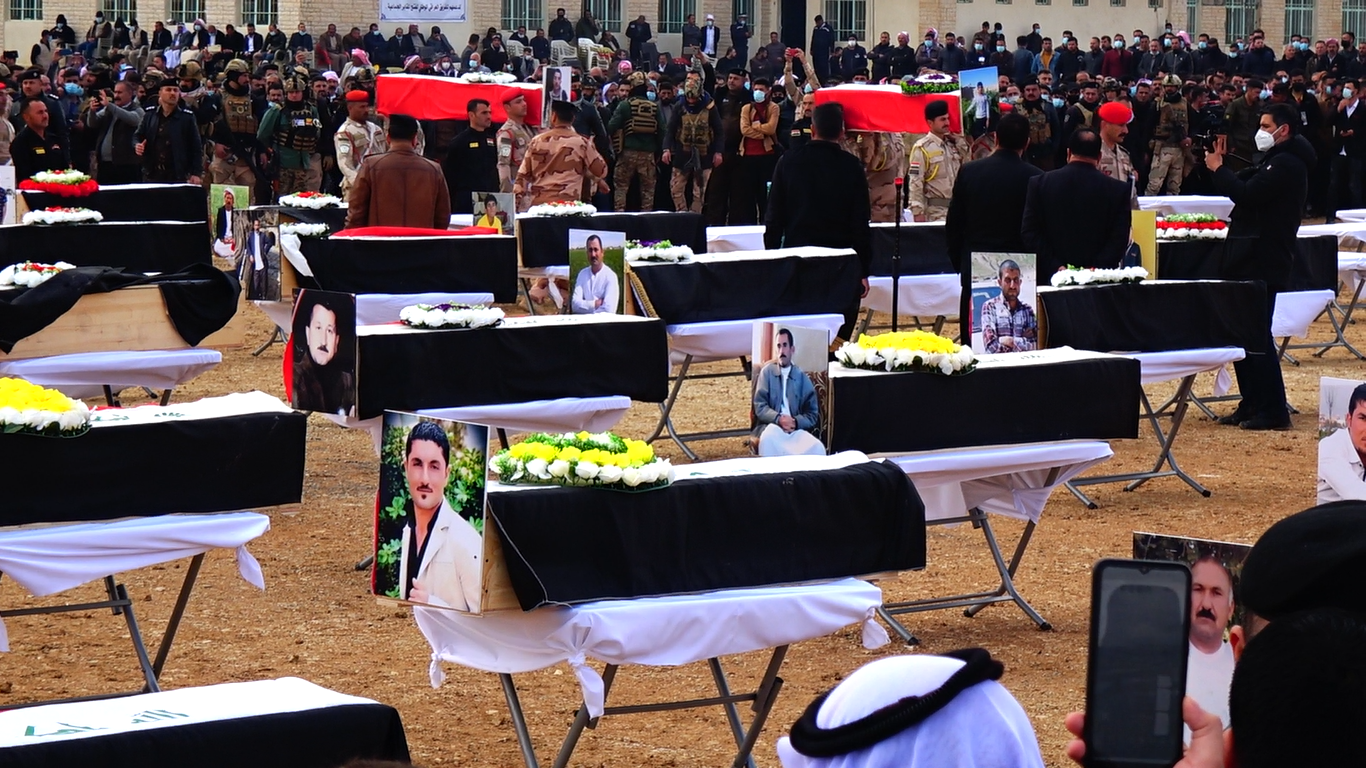 "we took part in the campaign to put pressure on the Iraqi government to cooperate with the office for rescue of Ezidis to uncover the destiny of the enslaved women and girls," said Sozan Safar, director of DAC for empowering Ezidi woman.
All the pressure cards up today were "fruitless," she added.
"By this campaign, we told the Iraqi government we won't keep silent and motionless regarding the file of the enslaved," Safar said, calling for a high committee in Iraq in cooperation with the KRG to determine their destiny after seven years.
The Iraqi government has declared victory over ISIS in November 2017. The last hope for the families was to find their missing members in al-Hol camp in Syria.
Jawhar Ali Beg, deputy of the Ezidi Mir (Prince) for media and relations explained the challenge is to go into al-Hol camp in fear of the women there whom share the extremist beliefs of ISIS.
"Ezidi women and girls in the camp can't reveal their identities in fear of family members of IS fighters."
Over 30,000 Iraqi including family members of IS fighters are in al-Hol and the Iraqi government is planning to relocate them into al-Jad'a camp in al-Gayara sub-district south of Nineveh.
94 families, mainly women & children, were relocated from al-Hol camp in Syria to al-jad'a camp in Nineveh last week.
"We are extremely angry and upset."
"Many European countries have freed their women and girls from that camp but noting done for the Eizids. We mainly blame the Iraqi government for not taking any steps or making efforts to resuce the abducted," Ali Beg desperately said.
He confirmed they are in contact with the officials in Kurdihs parts of Syria to find a way and release the Ezidis. There is a plan to review list of the returnees to al-Jad'a camp and free any Ezidis there, he added.
In the last seven years, many protest were launched to push for quick release of the Ezidis brought to unknown destiny at the hands of extremist Islamist militants.
"We are extremely angry and upset," said Samia Qasim, member of Ezidi Youth Network. "Following seven years of waiting, the destiny of our missing is unknown so all should be concerned."
"Even God won't accept this so we will never stay silent."