Directorate general of education in Kirkuk have decided to employ per permanent contract 1,000 temporary lecturers of Kurdish education paid up today by the Kurdistan Regional Government KRG.
The decision followed a meeting with a number of members of Iraqi parliament MPs representing the province of Kirkuk on June 10th.
Mid of May, the directorate general of education in Kirkuk has decided to receive dossiers of 10,000 lecturers teaching on temporary bases in Kirkuk schools in order to be employed per permanent contracts by the Iraqi federal government. The decision has not covered lecturers hired by the KRG and teaching Kurdish curriculums in Kirkuk and the disputed territories.  
Parwin Fateh, supervisor of Kurdish education unit in Kirkuk said they are in Baghdad so that Iraqi ministry of education to decide employment of temporary lecturers of Kurdish education of Kirkuk, officially hired by the KRG, in an official order.
Fateh said Kirkuk education have shown consent but it was only verbal and an order to come from Baghdad.
Kurdish education unit in Kirkuk paid by the KRG are 7,751 teachers and employees teaching Kurdish curriculum to 100,000 pupils in 500 schools. The main language for education in Iraq is Arabic while in the three provinces of Kurdistan region it's in Kurdish.
The KRG has opened special directorates for Kurdish education in the disputed territories of Kirkuk, Nineveh and Diyala which alike its Kurdish counterparts suffer lack of budget for accurate monthly payroll and shortage of staff, curriculums and utilities.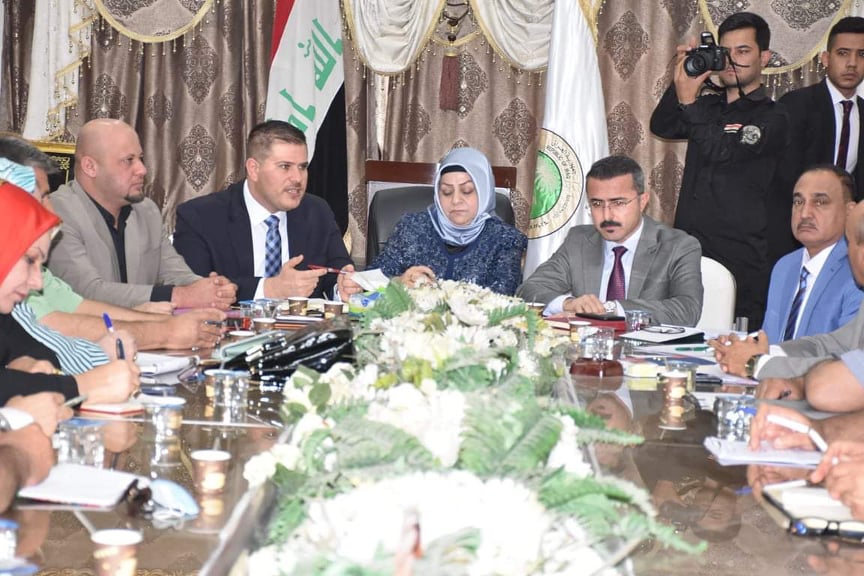 The supervisor of Kurdish education unit in Kirkuk said only 2,000 Kurdish lecturers wee included in Baghdad order to employ 10,000 temporary lecturers of those only previously hired by Baghdad not the KRG. "We have asked to increase the rate of Kurdish lecturers."
Temporary lecturers whom are mainly post-graduates with diploma and bachelor degrees used to receive 1- thousand Iraqi dinars per lesson and now on will receive 250,000 Iraqi Dinars ($170) a month for teaching at primary and secondary schools as fixed contract-based teachers.
On the other hand, fully employed teachers receive higher salaries, minimum double, yet both entitled of almost 80% pension salary following a 15-year service.
Ahmed Haidar, an MP from Kirkuk, a Turkmen, said they emphasized ethnic balance in the contracts for the lecturers among Kirkuk components. "Our efforts are for a transparent process for the interest of all."
The northern oil-rich city of Kirkuk, Iraq's second largest oil reserves, is ethnically a mixed province for 1.2 million Kurds, Arabs, and Turkmen. It has long been at the center of disputes between Baghdad and the autonomous Kurdistan Regional Government KRG.
The current reforms are to include lecturers stopped lecturing in 2017-2019 for any reasons.
Teachers used to attend schools four hours a day on average ahead of Covid-19 pandemic which brought in online education for the first time in the history of education in Iraq.
Iraq's education infrastructure is in ruins in many parts of the country; one in every two schools is damaged and needs rehabilitation, a report by UNICEF about education in Iraq says.
A number of schools operate in multiple shifts in an attempt to accommodate as many students as possible, squeezing the little learning time that children have.
Moreover, recent growth in the total number of teachers, the number and share of qualified teachers in Iraq has decreased at all educational levels, with the exception of pre-school, the UNICEF reports.