Five Iraqi federal policemen killed and two officers wounded in Daquq, south of Kirkuk when they stood in the face of an attack by militants of the so-called Islamic State in Iraq and Syria ISIS, sources told KirkukNow.
IS fighters launched an attack at 11pm on Thursday against the Iraqi federal police which lasted up to 2 am.
"Between the villages of Shibeha and Gheda on the pond of Tal Haham, Daesh attacked the police," a security source anonymously told KirkukNow.
Brigade 20 of Unit 5 of the Iraqi federal police is deployed in the region and in charge of its security.
"Five members of the federal police were martyred," the source added. "At 1 am, June 25th, mortared the region again."
Two Iraqi army officers were injured and there vehicle burnt by improvised explosive device IED while they were trying to provide backup for the federal police unit targeted by Daesh.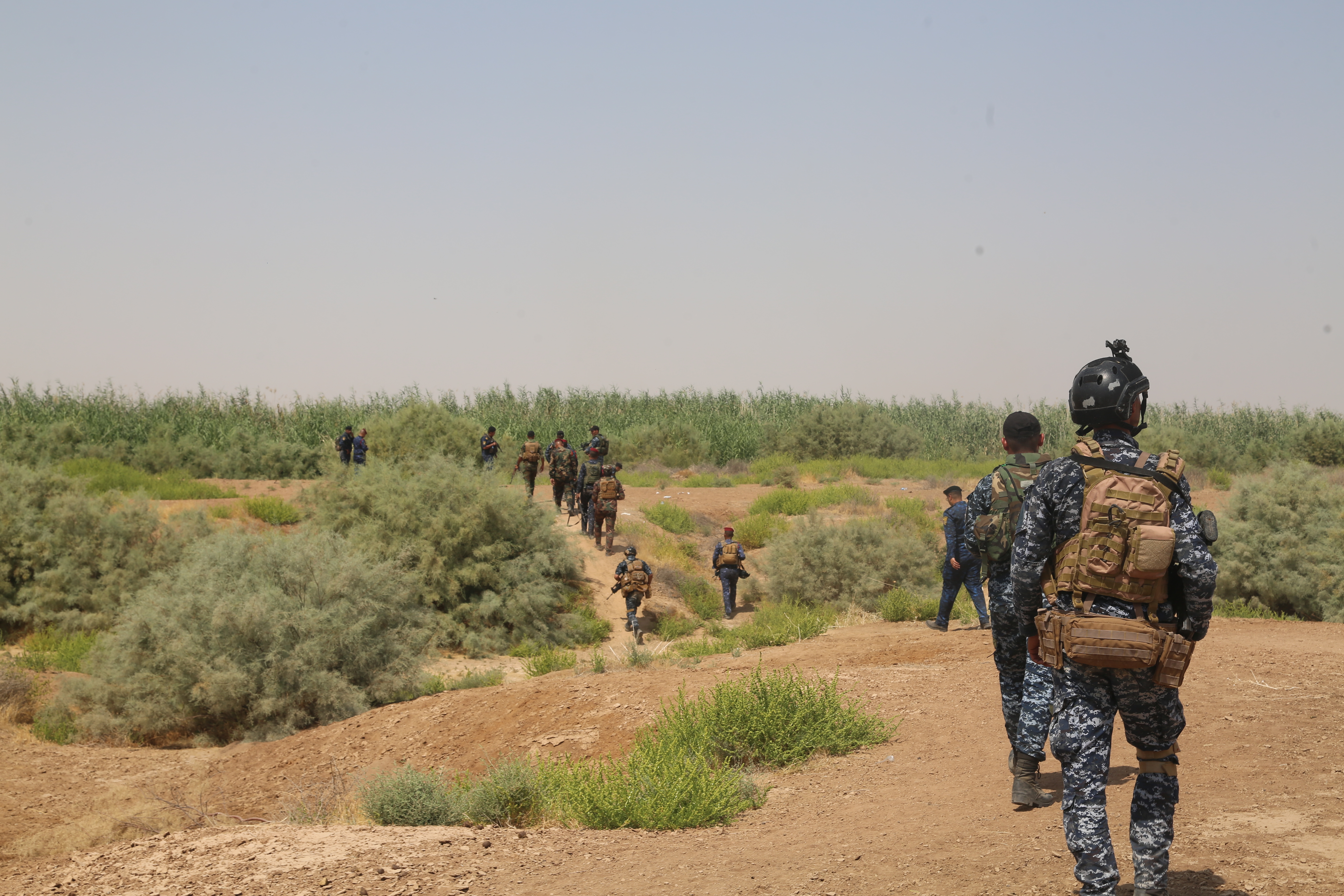 The attack started by IS snipers at 11 pm against a bunker of Iraqi police yet no casualties reported.
A well-informed security source IS has attacked three different sites in Daquq in the last ten days. Currently a campaign to sweep the region has commenced.
Iraqi army, federal police and the units of the Shiite paramilitary Popular Mobilization Forces PMF are deployed in Daquq, 44 km south of Kirkuk.
In the last two years, despite declaration of victory over IS by the Iraqi government, tens of operations were carried yet couldnot eliminate the threats by the remnants of IS militants.
On June 24th, nine suspects were arrested in Kirukuk for affiliation to Daesh, a statement by the Security Media Cell SMC said. "They admitted carrying guns, and putting fake checkpoints and offered logistics support for ISIS militants.
Another statement by SMC said on June 24th based on army intelligence feedback, two serious terrorists were arrested.
The northern oil rich city of Kirkuk, Iraq's second largest oil reserves, is ethnically mixed province of 1.2 Kurds, Sunni and Shiite Arabs, and Turkmen. It has long been at the center of the disputed territories between Baghdad and the autonomous Kurdistan Regional Government KRG.
Currently, Iraqi army, local and federal police, Brigade 61 of Special Forces along with Shiite paramilitary of Popular Mobilization Forces PMF, are under Kirkuk joint operations' command, an umbrella for the security forces running the security of Kirkuk province.