Sahar Mahmood didn't like any of preventive procedures dictated by Kirkuk local administration. She rejects to take Covid-19 vaccine or to make the PCR test every week in order to join her class in the University of Kirkuk.
She also can't stop going to class otherwise will miss lots of lectures; absence hours might lead her face dismissal.
"I didn't believe in Covid-19 vaccine because they say it will cause health side effects," said Sahar who suffers from Asthma.
To skip vaccination, taking Covid-19 PCR test was also an impractical alternative for her.
Though I didn't trust vaccination but I could not pass the admin order
"Though I didn't trust vaccination but I could not pass the admin order because they register me as absent in the college so after consultation with the medical teams, they have advised me to take a quarter of the vaccine dose which won't cause any side effect," Mahmoud said.
She took the advice and the vaccination went on smoothly. She passed the turbulent stage and safely back to class.
Following the health order by the Iraqi government in June, local administration of Kirkuk has declared a health order on August 22nd signed by acting governor Rakan al-Jibouri imposing mandatory vaccination for civil servants, visitors of state office or showing a PCR test valid for one week, valid from September 1st.
The order followed the outbreak of the highly infectious Delta variant in July when the ministry of health was registering over 13,000 cases a day all over Iraq compared to few thousands a day lately.
Iraq has joined the jab race in March and so far 4.8 million, over 10% of the population, have been vaccinated, including 208,000 people of Kirkuk.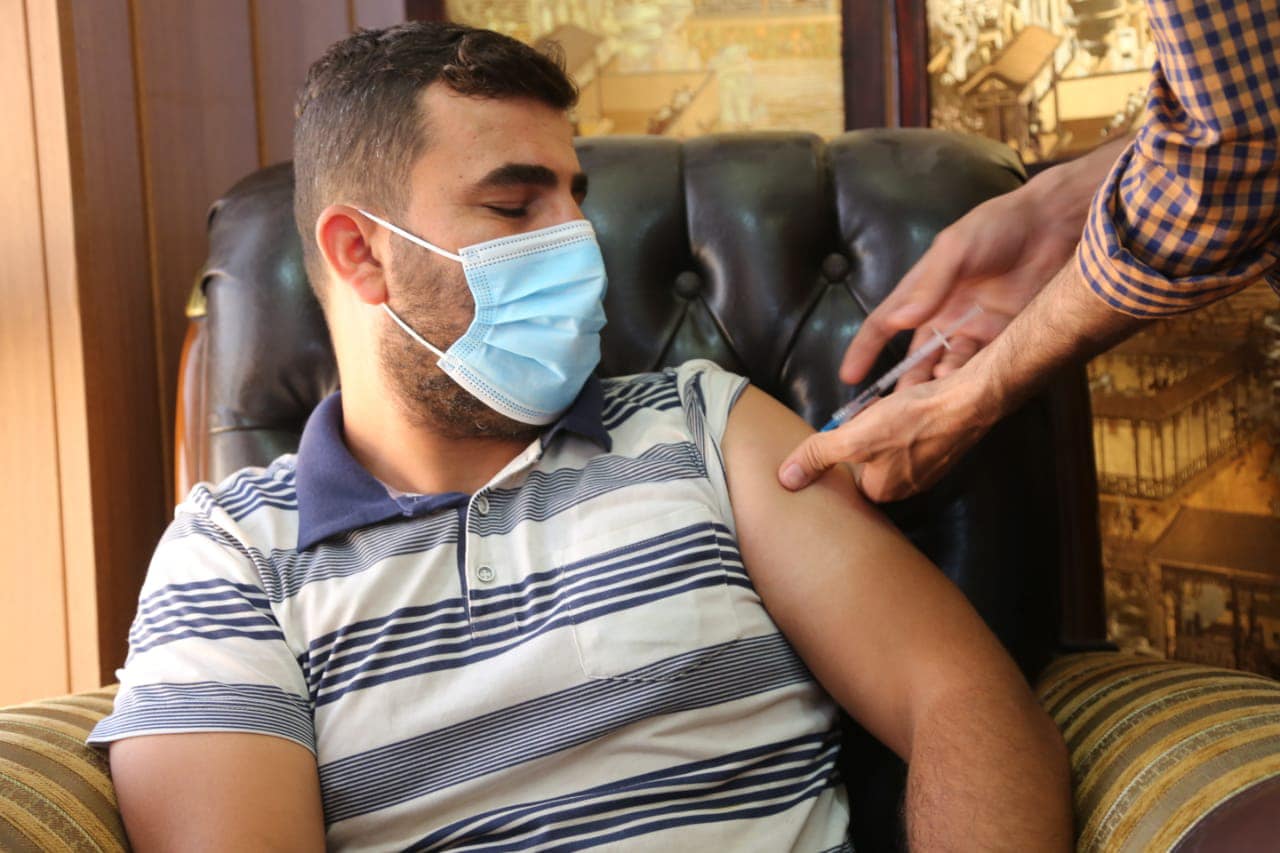 Misinformation and disinformation circulated on social media platforms have negatively affected impact of people about vaccination as they hear and see people saying it leads to impotence and in some cases to death.
"The order was decisive about mandatory vaccination and I had no choice in order to avoid absence or dismissal," said Rahim Abdullah, 30, who works in Kirkuk water resources office.
Last June, Iraq made Covid-19 vaccination mandatory for civil servants, private sector and visitors of state offices.
The order exempts those medically approve their inability to take the vaccination.
The order exempts those medically approve their inability to take the vaccination.
 Iraq has eased restrictions of full curfew during the weekends and partial curfew at night in May as people protested the negative impact on their income. 
Based on recommendations by the ministry of health, Iraqi Prime Minister Mustafa al-Kadhimi chaired a meeting of high committee for health & safety end of July where he decided to impose compulsory masking in public places as Iraq was facing third wave of Covid-19 pandemic.
The Iraqi security forces ISF were tasked to impose recommendations of this meeting to ban gatherings in public places. Only half of civil servants were allowed to attend office as part of new set of rules to curb the Delta variant of Covid-19.
The Iraqi ministry of education has postponed school calendar to November 1st due to October elections and in order to have more time for vaccination of teachers and educational staff while Kurdistan regional government KRG has opened school doors for class education on September 14th with obligatory masking for teachers and pupils.
Omer Qadir, assistant of Kirkuk education director said all their employees were vaccinated and all teachers should be vaccinated.
Teachers are receiving the first dose ahead of going back to school
"Teachers are receiving the first dose ahead of going back to school and those have not followed orders, to be obliged following October 10th elections," Qadir said.
KirkukNow has found out that showing vaccination proof was compulsory for civil servants yet servants are asked to use face masks, skipping vaccination and a negative PCR test.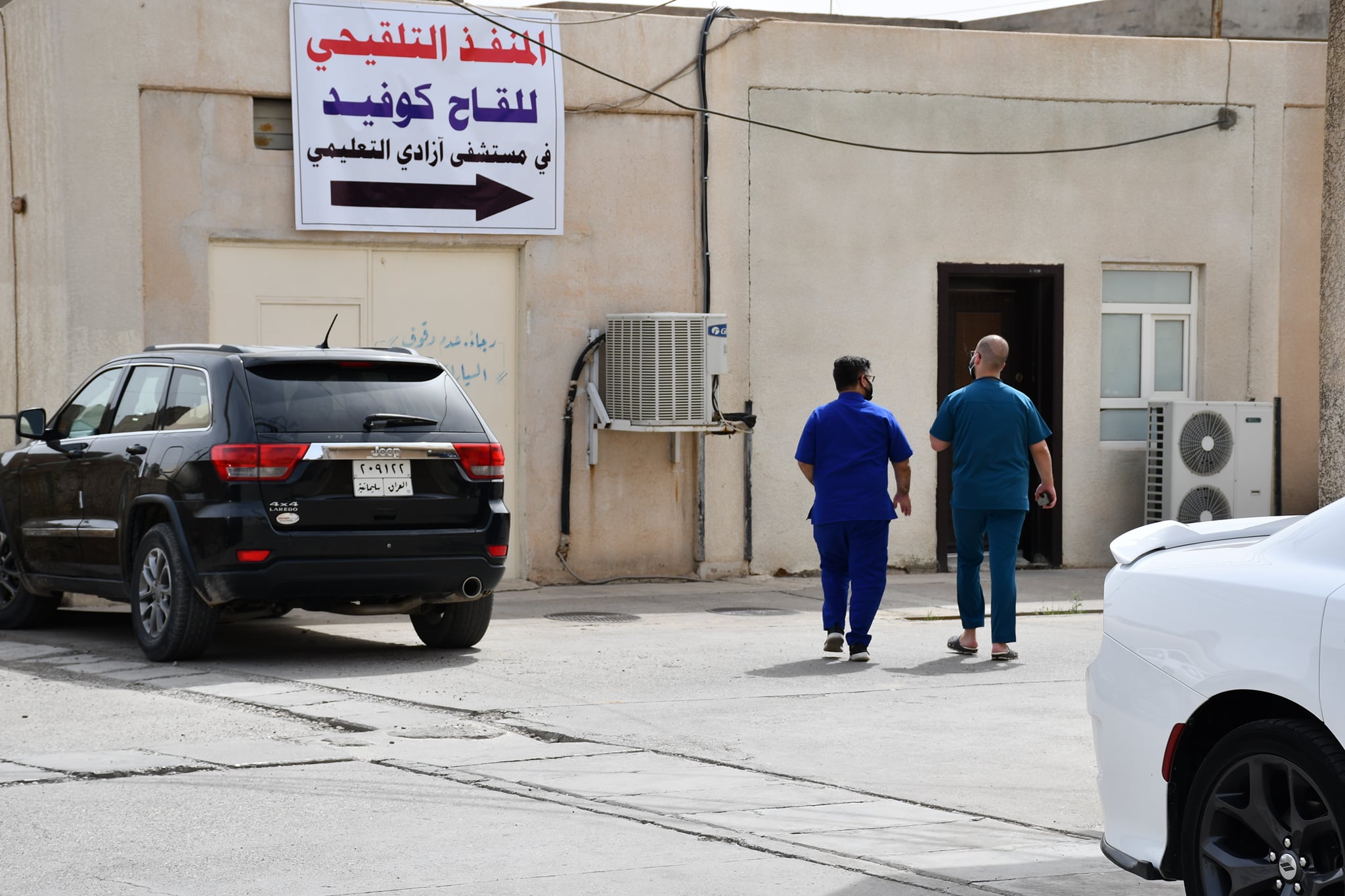 Parwin, a pseudonym, is a Kirkuki civil servant who was hesitant to take the vaccination risk so decided to get a fake vaccination card in return of an amount of money yet failed to obtain the card and have not pushed hard for it in fear of legal consequences.
"I took the vaccine and regularly go to work," she told KirkukNow.
Iraqi penal code imposes financial penalties and imprisonment for fraud related cases up to 15 years.
A source in Kirkuk local administration anonymously told KirkukNow no civil servant or private sector employee has been penalized for skipping vaccination or PCR testing.
"Those restrictions are in the public interest and an attempt to curb the outbreak of Covid-19 pandemic and hope state offices follow it."
There are continuous efforts to provide vaccine doses easily, he added.
The demand on vaccination is soaring up
The Iraqi ministry of health is providing three types of vaccines: Sinopharm, Astrazeneca and Pfizer-Biontech.
Hisham Ahmed, a policeman working for North Oil Company has takne the vaccine confidently and urges his relatives to take the vaccine as the side effects are slight and temporary.
Ahmed said he had body pain over night following vaccination and later everything was normal.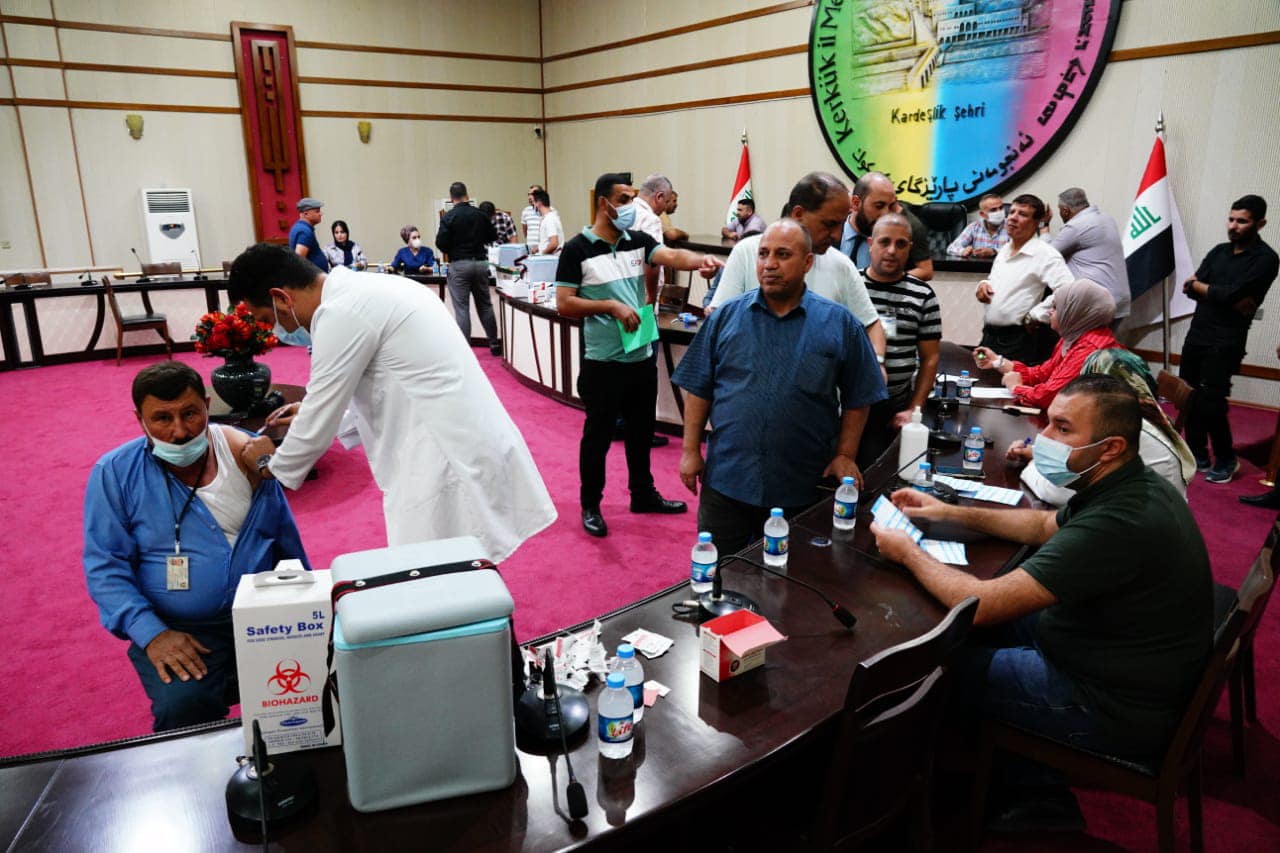 Saman Yaba, media manager of Kirkuk Health Directorate, said the demand on vaccination is going up and the doses are consumed so they called on Baghdad for further batches.
There are 75 vaccination outlets all over Kirkuk province.
"People prefer Pfizer then Sinopharm while all are the same," Yaba said. He affirmed that civil servants have taken the local administration order into consideration.
The mandatory vaccination includes staff o malls, restaurants and cafes, public stores.
Iraq has registered over 2 million positive cases since last February and 22,302 deaths up to October 1st, Iraqi ministry of health daily bulletin shows.