Drivers of the Iraqi Kurdistan Region IKR are resorting to state-run petrol stations in adjacent Mosul which suffer a lower portion and trading.
A follow-up by KirkukNow discovered that long queues of vehicles are waiting in the state-funded petrol stations which offer fuel for subsidized prices compared to double costs in the Iraqi Kurdistan region IKR.
Some of the locals told Kirkuknow that it happens they wait for couple of hours without fueling. The crisis poped up almost amonth ago and has escalated in the last week as feul prices in Iraqi Kurdistan region has mounted to 900-1,000 IQD (0,68 cents) per liter of gas, about 100-200IQDs up in a month.
We are not pleased to fuel in Mosul
The main reason behind the fuel shortage in Mosul is that hundreds of motorists driving from the northern provinces of Erbil and Duhok where the Kurdistan Regional Government KRG does not offer subsidized fuel, contrary to the petrol stations in Kiruk, Ninewa and other Iraqi provinces.
"One reason behind the high demand on gas is the big number of Kurdistan region motorists heading to Ninewa and other parts of Ninewa province," said Ahmed Essa, media manger of Fuel Distribution Company, Ninewa office.
The subsidized fuel policy is followed since many years in Iraq which had a central state-run policy in all sectors up to 2003, when Saddam Hussein was ousted as the Iraqi government through the public sector was providing all services.
Sa'id Ahmed, travels from Bardarash district of Duhok province into Mosul. "I am obliged to go to Mosul because fuel here is getting more expensive day after day."
"This is really unfair. This is unacceptable to travel from my town to another province for gasoline. We are not pleased to go to Mosul where hundreds of cars alike me create a big traffic there."
Each motorist can fill in his tank for 450IQD for a liter of gasoline one time in a day but there are no rules or restrictions to fuel more than once from different stations.
In other provinces such as Kirkuk, the local administration has allocated a weekly portion for each private and public cars by coupons which are traded.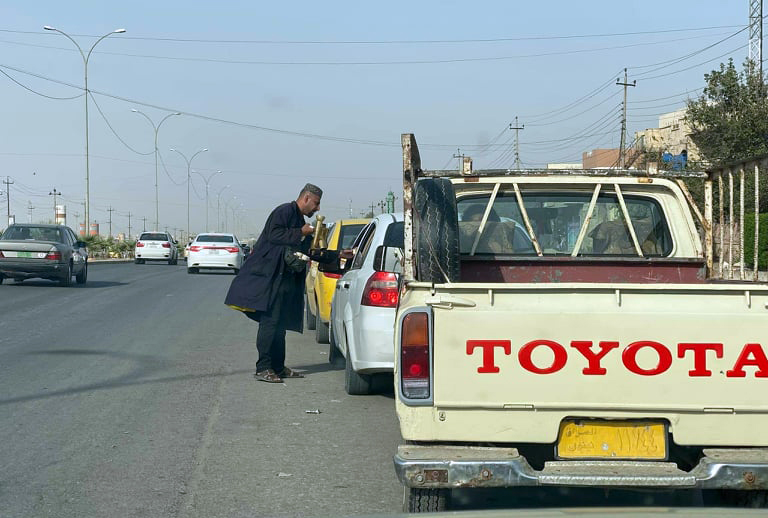 Iraq holds the second-largest oil reserves following Saudi Arabia but years of conflict and sanctions have left its refineries in dire straits, with the country now relying heavily on imports of oil products.
Ninewa was receiving 2.4 million liters of gasoline a day which has dropped by 300,000 lately.
Some petrol station owners pump part of their shares into black market
Ninewa manager of Fuel Distribution Company said the daily share shortage is another reason behind long queues in the petrol stations. "Some petrol station owners pump part of their shares into black market," Essa added.
There are 17 state petrol stations all over Mosul and 11 in Ninewa suburbs, besides 130 private stations which import fuel.
"Since the last week, I wait 3-4 hours in a petrol station for gasoline. Whenever prices are up in Kurdistan region, the crowds will be seen here. Gasoline distribution has not been stopped here but the demand is very high," said Hakim Majid, a resident of Mosul.
Majid called on Ninewa local officials to top up the province daily portion to solve the demand on gasoline.
"People can't wait hours in petrol stations and leave their daily work and business."