Erbil criminal court in Iraqi Kurdistan has decided to postpone the trial of four activists for charges of espionage and sabotage acts to November 8th due to stepping down of one of the members of the jury, member of defense team said in a press conference.
On October 20th, Bandawar Ayoub, Kargar Abas, Masoud Ali and Sherwan Taha were brought to Erbil criminal court amid tight security procedures for charges of undermining national security.
Harem Rafat, member of the defense team told the media in a press conference the trial has been delayed for November 8th because a judge stepped down and the public prosecution asked for release of one of the detainees while court asked for further investigations.
The session took three hours and the lawyers update their families who were denied to attend the trial. Only security forces, members of the defense team, a number of Iraqi Kurdistan members MPs and representatives of the United Nations and some NGOs including Christian Peacemaker Teams CPT were present in the court room.
Correspondent of KirkukNow said the families were not allowed to talk to the detainees.
The little sister of Bandawar Ayoub, 8, started crying when she saw her brother out of the court accompanied by the security. She called on him but he was not allowed to speak.
About 70 journalists and civic activists of Badinan (Duhok region) are in Asayish (Kurdish security) prison since last August, victims of a wave of arrests carried out by the KRG in response to a series of major protests against delay in salaries of state employees, KRG handling of the economic crisis resulting from disputes with Baghdad over oil production, export and corruption, and reached its peak under the Covid-19 pandemic.
Most of Badinan detainees, including Baroshki and Barwari, have gone on hunger strike for weeks against long pre-trial detention in the Asayish (prisons), unfair trials and poor imprisoning conditions as hundreds are detained in small detention cells and banned from seeing their relatives.
They are facing charges of espionage and undermining national security and tried per law Number 21 of 2003 of terrorism which states "any one deliberately in any form involved in an act aims at destabilizing security and stability of IKR or its sovereignty faced life sentence or imprisonment."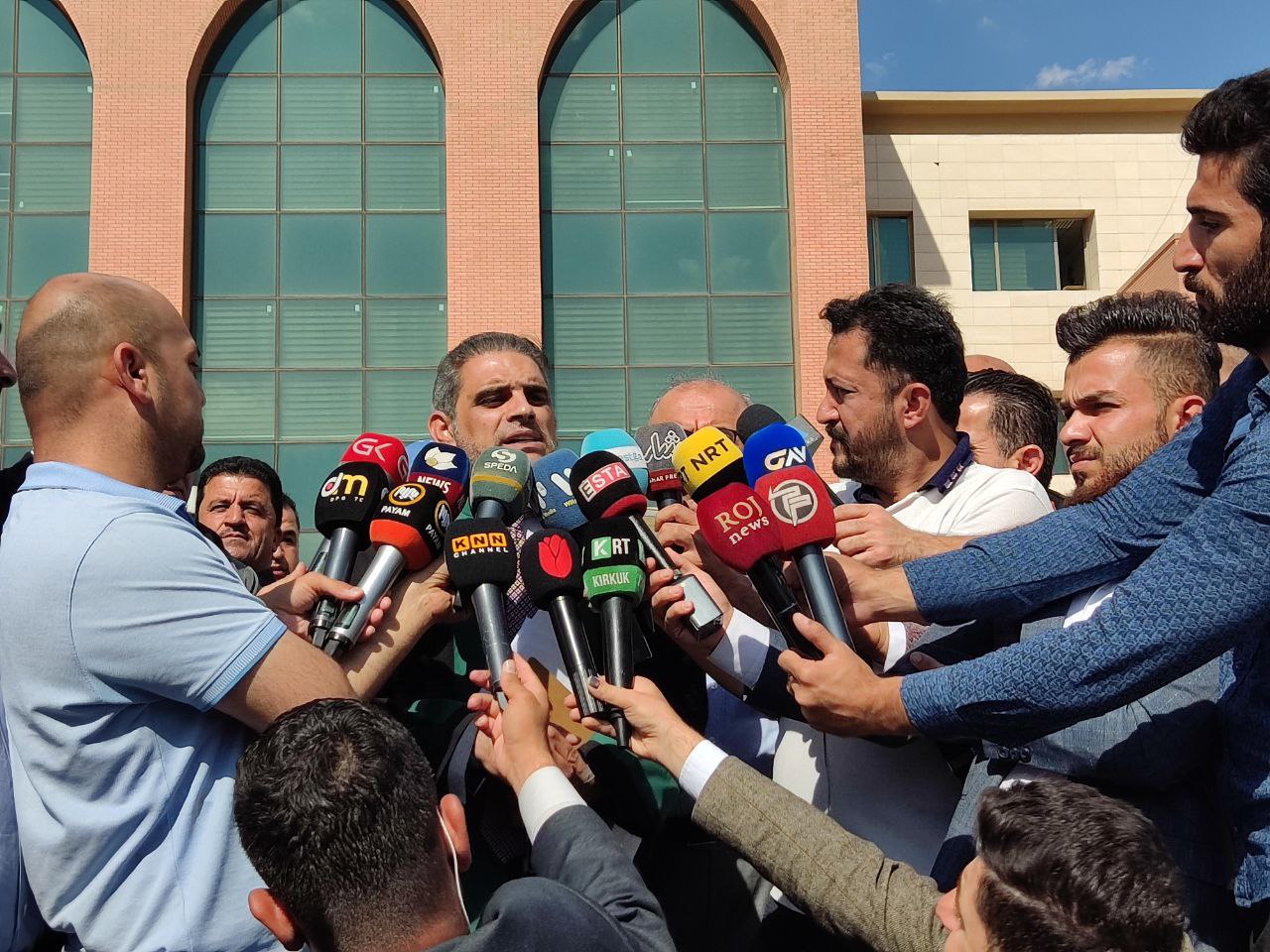 On October 19th, Erbil court has found Badal Barwari, a teacher and Omed Baroshki, a freelance journalist, guilty for charges of espionage and undermining national security. They have been sentenced for one year in prison while they have been arrested in August 2020.
Barwari was freed on October 20th and Baroshki to serve two and half years in prison for three other cases filed by Duhok police and governor.
Rafat said they called on the jury to be tried per Iraqi criminal code alike two of their colleagues whom received one year prison penalty on October 19th instead of law number 21 of 2003.
"The three others face charges of forming a militant group which they rejected. Bandawar was arrested while he was in a café with Kargar and later Masoud joined them. Court says they met to talk about the armed group," Rafat added.
Iraqi and international media outlets and organizations, advocates & MPs expressed their grave concern that freedom of expression, press and journalists are increasingly under threat in the Kurdistan Region of Iraq.
Over 300 people were arrested from August to October 2020 per law number 21 of 2003 for charges of organizing demonstrations and disorder mostly in Duhok and 50 still in prison up today, the Independent Human Rights Commission in Kurdistan Region said.
CPT figures say that over 70 people were arrested in Badinan by the security forces and no appointment has been fixed for their trials as all are facing charges of terrorism per article two of law Number 21.
Kamaran Sarmami, member of the defense, said another charge was membership of coalition for democracy, a party founded by Iraqi president Barham Salih when he split from the Patriotic Union of Kurdistan PUK few years ago.
The court session has been delayed several times.
In June, the penal panel two of Iraqi Kurdistan Appellate Court in Erbil has issued its final verdict unanimously, confirming the court ruling of six-years-in-prison for freelance journalists Sherwan Sherwani, Guhdar Mohammed Zebari, and civil society activists Ayaz Karam, Hariwan Essa & Shivan Sa'id.
The five detainees were found guilty of "undermining national security" and sentenced to six years in prison by the Erbil Criminal Court on February, 16th.