A court of Iraqi Kurdistan Region IKR has found an activist innocent of charges of espionage and sabotage acts while charged four others guilty to face one year in prison, member of defense team said in a press conference on Thursday.
Erbil criminal court has decided to free the five detainees as they have been detained since last year, said Bashdar Hassan, a volunteer lawyer.
The professor Dr. Aamer Khalid, Jamal Khalil, politician, Sileman Kamal veteran Peshmerga, Sileman Musa, a civic activist and Firsat Zebari, an engineer, are among tens of 70 journalists and civic activists of Badinan (Duhok region) are in Asayish (Kurdish security) prison since last August, victims of a wave of arrests carried out by the KRG in response to a series of major protests against delay in salaries of state employees, KRG handling of the economic crisis resulting from disputes with Baghdad over oil production, export and corruption, and reached its peak under the Covid-19 pandemic.
They are facing charges of espionage and undermining national security and tried per law Number 21 of 2003 of terrorism which states "any one deliberately in any form involved in an act aims at destabilizing security and stability of IKR or its sovereignty, to face imprisonment up to life sentence."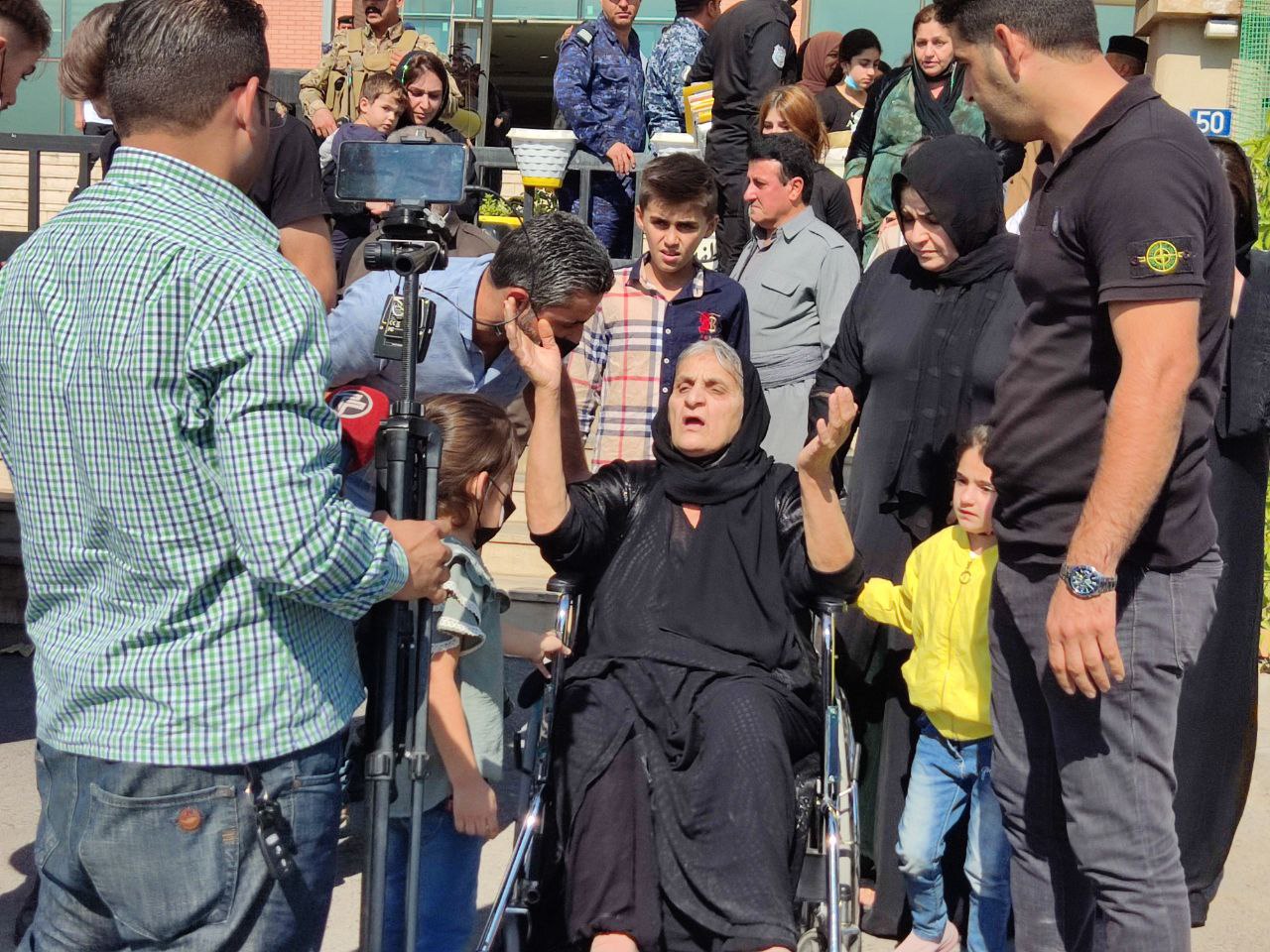 The defense team has succeeded to convince court to replace law No. 21 with article 56 of Iraqi criminal code which says "any one involved in an agreement that leads to a crime to face one to seven years imprisonment in case led to murder or up to two years if proved as a misdemeanor."
Hassan said the judge has order a reparation for Khalid who has been detained over a year without any substantial proof.
Over 80 members of their families were waiting in the corridor as they were not allowed to attend court session.
Following a two-hours trial session, the members of defense team Bashdar hassan, Kamaran Sarmamai, Rebaz Wisou and Karzan Dizayi passed the thrilling news of the release of the five to the families who were chanting "freedom," and embracing each other.
Mother of Sileman Musa, sitting in a wheelchair, has attended all court sessions waiting in front of Erbil criminal court. "Thank God, all the lawyers, MPs, the media and all those supported us."
Yesterday, Erbil criminal has decided to postpone the trial of four activists for charges of espionage and sabotage acts to November 8th due to stepping down of one of the members of the jury.
Harem Rafat, member of the defense team told the media in a press conference the trial has been delayed for November 8th because a judge stepped down and the public prosecution asked for release of one of the detainees while court asked for further investigations.
On October 19th, Erbil court has found Badal Barwari, a teacher and Omed Baroshki, a freelance journalist, guilty for charges of espionage and undermining national security. They have been sentenced for one year in prison while they have been arrested in August 2020.
Figures by the Independent Human Rights Commission in Kurdistan Region show that over 300 people, mostly from Duhok, were arrested from August to October 2020 per law number 21 of 2003 for charges of organizing demonstrations and disorder mostly in Duhok and 50 still in prison up today.
In June 2020, the penal panel two of Iraqi Kurdistan Appellate Court in Erbil has issued its final verdict unanimously, confirming the court ruling of six-years-in-prison for freelance journalists Sherwan Sherwani, Guhdar Mohammed Zebari, and civil society activists Ayaz Karam, Hariwan Essa & Shivan Sa'id.
The five detainees were found guilty of "undermining national security" and sentenced to six years in prison by the Erbil Criminal Court on February, 16th.