Though Hevi is still very young yet she has experienced all kinds of violence, from humiliation, beatings, burning up to attempted suicide, all because of early marriage.
"Since the first day, I was prevented from going to the market and visiting my relatives and friends," Hevi, who has not recovered yet from the trauma of her child marriage, told KirkukNow.
Hevi is a victim of early marriage and willing by telling her story in the 16-days campaign from November 25th, the international day for elimination of violence against women, she wants to urge girls to confront violence against women.
Hevi is a pseudonym for a 17-year-old lady from Kirkuk. She was forced to get married three years ago by her family.
"I was in love with a boy and we ran away because our families rejected our marriage. Later, we came back and they forced us to get married."
That marriage became the beginning of Hevi's complete separation from her family. "They didn't let anyone know about our case. I lived in my mother-in-law's, and since that day, my parents and brothers have not visited me."
Under the effective Iraqi laws, marriage of girls aged 15 and over is permitted under several conditions.
The love story of Hevi and her boyfriend has turned into hatred post turbulent marriage.
My husband wasn't the same anymore. He used to beat me day after day, spit on me and told me if I was a polite girl, I wouldn't run away with him."
"My husband is no longer the same as before, he used to beat me day after day, spit on me and tell me if I was a polite girl I wouldn't run away with him," Hevi sobbed
"He used to beat me, but I didn't dare tell anyone because I was responsible for what happened to me," Hevi says.
Hevi spent a violent year, her family and relatives did not ask about her, and at such a young age she became a mother.
"A quarrel broke out between us one day, he has beaten me and poured kersoete on me and set my body on fire, so my family in law came to help me and saved my life."
Hevi was unable to file a lawsuit because her family were not supportive.
Hevi's distress voice reached her family's ears through her neighbors. Her grandmother and uncles decided to help her and receive her. That was the beginning of the end of her marriage based on teenager love story.
 "I broke up with my husband a while ago, I'm not in a good psychological state but I'm back to school again."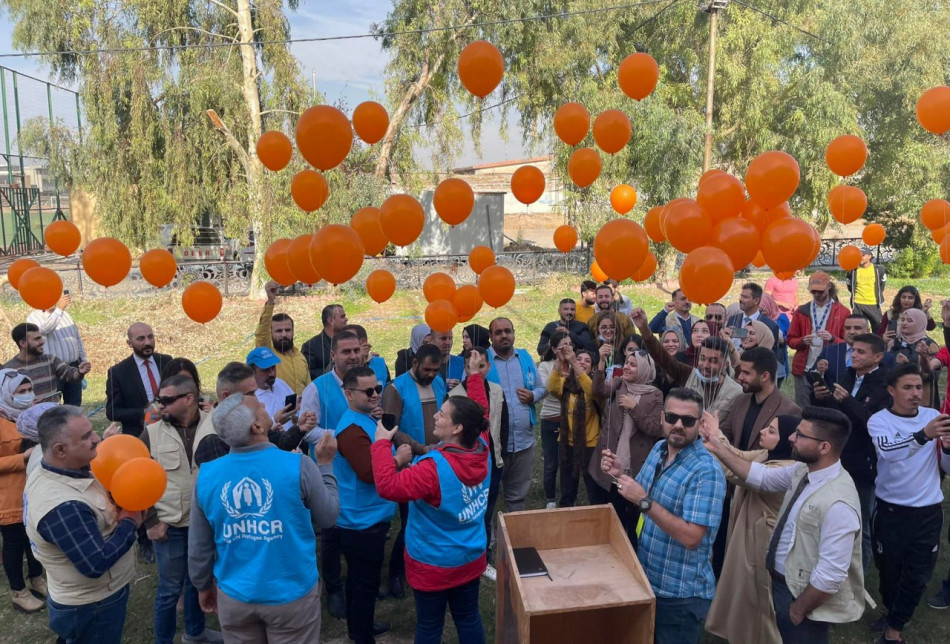 According to the latest statistics of the Judicial Council for the month of September, 228 divorce cases were registered in Kirkuk, nearly 200 of which were outside the court.
Colonel Ghaleb Ali Saleh, director of the community police in Kirkuk, told (KirkukNow), "Many women ran away because of family problems, as a result they were subject to psychological pressure. We are trying to solve their problems, some of them returned to their normal lives and got married."
Community police refuse to hand over women whose lives are in danger to their families.
"Among the common problems that women face in Kirkuk are violations of their rights, depriving them of their financial dues, custody of children, verbal abuse, social disputes and femicide," said Colonel Saleh.
The Director of Community Police pointed to the efforts made by a group of seven volunteer women to spread awareness and address women's problems. He appealed to citizens to put their trust in the community police and contact them so that they can help them.
There are no special centers in Kirkuk governorate to accommodate women and girls who are under threat or who are subject to domestic violence.
When I was only 12, a brother of mine lost in gambling and in return he forced me to marry the man he owed money
"When I was only 12, one of my brothers lost in a game of gambling, and in return he forced me to marry the person to whom my brother owes money, even though he was 36 years older than me. None of my family members stood in his way," said Fatima, a pseudonym for a Kirkukiu woman, now 24.
"They took me out of school when I was in the fourth grade of primary school to get married. I can't remember a day passed without being harmed or beaten, me and my children, by my husband," Fatima says about early years of her forcible marriage.
"I spent several years suffering from the bitterness of life, I went back several times to my parents' house with my two children, but every time they forced me to go back to my husband. When I knew that no one would help me, I tried to commit suicide, but my mother stopped me."
With the help of her mother, Fatima managed to get divorced from her husband outside the court.
"I brought my children with me and gave up all my rights, just to get rid of that life."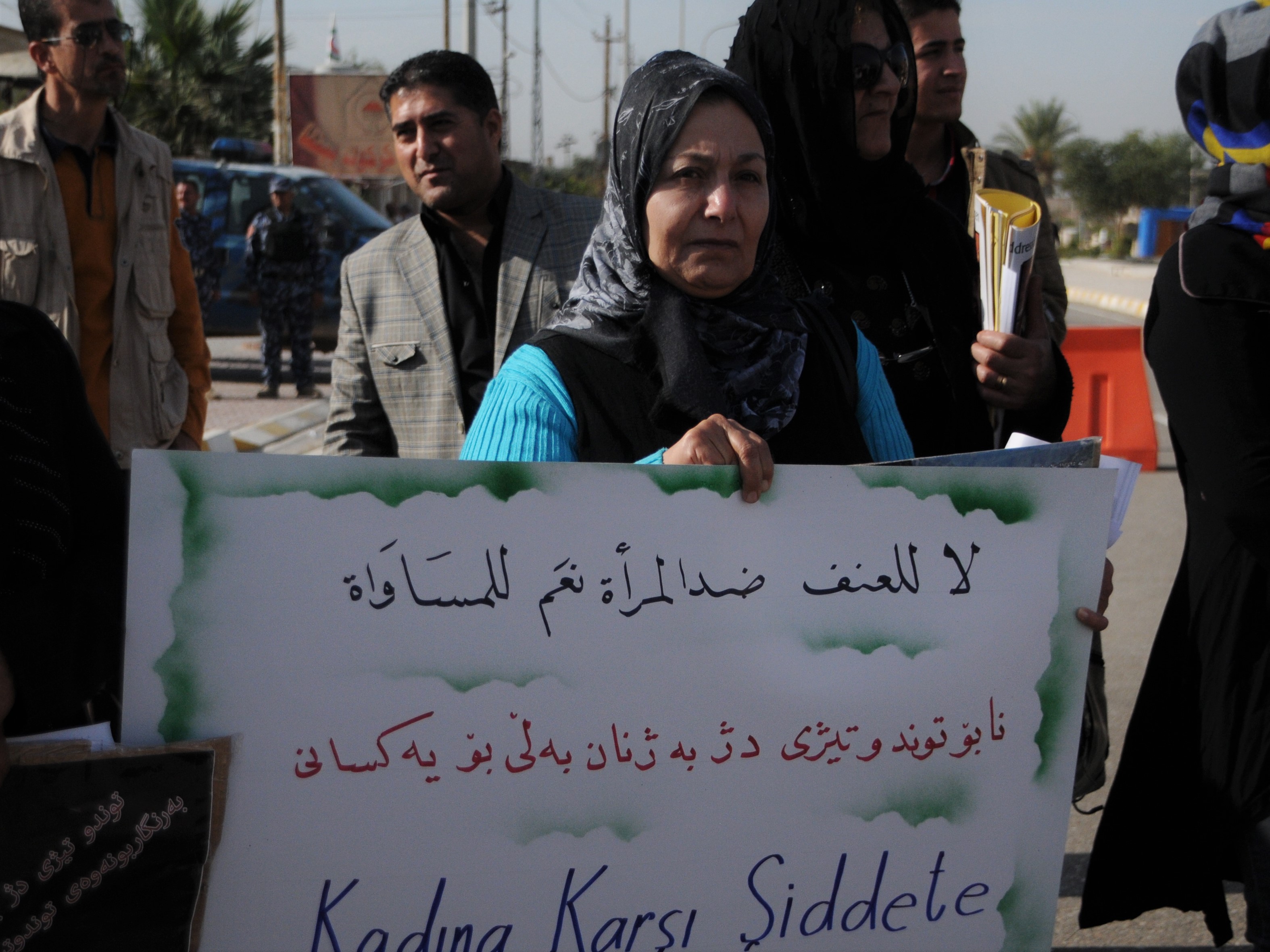 Statistics obtained by KirkukNow from Kirkuk Police Command indicate that nearly 500 cases of domestic violence have been officially registered since the beginning of this year.
Major Amer Nouri, spokesman for Kirkuk Police told KirkukNow, "the 500 cases are diverse, including quarrels between husbands, betrayal and child custody. Some cases have been resolved and others are still under investigation."
"We hope that women and girls will be involved in the police force. Just as hospitals need female doctors, we also need female police officers to interrogate women."
We need policewomen to interrogate the women
Kirkuk Police spokesman said that girls can register to join the police after participating in a nine-month training course in Baghdad.
Major Amer pointed out that no cases of murder of women were officially recorded by the police during this year.
According to a statistic of the High Commission for Human Rights in Iraq, exclusively given to KirkukNow, the commission officially recorded 50 cases of "suicide" in the first six months of this year, 42 of them were females, in addition to more than 260 cases of domestic violence.
This comes while last year witnessed 65 cases of "suicide" recorded in Kirkuk province, in addition to 200 other cases of violence from February to the end of September 2020.
In 2019, Kirkuk recorded the highest rate of "suicide" in Iraq, as it recorded 106 suicides, 89 of which were women.
The Anti-Domestic Violence Law endorsed by the Iraqi parliament addresses several ways to reduce domestic violence, including opening shelters in the provinces. However, this law has not yet been approved by the Iraqi parliament.