An arrest warrant was issued by a court in Ninewa province against the mayor of Mosul, Zuhair Al-Araji, on charges related to corruption and receiving bribes.
The arrest warrant issued by the Ninewa Investigation Court specialized in integrity issues on December 22, 2021 was directed to the security authorities for the purpose of arresting the mayor of Mosul, Zuhair Al-Araji, and referring him to court.
The order was issued based on a complaint filed against Al-Araji with the Integrity Commission.
Rifaat Simou, Deputy Governor of Ninewa for administrative affairs, confirmed to KirkukNow that a court order has been issued to arrest the mayor on charges of taking bribes, "based on the confessions of one of the arrested suspects."
Simou said that the arrested person was referred by the Integrity Commission to the court. He accused the mayor of taking a bribe in return for conducting some paperwork in government departments.
"The mayor has not been arrested yet, he is still at his home in Mosul and has expressed his readiness to appear before the court. We, as the Nineveh administration, refuse to interfere in court affairs. Investigations and follow-ups are continuing, and more details may be revealed during the next week," said Ninewa Governor Deputy.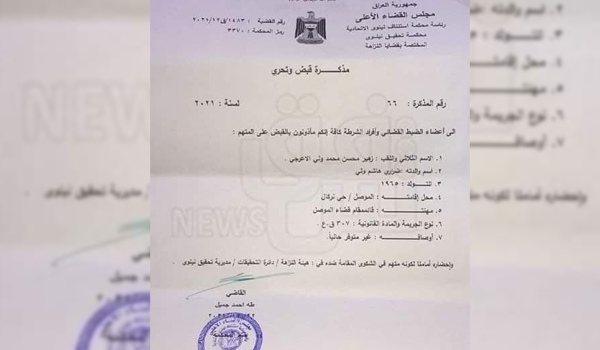 According to information obtained by (KirkukNow), the governor of Nineveh, Najm al-Jubouri, has assigned the mayor of Bashiqa temporarily in place of Mosul mayor to manage the affairs.
The order to probe the mayor of Mosul came under Article 307 of the Iraqi Penal Code, regarding the penalty for bribery, which states that "every employee or person charged with a public service request or accepts for himself or for others a gift, benefit, advantage, or promise of something to perform an act of his job or to refrain from or violate the duties of the position, shall be punished by imprisonment and a fine not less than what was demanded, given or promised...
KirkukNow has called the mayor of Mosul and sent him a text message on the phone but got no response.
Zuhair al-Araji published a clarification on his Facebook page expressing his readiness to appear before the court in order to present the facts to public opinion, he said.
In his clarification, Al-Araji spoke of his "accomplishments" and said, "I was personally subjected to 24 assassination attempts, and I gave martyrs from among the best of our sons from among my protectors and cousins in order to serve the people."
"Issuing an arrest warrant or summoning me is a very normal judicial procedure for malicious confessions, and I assure my family in Nineveh Governorate that I will comply with the judiciary and believe in the justice of the judiciary in my fairness to these criminals and the mafias who face them." Our actions in the Mosul District Council that we have taken against those who have brought malicious accusations against us."