Parents of students in the schools of the Department of Arabic Studies in Shingal (Sinjar) district pay 5,000 Iraqi Dinars IQD (USD3) per month to the administrations of schools in order to secure the wages of volunteer lecturers.
There are 240 volunteer lecturers in the Arabic Study Department of the Iraqi Ministry of Education in Shingal, distributed over 80 primary, secondary and high schools. These lecturers teach on a voluntary basis, but the administrations of these schools reward them with a monthly wage for their efforts.
For some parents of students, paying that little mount a month is not difficult, but families with four to five students see this amount as a burden.
Falah Suleiman, a member of the Peshmerga (Kurdish fighter) forces who returned to Shingal from displacement in June 2020, is forced to pay 25,000 IQD per month for his five children.
"A few days ago, the principal and the teachers told the students that each student must bring 5,000 each month to provide the wages of the volunteer lecturers," Falah added. "I paid 15,000 for my daughter for three months, and soon I will have to pay the same amount for my other four children. "
As a father of five children, Falah sees this amount as a lot and says, "The government must find a solution to this problem."
In general, state schools in Shingal district suffer from lack of teaching staff, and part of this problem is due to the fact that the Iraqi government has stopped employment for all sectors including education leaving schools in need for new teachers.
The district of Shingal, 120 km west of Mosul, center of Ninewa province, is home to the Ezidi minority heavily targeted by Islamic State in Iraq and Levant ISIL group in August 2014 and one of the disputed territories between Baghdad and Erbil. 
Education alike other sectors of life is divided between Baghdad and Erbil as schools sponsored by Baghdad study Arabic curriculum while those funded by the KRG are in Kurdish.
The impoverished Ezidi (Yazidi) community whom still half back home and the rest prefer life under tents in the camps of Duhok province in the adjacent Kurdish region lead a severe life amid absence of basic public services.
The war against ISIL left the province of Ninewa in general and the cities of Mosul and Shingal in particular sunk in debris. Millions of tons of debris require billions of Dollars to collect and rebuild the devastated region.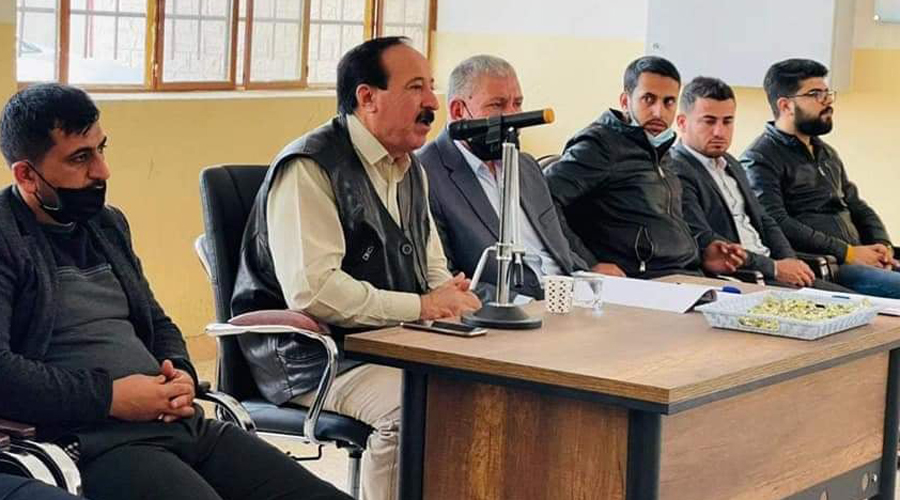 Murad Kaka, a volunteer lecturer at a school in Shingal for four years, told (KirkukNow), "I have 25 classes a week, we have been teaching students for three months voluntarily. Last year, the parents were paying our wages, and this year it was decided that each student to pay 5,000 as a monthly stipend for the lecturers."
"The living situation of most families in Shingal is deteriorating, 30 students dropped out last year in our school, and when we asked their families about the reason, they said they cannot pay for their education, but we asked them to send them back to school and there is no problem if they do not pay the money," Kaka added.
"This is only a temporary solution in order not to shut school doors."
There are 25,000 students in the Department of Arabic Studies in Shingal, distributed over 80 schools, 17 thousand and 22 of them are in the primary stage.
496 teachers are on permanent staffing, along with 240 volunteer lecturers who work in these schools.
In Shingal district, there are two directorates of education (the Kurdish study department paid by Kurdistan Regional Government KRG and the Arabic study department sponsored by Iraqi ministry of education), which together have 54,000 male and female students, a large part of whom are still living under tents in the IDPs camps of iraqi Kurdistan Region.
Saad Meto, director of the Arabic Studies Department in Shingal Education, told KirkukNow, "We have formed a council for parents in each school. The members of the council asked the students' parents to pay 5,000 dinars per month for each student to the school administrations. We support this step, because without that, we will not be able to continue academic year in Shingal."
"We live in difficult conditions, the number of schools and students increases annually, in return they do not appoint new teachers," he added.
"Why do they consider paying 20,000 or 30,000 dinars for internet service as normal, but they refuse to pay 5,000 dinars to lecturers?"
Iraq's education infrastructure is in ruins in many parts of the country; one in every two schools is damaged and needs rehabilitation, says a report by UNICEF about education in Iraq.
A number of schools operate in multiple shifts in an attempt to accommodate as many students as possible, squeezing the little learning time that children have.