The director of the Kirkuk branch of the Gas Filling and Services Company denied the gas shortage in Kirkuk and stressed that some "brokers and mean people are spreading malicious propaganda."
This denial came after some pages and accounts on social networks mentioned a shortage of liquid gas cylinders and their unavailability in the province.
Muzaffar Ibrahim, director of the Kirkuk branch of the Gas Filling and Services Company, told (KirkukNow), "We fill 30,000 gas cylinders daily through government and private factories. The process of producing and filling liquid gas cylinders continues and has not stopped in any way."
Ibrahim indicated that gas cylinders are filled in the factories daily from seven in the morning until three in the afternoon.
"Gas is available in all of our company's warehouses, and there is no shortage. At the present time, the necessary amount of gas is available in the stores, and production has not decreased," Ibrahim added.
There is a crisis fabricated by some brokers and weak-minded people
He stressed that "there is a crisis fabricated by some brokers and weak-minded people who take advantage of the increased demand for gas cylinders during the winter season in order to spread malicious propaganda among citizens that there is a shortage of gas, but we deny these allegations altogether and in detail and confirm that gas is available in sufficient quantities in the stores of our branch."
He pointed out that the Gas Filling and Services Company "distributes daily sufficient quantities of gas to the agents, under the supervision of the staff of the Inspection Division to ensure that it reaches citizens in all neighborhoods."
According to the follow-ups of (KirkukNow) correspondent, the cost of filling a gas cylinder in Kirkuk is 7,000 Iraqi dinars IQD (USD5) yet in some areas it was sold for 9-10,000 IQD.
However, the Kirkuk branch of the Gas Filling and Services Company launched a campaign during the past few days to distribute filled gas cylinders to citizens for only 5,000 IQD.
"This is one of our new steps, as our company directly supervises the process of distributing gas cylinders to citizens at the subsidized government price."
Subsidized fuel and gas policy is followed since many years in Iraq which had a central state-run policy in all sectors up to 2003, when Saddam Hussein was ousted, per which the Iraqi government through the public sector was providing all services.
Last year, the administration of Kirkuk has decided to issue gas coupons for Kirkuk motorists in order to regulate weekly portion in state-run gas stations which distribute fuel cheaper than private stations.
The procedure was aimed at banning smuggling and also stopping motorists from adjacent Kurdistan region to refill in Kirkuk and the disputed territories as most of petrol stations there are private and sell a liter of gas costs double.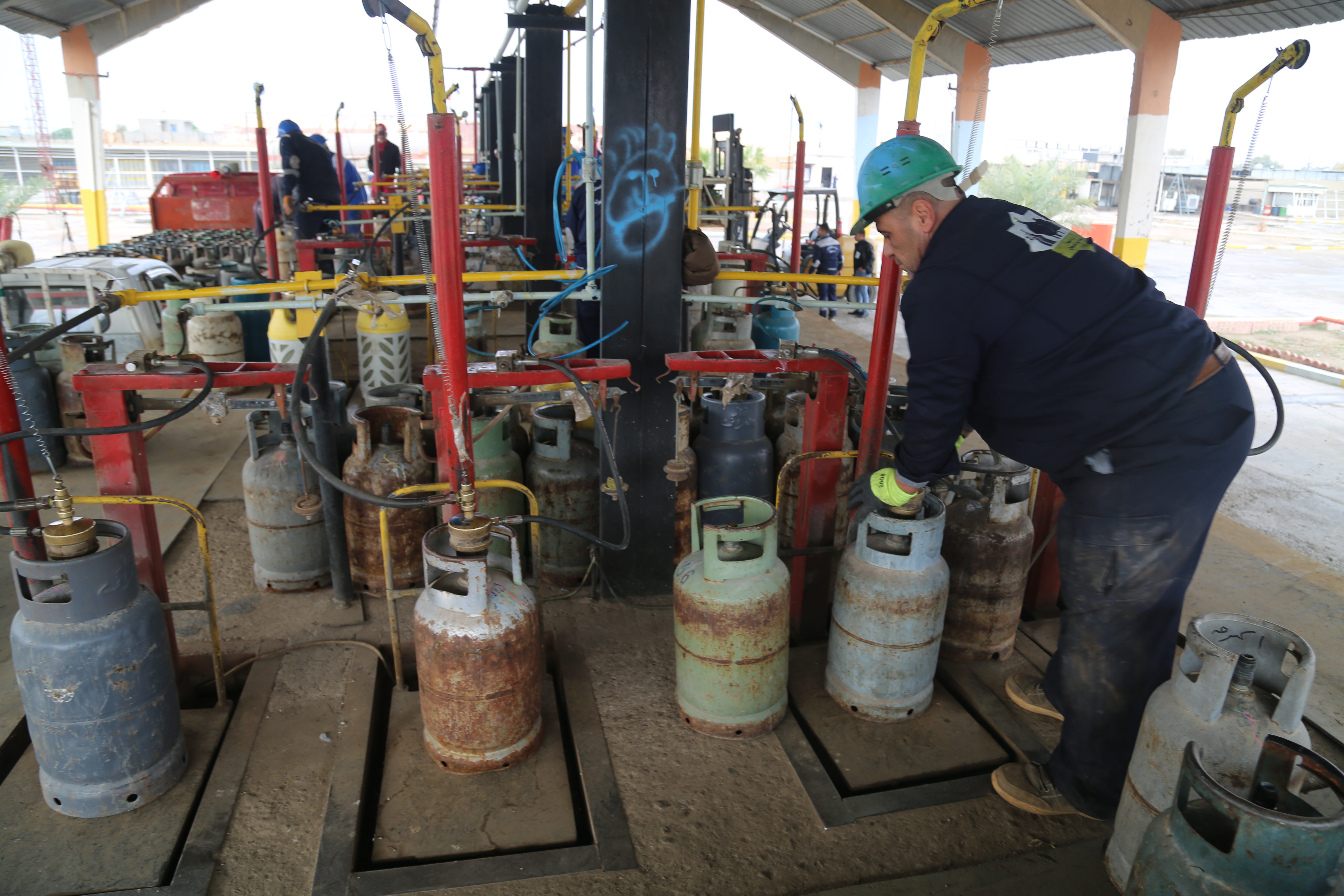 In response to some citizens' questions about the company's reluctance to refill some types of gas cylinders, Ibrahim said there are many types of cylinders that do not conform to Iraqi specifications and are not checked by the technical departments of the Gas Filling and Services Company.
"These cylinders pose a danger to the life of the citizen is that it cannot bear gaseous pressures, so we asked the laboratories not to fill these cylinders and to confiscate it."
He stressed that "preventing the filling and circulation of these cylinders is in order to preserve the safety of people."
The Gas Filling and Services Company in Kirkuk has special outlets for selling gas cylinders manufactured according to Iraqi specifications, and the only authorized distributor of gas cylinders that conform to the national specifications.
"We ask people not to buy gas cylinders from local markets," a reference to buy from state company or else it won't be refilled.
Iraq holds the second-largest oil reserves following Saudi Arabia but years of conflict and sanctions have left its refineries in dire straits, with the country now relying heavily on imports of oil products despite daily export of over three million barrels of crude oil per day.
The northern oil-rich city of Kirkuk, located 238 kilometers north of Baghdad, is an ethnically mixed province for 1.7 million Kurds, Sunni and Shiite Arabs, and Turkmen. It has long been at the center of disputed territories between Baghdad and Erbil.
Currently, Iraqi army, local and federal police, Special Forces along with Shiite paramilitary of Popular Mobilization Forces PMF, undertake the security of Kirkuk province and the disputed territories.